Source: www.hra-news.org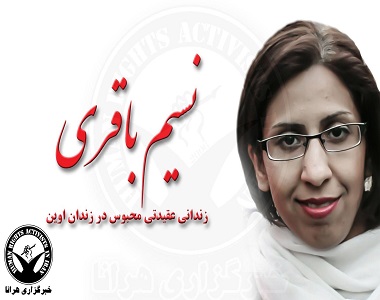 HRANA News Agency – Nasim Bagheri, one of the instructors of Bahai Online University, was arrested in June 2011 and sentenced to 4 years in prison. She is suffering from thyroid but despite multiple requests for furlough has been deprived of it.
According to the report of Human Rights Activists News Agency (HRANA), Nasim Bagheri, Bahai citizen and one of the instructors of Bahai Online University was arrested during the security forces operations against Baha'i houses and instructors, in July 2011, and released on bail after few hours.
Later, Ms. Bagheri was summoned and interrogated and in October 2013, tried in branch number 28 of the revolutionary court of Tehran by Judge Moghiseh and sentenced to 4 years in prison. This sentence was confirmed in the appeal court.
Nasmi Bagheri was sent to women's ward of Evin prison to serve her sentence in May 2014.
A close source to her family told HRANA's reporter, "The requests for phone calls has been accepted, and she can call home weekly. Having visits has also been permitted for once a month but just for immediate family members and the rest will be in the cabin".
This informed source said, "She was diagnosed with thyroid and has been transferred to prison clinic for this and also toothache".
This source emphasized, "It has been 7 months since her last furlough and according to the law she can use furlough, but despite multiple requests it was not accepted and no clear answer was given".
Need to be mentioned, Negar Bagheri, Nasim Bagheri's sister was also arrested in 2015 just few days before her wedding, and after nearly two months of interrogations in ward 209 of Evin prison, she was released on bail.