Source: BahaiNews1
Thursday November 10, 2016
Translation by Iran Press Watch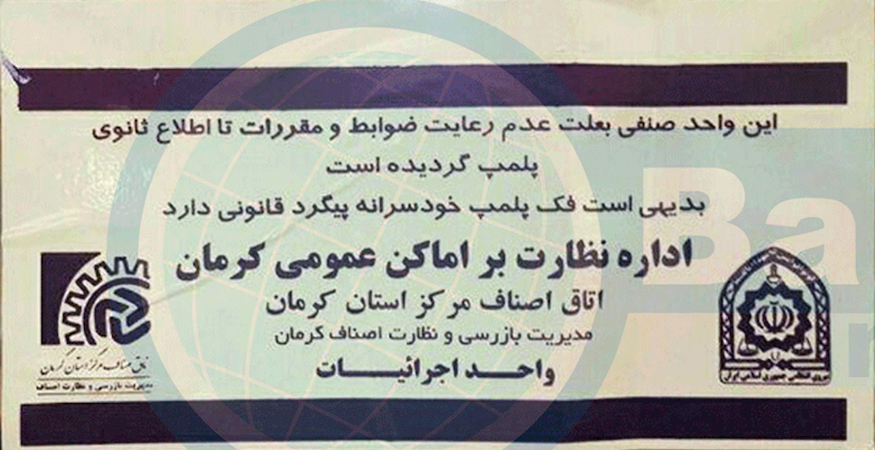 According to BahaiNews, forty two Baha'i businesses closed by agents of the Office of Public Places under pressure from the Ministry of Information in the province of Kerman are still sealed.
Based on a report from the BahaiNews Network, after thirty-eight Baha-owned shops in the province of Kerman were sealed for nineteen months, four more shops were closed and sealed on Friday November 4, 2016. Twenty five shops in the city of Rafsanjan and seventeen in the city of Kerman have been sealed by order of the government and security forces.
"All efforts to remove these seals have proved fruitless; at the present time a complaint filed in the Administrative Justice Court is still under consideration. Although the Municipal Security Council ordered the closure of these shops, the court denies ordering these closures," an informed source told BahaiNews.
"In 2014, on the first and second days of Muharram, a lunar month that coincides with two Baha'i religious holidays, close to eighty Baha'i shops were closed in Jiroft, Rafsanjan and Kerman, but after follow up they were opened shortly after," the source continued. "At that time we agreed to report Baha'i holidays to the Office of Public Places and the Chamber of Commerce prior to closing our businesses on those days. All Baha'i business owners listed all Baha'i holidays in calendar year 2015 on a form, signed it and turned it in to the authorities. Even so, on April 2015 all were sealed."
When a BahaiNews reporter asked this Baha'i source, whose shop was also sealed, what officials were behind the sealing, he replied: "Agents of the Office of Public Places deny responsibility; they blame the Ministry of Information for giving the order. They have stated only that because of that order did they provide the necessary hardware to seal the shops."
After follow ups by Baha'i shop owners whose shops were sealed in that province, a complaint was filed in the Administrative Justice Court against the Municipal Security Council, which has not been resolved to date.
Here is a list of some of the Baha'i-owned businesses that have been sealed:
Stores sealed on May 1, 2015:
Ehsan Amirinia: Construction business
Hasan Poor Ganji: Auto mechanic shop
Zia Mirzaie: Auto parts store
Ghodsiyeh Charkh Zarin: Clothing store
Nima Rajabzadeh: Drapery and accessory store
Shahram Falah: Piping and building sanitation shop
Stores sealed on November 12, 2015:
Sobhan Ashoor Mahani: Agricultural tooling and machinery shop
Omid Mirzaie: Auto mechanic shop
Naim Poor Ganji: Auto mechanic shop
Kamran Bandi: Carpentry shop
Soheil Chitsaz: Piping and building sanitation shop
Masoud Mohseni: Clothing store
Hedayat Hakimian: Clothing store
Stores recently sealed on November 4, 2016:
Hosseinali Zare: Electromotor and wiring shop
Mahboob Dowlat:Refrigerator and coolant repair shop
Missagh Dowlat: Gas-driven air conditioning distribution center
Noorallah Mohebati and Maboob Mirzaie: HVAC shop
During the previous week, over 110 Baha'i shops and stores were sealed because the owners closed their shops during Baha'i holidays.
In previous years, the Office of Public Places has many times sealed Baha'i-owned businesses across the nation.
BahaiNews says that the reason for these shutdowns has been the desire of security forces to act when Baha'i shop owners close their businesses in observance of the Baha'i religious holidays. We have witnessed many closures of shops and arrests of Iranian Baha'is after they have observed their holidays. According to the National Business Law, every business is allowed to close for 15 days. They must inform the Office of Public Places only if they want to close more than 15 days.
_____
BahaiNews is an independent non-Baha'i initiative, and is not affiliated with any Baha'i institutions.