Source: www.humanrightsiniran.org
November 12, 2016
Translation by Iran Press Watch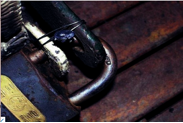 A Baha'i resident of Karaj whose production workshop was sealed on 6 November 2016 by the Law Enforcement Forces of the Office of Public Property, said: "We have done no wrong. Over these several days we have not been told what crime we committed, that our workshops have been sealed, but we are aware that the large volume of closed Baha'i businesses all over the country is not a coincidence. I just hope the officials act fairly. We too are Iranians and have a right to live; we too have families, and this workshop is the place of our family's livelihood ‒ I expect them to open their eyes to these facts."
As reported by the International Campaign for Human Rights in Iran website, a Baha'i resident of Karaj, who will remain unnamed to protect him from arrest and harassment by security services, explained the consequences of the closure of his workshop as follows: "At 11 am on 6 November, five or six people came to our workshop. After inspecting the workshop, they said that because there was a complaint against us by some private entity, our workshop needed to be closed and sealed today. I informed them that I had not received a notice to this effect, so why did they want to seal my business? I had not been overcharging, nor withheld sales, neither was I selling contraband. One of them replied that they just had been ordered to shut this place down. I asked them why they didn't just tell me that they wanted to close my business because I am a Baha'i and not allowed to work. He answered: 'You are aware, so do not ask again.' They said we had five minutes to get out. A little discussion and argument ensued; finally we were given two hours to remove the necessary equipment and customer orders, and then the store was shut down and sealed."
The Baha'i said: "Since Sunday, on a daily basis I have gone to the Office of Public Property of Alborz Province, plus the Office of Sanctions and the Chamber of Commerce, but I never received any explanation. Every day, they told me to come back the next day. The first day in the Office of Sanctions I was told that my business had been sealed because I was selling contraband. I told them the inspectors had not found any contraband in my workshop the day before. Then they said they shut me down because there were no prices on my merchandise. I told them I do not have a shop; I own a workshop where customers don't come, so there is no need to mark merchandise with a price. Then they said we have to wait. The workshops and stores of other Baha'is have also been shut over the past two weeks, and they also have not received a straight answer. Every day we go back to government offices to ask about reopening our business which supports our livelihood: to no avail."
In answer to the question of whether it was mentioned specifically that the business was sealed because he is a Baha'i, he said: "They did not specifically mention being Baha'i, nor were there any warrants or notices in writing. Over the past two weeks, many eyeglass shops, auto parts and installation and decorative items stores in Karaj whose owners are Baha'i have been closed for no apparent reason. Legally, a business can be shut down due to low sales, overcharging, selling contraband or ethical issues in the workplace, but we did not have any of these issues; otherwise they would have presented us with a report related to those issues, on which basis a punishment would then be determined."
This Baha'i resident said: "I have a valid license, have always paid my taxes every year and have fulfilled all obligations to the trade union." He continued: "When I ask them what illegal act caused my workshop to be closed down, I receive no answer. In a matter of two weeks, tens of Baha'i businesses in Karaj, various cities in Mazandaran Province, Shiraz and Isfahan have been shut down for no apparent reason. I think there is no reason except our religion. Because of our Baha'i religion our business and livelihood has been taken away."
Regarding whether he has previously faced issues due to his belief in the Baha'i Faith, he said: "Eight years ago we wanted to register an automotive spare parts store, but the Law Enforcement of the Office of Public Property gave us a very hard time, and we were finally told specifically that we were not allowed to work or get a permit because we are Baha'i. However, finally we were able to get a license. Afterwards, on many occasions several officers of the Office of Public Property would come to our workplace and search the business and ask many questions."
The Baha'i International Community office in Geneva, Switzerland, also announced in a statement on 7 November that "Over one hundred Baha'i-owned businesses in cities across Iran have been sealed." The Baha'i International Community said in its statement that these Baha'i businesses "were sealed by Iranian authorities, after they were temporarily closed to observe Baha'i holy days on 1 and 2 November" of this year (2016).
Regarding the widespread closure of Baha'i businesses, Ms. Bani Dugal, Principal Representative of the Baha'i International Community at the United Nations, said: "The sealing of so many businesses demonstrates the emptiness of assurances by the Iranian government that the Baha'i community is not discriminated against." Ms. Dugal added: "We call upon the international community to denounce these unjust actions, and exhort the Iranian government to take immediate, visible, and substantive measures to reverse the situation."
Previously, on 6 September 2016, in an open letter to Hassan Rouhani, Iran's president, the Baha'i International Community asked him to end the "economic oppression of Baha'is" in Iran. The letter emphasized the fact that economic aggression against Baha'is is a "deliberate policy" of the Iranian government to dismiss Baha'i employees from the public sector, impose many restrictions on them in the private sector and bring about their exclusion from a wide range of professions and occupations under the pretext of being "unclean"1, and enforce confiscation of their property and harassment of business owners and closure of their shops, Finally, the letter calls on President Rouhani to review urgently the situation of Baha'is, to remedy the situation of Baha'is, and to remove obstacles imposed on Baha'i businesses.
____
Najis, or ritually unclean. A Qur'anic term referring to wine, certain animals, blood and other bodily fluids, but expanded by Shi'ite clergy to include non-believers in Islam. See https://en.wikipedia.org/wiki/Najis