Source: news.gooya.com
Translation by Iran Press Watch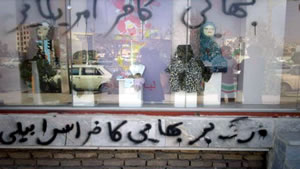 About 132 business units and shops belonging to Baha'i compatriots have been sealed and closed under false pretexts in Iran during the last month.
Baha'is do not have a right to be hired by government offices or public companies, moreover they cannot establish trades that require government authorization, such as restaurants or barbershops. In addition to these restrictions, these Iranians are not allowed to study at universities, and thus lack access to advanced expertise. Therefore, they are only able to work at small businesses such as watch repair, plumbing, etc.; even at such jobs they are always faced with many problems caused by government officials.
Last month, security forces illegally closed and sealed Baha'i-owned businesses under the pretext that these Baha'is businesses were closed in observance of Baha'i religious holidays. Under Iranian law, self-employed business owners have the freedom to determine their working hours and days, and there is no limitation in this respect for them. On the other hand, Baha'i holidays are not more than nine days a year, and they have not carried out any religious advertising by closing their businesses on those days. Considering this information, sealing their businesses is only another way to oppress them.
I would like to draw the attention of the High Commissioner for Human Rights and the Special Rapporteur on Freedom of Religion to the fact that the oppression of Baha'is for their religious beliefs has gone beyond any reasonable limits. It is time for the Iranian government to recognize the civil rights of Baha'i citizens, and end their persecution.
Shirin Ebadi
Head of the Center for Defenders for Human Rights