Source: fa.iranpresswatch.org
Translation by Iran Press Watch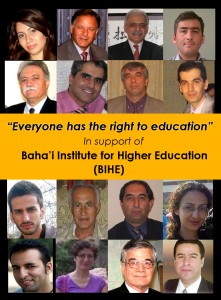 Rahana- Iran Human Right News Agency
The ongoing summonses and interrogations of Baha'is associated with BIHE – the Baha'i Institute for Higher Education – displays but one of the many ways Baha'is are persecuted in Iran.
Ms. Sepideh Shadabi: The ongoing summonses and interrogations of Baha'is linked to BIHE display but one of the many aspects of the oppression of Baha'is in Iran.
According to "Human Rights House in Iran" this persecution has reached 42 cases, and is on the rise, especially since the second half of the month of June 2016. Many professors, local administrators and faculty members, and students of this academic institute have been summoned by the Investigation Office of the Ministry of Information of Tehran and other cities for interrogation. They were asked to promise to stop cooperating with BIHE.
The process had slowed from May 21 to the second half of June. During this period 10 people were summoned by agents of the Ministry of Intelligence to answer some questions; however, this line of action has gained momentum since then, and 32 more have been interrogated.
Some of them were summoned more than once, and each time they were asked to sign a form promising not to work with this academic institute. Although in a few cases they were treated respectfully, in many other cases Baha'is were confronted with profanity and shouts, and were threatened that they would be arrested and lose their jobs and careers.
In four cases the threats turned into reality: these four individuals, who had been serving as consulting psychologists for non-governmental institutes were dismissed by the business owners under threat by the Ministry of Intelligence.
Massoud Mahmoudi, one collaborator at BIHE in northern Khorasan, who was threatened that he would be incarcerated, was finally arrested on August 27th.
Of the 42 cases of interrogation, 22 were in different areas of Tehran and the rest were in Shiraz, Qaemshahr, Northern Khorasan, Karaj, Yasooj, Sanandaj, Arak, Hamadan, Miandoab, Shahr-e Qods, Villa Shahr, Najafabad and Zahedan.
Following the raid by security forces on 39 Baha'i homes of BIHE associates on May 21, 2011, and the arrest of 16 of them, a new chapter in the confrontation of the Iranian government against the activities of this educational institute took shape. Raiding the homes and arrests of the instructors and personnel of this institute is but one of the cases of confrontational strategies adopted by authorities after May 21st.
The abduction of Daniel Ouji, one of the students of this institute, who suffered harsh physical and mental torture while being interrogated for his involvement with BIHE, is another case. A case of another Baha'i taken hostage in Qaemshahr so that they would reveal the identity of a BIHE official in that city is an example of a series of actions taken by the government.
Ramin Zibaie, Vahid Mahmoudi, Farhad Sedghi, Mahmoud Badavam, Kamran Mortezaie, Riaz Sobhani, and Nooshin Khadem are among BIHE staff and instructors who spent more than 3 months in Evin prison – and their fate is still uncertain1.
The Baha'i Institute for Higher Education was established on 1987 in response to the expulsions of Baha'i students from Iranian institutions of higher learning. After the Iranian Cultural Revolution in 1980, all Baha'i instructors and students were expelled from universities and colleges nationwide and succeeding Baha'i generations have been denied attendance at higher education institutions ever since. The expelled Baha'i instructors in Iran initiated this endeavor, and initiated BIHE by offering limited courses to start with; little by little they increased and expanded their academic capabilities.
Source: http://www.rahana.org/archives/43813
_____
See this site for current information on these and some other BIHE educators who have been arrested and incarcerated: http://news.bahai.org/human-rights/iran/education/profiles