Source: www.hra-news.org
Translation by Iran Press Watch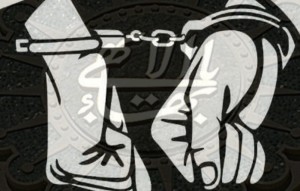 HRANA – Seven Baha'i citizens were arrested on Tuesday18th of April in the cities of Bandar Abbas and Qeshm, by the Ministry of Intelligence.   Those arrested are Mahnaz Jan-nesar, Naseem Ghanavatian, Maral Rasti, Farhad Amri, Arash Rasekhi, Mehroallah Afshar, and Omid Afaghi. They are being detained in the Office of the Ministry of Intelligence in Bandar Abbas.
The Arrests
Our source (quoting the Human Rights Campaign in Iran), stated that the arrested Baha'is have not been informed of their charges and have been denied access to legal counsel. This is in contradiction of Article Five of Common Law of Iran, which states that the accused should "as quickly as possible" be informed of his charges, and to have access to a lawyer and any other related needs for his defense.
These arrests were made without any court order or summons. Agents of the Ministry of Intelligence entered the residences of the arrestees under the pretext of looking for illegal, illicit drugs and, "when we asked who they are, they said that they are officials of the anti-drug squad and have information that drugs are kept on their premises. When we opened the door, they rushed in with a camera and started to search our books, laptops, and financial and banking documents."
Without a court order and without asking permission of the owner of the house, agents recorded each incident with a movie camera: "When we opened the door, in addition to the agents who were responsible for arrest and search, another individual entered the premise with a camera, and without any permission started to record things in the house. The members of the family did not have any opportunity to dress up properly."
The agents confiscated many items, which were not related to the stated purpose of their search. Items taken included personal effects of the members of the household, "any electronic item, without knowing who was the owner, was confiscated, and their laptops have been taken along with bank documents belonging to the son, father or brother of the family head. They were indifferent to everybody and had taken things indiscriminately. They also took religious posters and pictures off the wall." In addition, they searched the workplaces of these Baha'is, confiscating additional items, including their computers.
Our source relates that the Ministry of Intelligence is directly responsible for ordering of these arrests. The prosecutor told family members of the arrestees that he had not been informed of the charges. "The prosecutor who ordered the arrest had come purposely from Tehran to Bandar Abbas for this mission. He asserted that he had not read the file yet and is not fully aware of the charges. This clearly shows that these arrests were done based on the order of the Ministry of Intelligence, and possibly after unlawful arrest and interrogation, they are planning to lay false charges."
Continuing Harassment of Baha'is in Iran
The Ministry of Intelligence continues to arrest Iranian Baha'is without respecting their constitutional rights and in violation of the Declaration of Citizen's Rights released by the moderate government of President Hassan Rouhani in Dec 2016. Said Declaration recognizes freedom of speech and the non-interference into the private lives of Iranian citizens. Although the Iranian Constitution does not acknowledge the Baha'i Faith as a recognized religion, Article 23 of the same Constitution clearly stipulates that, "no one should be harassed, based on personal conviction or belief." Additionally, Articles 25 and 36 of the Declaration of Citizen's Rights are about respecting the beliefs and private lives of any citizen from interrogation. However, during the last four years, tens of Baha'is have been arrested with a variety of accusations, and sentenced to a variety of charges. Tens of Baha'i students have been expelled from universities, because of their beliefs. Additionally, some business locations and shops have been sealed. Currently, there are five Baha'i women in the women's section of Evin prison who are there with different sentences, because of believing in the Baha'i Faith. They are Fariba Kamalabadi, Mahvash Sabet, Azita Rafizadeh, Elham Farahani and Nasim Bagheri. While these are in Evin prison, there are other Baha'i prisoners in other prisons across Iran.
Deliberate fomenting of religious prejudice is evident in the continued harassment of Baha'is in Iran, and the continuing violation of their civil rights. For example, Sadegh Amoli, the Head of the Judiciary, on Monday 16th of May 2016, falsely asserted that the Baha'i Faith is, "created by foreign powers and colonists," and with this assertion he claimed, "the Baha'i leadership is connected with foreign powers and receives security advice from them." Ayatollah Mussavi Bojnoordi, one of the members of a former Supreme Judiciary Council during Ayatollah Khomeini's time, has gone beyond these assertions. He even questioned the rights of Baha'is as citizens. In an interview with Pars News Agency he said: "we not only say that the Baha'is have no right to education but they don't have even any rights as citizens." He clearly stated, "Christians, Jews and Zoroastrians are protected by law and have representatives in the parliament because their religions are Abrahamic. We are having an affable relationship with them and their representatives are our friends."
On 6th of September 2016 in an open letter addressed to Hassan Rouhani, the President of Iran, the International Baha'i Community asked President Rouhani to put a stop to the "economic harassment of the Baha'is" of Iran." In the same letter, which focused on the economic sanctions against Baha'is, it is mentioned that the economic harassment was an "official policy" of the Iranian government. The letter mentioned expulsion of Baha'is from government jobs, putting restrictions on many Baha'i private enterprises, depriving Baha'i from engaging in a wide range of jobs and professions, on the pretext of their being "untouchable. "Also, confiscation of their properties, harassing the business owners and closure of their shops. Finally, Hassan Rouhani was urged, as a matter of urgency, to address the Baha'i conditions in Iran, in removing the obstacles for Baha'is to earn a lawful income, which has been long overdue.