Source: www.hra-news.org
Translation by Iran Press Watch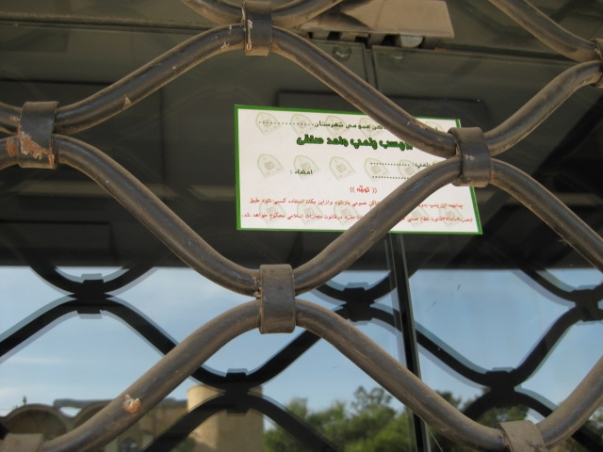 According to HRANA (Human Rights Activist News Agency in Iran), more than 96 Baha'i-owned shops in Mazandaran Province remain sealed, since a series of forced closures by police and agents of the Bureau of Public Places last November (2016), by order of the Attorney General of Mazandaran Province.
In June 2017, the Administrative Court of Mazandaran ruled in favor of the owners of these sealed shops. This ruling was based on the "Article 28 of the Labor Code" which allows businesses to close for up to 15 days in a calendar year without having to report to authorities.   Despite the verdict, authorities have not unsealed the shops nor restored work permits to the Baha'i business owners in that region.
The Article 28 15-day business closure statute applies to all Iranian citizens; however, it is routinely disregarded in the case of Baha'is, who find their shops sealed by police and agents of the Bureau of Public Places when they close in observance of Baha'i religious holidays.
The government of Iran does not recognize the Baha'i Faith and Iranian officials routinely speak against the Baha'i. Baha'is in Iran are not afforded their legal civil rights, and there has been ongoing policy of impeding their financial activities. This policy has gained momentum under the Presidency of Hassan Rouhani, with tens of Baha'i shops in additional provinces subject to closure seal throughout the past year in other provinces besides Mazandaran.
These unlawful, persistent shop closures have, as intended, seriously impacted Baha'i citizens ability to make a living, subjecting the community to severe hardships. For example, "Arastoo Asadi", one of the victims of these closures, has no choice but to work, under harsh conditions, in front of his sealed shop to in order to make ends meet.
In recent months, a marked increase in closures of Baha'i-owned shops has been reported. International organizations such as the United Nations as well as human rights activists have repeatedly published reports on the discrimination against Baha'is in Iran, which includes arrest and repression, denial of access to higher education, as well as closure of Baha'i-owned businesses.
According to the reports of the BIC (Baha'i International Community), in past 11 years, more than 860 Baha'is have been detained, and 275 Baha'is have been sentenced to serve time in prisons due to their Faith.
Several shops in Tonekabon and Nasharood have been sealed for more than a year. The owners' names follow:
Roohollah Ighani – Refrigerator repairs
Michel Ismailpoor – Air Conditioning
Khalil Naghipoor – Air Conditioning
Sanaieh Kondi – Home Appliances
Omid Ghaderi – Security and Alarms
Since May 2016, four more shops, forcibly closed by authorities, remain sealed at this time:
Mehryar Lotfi – Home Appliances
Jamaloddin Ismailpoor – Refrigerator repairs
Mahvash Khazei – Furniture Store
Soroosh Garshasbi – Home Appliances
Following is a list of Baha'i shops and businesses in Mazandaran that were recently sealed, due to being closed in observance of the anniversaries of the birth of the founders of the Baha'i Faith (the Bab and Baha'u'llah, 21st and 22nd of October)
Nowshahr
Behshad Derakhshanian – Burglar alarm business
Riazollah Heravi – Horology business
Monib Mansour – Optometry
Bahman Rohani – Photography shop
Raki Yousefi – Optometry
Arastou Aasadi – Welding business
Arash Derakhshanian – Mechanic's shop
Qaemshahr
Fairborz Sabeti – Appliance repair
Naim Samimi – Auto body shop
Rezvaneh Samii – Garment store
Akbar Goly – Confectionary Equipment
Nima Miri – Cosmetics
Fazel Asadi – Mobile repair
Shayan Ghedami – Paint store
Zekrollah Akbari – Welding business
Shahin Akbari – Ironware
Fariborz Sanaee – Plastic ware
Zekrollah Babayee – Grocery
Atrollah Movafagh – Refrigerator repair
Daryoush Bakhtiari – Automobile studio
Saeed Asadi – Auto repair
Jalal Atayeean – Cosmetics
Shahrokh Asadi – Refrigerator repair
Zahra Golabian – Optometry
Jhobin Yousefi – Burglar alarm business
Sohrab Laghayee – Optometry
Farzad Sabeti – Car alignment and oil change
Changiz Derakhshanian and Nima Nokhah – Toy shop
Kourosh Ahmadzadegan – Security systems
Alaoddin Mirzayee – Security systems
Hooman Rostami – Burglar alarm business
Shahram and Shahrouz Zamani – Auto parts
Soheil Haghdoost – Optometry
Bahaoddin Samimi – Stationery store
Behnam and Behdad Shirvani – Appliance repair
Noorollah Ataeeyan – Motor winding business
Bahram Safari – Electronics
Soheil Ahmadzadegan – Glue industry
Mehrpooya Fadee – Appliance repair
Sari
Mansour Mehrchi – Cosmetics
Zaatollah Darabi – Carpentry
Sohrab Zahedi – Stationery store
Saed Andokhs – Clothing
Golverdi Movafaghi – Carpentry
Nima Shabrokh – Cosmetics
Yaghoub Akbari – Appliance repair
Arman Safaee – Stationery store
Aadel Samimi – Stationery store
Noorgol Goly – Mechanic shop
Farhad Rezghi – Cosmetics
Kamaloddin Akbari – Woodturning
Amaanollah Zahedi – Carpentry
Kourosh Ahmadi – Engine tuning
Kourosh Moradi – Carpentry
Asghar Movafaghi – Carpentry
Hossein Ahmadi – Carpentry
Mehryar Ghanbari – Security systems installation
Ziaollah Khoshbin – Paint store (commercial)
Ashkan Khalili – Motor winding
Naim Kamali – Appliance repair
Ramin Moosavi – Building decoration
Ehsan Sanaee – Cosmetics
Bahman Zabihi – Fabrics and crafts store
Behzad Zabihi – Eyeglasses store
Shahriar Foroughian – Electric windings
Behrouz Yousefi – Home appliances repair
Vahid Golpour – Clothing
Jahanbakhsh Movafaghi – Woodturning
Mohammad Movafaghi – Carpentry
Akbar Hosseini – Woodworking shop
Ghavamoddin Sabetian – Carpentry
Hesam Yousefi – Carpentry
Zargham Zamani – Clothing
Nima Mahinbakht – Security systems installation
Pezhman Roshankoohi – Appliances store
Shahram Nobakht – Appliances store
Shahab Nobakht – Appliances store
Aramesh Andokhs – Clothing
Late Zekrollah Rahmanian – Optometry
Tonekabon
Misagh Esmaeil Zadegan – Telephone repair
Noushin Masoudian – Clothing
Sirous Nasiri – Cabinet making
Saleh Eshkevarian – Home appliances
Sina Garshasbi – Home appliances
Naeim Khalaj Abadi – Furniture manufacturing
Fereydunkenar
Afshin Azadi – Clothing
Bahnemir
Ahmad Nikounejad – Gas appliances (sale and repair)
Feizollah Nikounejad – Bike repair
Amol
Serrollah Hekmatshoar – Shopkeeper
Afshin Sobati – Shoe store
Dariush Talaee – Optometry
Farshid Kian – Optometry