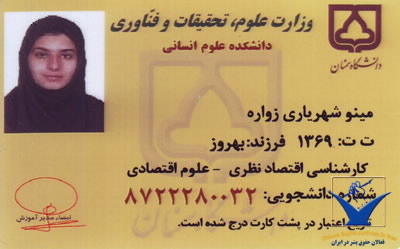 Editor's Note:  On Saturday, March 7, 2009, several Persian online journals carried this report, which appears below in translation.
On March 1, 2009, the government-run University of Semnan expelled Miss Minoo Shahriari, a student majoring in economics, on the grounds that she was a Baha'i.
In an interview with the Committee that pursues the right of Baha'is to education on behalf of Iran's Committee for Human Rights, she described her expulsion in these terms:  "I was a student in macroeconomics, and about 5 weeks had passed since our second term classes had started.  Before the semester had started, I had been threatened that if I did not write one of the approved religions in the form and insisted on continuing my education, then severe consequences awaited me, including preventing me from entering university, and if I were to enter, that other students and professors would have no relations with me.  They said that I would be so harassed that I would be compelled to resign from the university.

Disregarding all these threats, I was eager to attend classes and showed my eagerness.
There was no particular problem, until one day I was told that I was no longer on the class roster.  Officials in charge of registration and student files swore that they had not changed my student status.
Since previously I had been threatened many times by the president of the university and his deputy, I thought that the latest tactic was to scare me and they would not follow through with their threats [and dismiss me permanently].
To pursue the matter, I went to the central office of the university, but the person in charge completely ignored me — on purpose he would not even look at me.  Eventually, he only said, "You must leave the university and Semnan at once.If you have a complaint, you can register it with the judiciary in the city."
It should be noted that recently, with much greater intensity the authorities are expelling the few Baha'i students who had been able to participate in the college entrance exam and had enrolled at universities.
[Sources: http://hra-iran.net/index.php?option=com_content&view=article&id=647:567&catid=160:6954&Itemid=368 and http://www.iranpressnews.com/source/055658.htm.  Translation by Iran Press Watch.]