Source: www.bic.org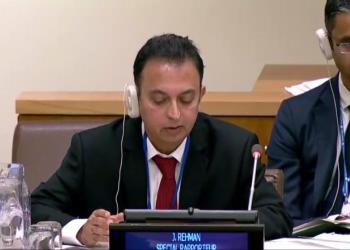 NEW YORK—25 October 2018—The UN Special Rapporteur on the Situation of Human Rights in Iran has raised concerns regarding "serious violations" against the Baha'i community in Iran.
Presenting a major report on the situation of human rights in Iran at the UN, Javaid Rehman expressed concerns of "substantial violations" against the religious community- the largest non-Muslim religious minority in Iran.
The concerns were echoed by representatives from Germany, Norway and the United States whilst representatives from the UK and Switzerland also raised the issue of discrimination against "unrecognized religious minorities."
"The Special Rapporteur is concerned by the substantial violations of the rights of religious and ethnic minorities…in particular the serious violations of rights consistently documented of members of the Baha'i community within Iran," the UN report reads.
"Allegations of discriminatory policies and practices have been received with respect to the denial of the right to work and to earn a decent living; restriction of access to higher education; the closure of shops; and discrimination in policy owing to the fact that Baha'is do not constitute one of the three constitutionally recognized religious minorities in the country."
Around 60 Baha'is currently remain imprisoned in Iran while tens of thousands more experience educational, economic and cultural persecution on a daily basis for merely practicing their faith.
Baha'i homes are routinely raided and members of the community are arbitrarily arrested and detained. Baha'i run businesses are shut down and sealed, depriving them of earning a decent living and thousands of young Iranian Baha'is are denied access to higher education or are routinely expelled from universities for practicing their faith.
For more information on the persecutions against the Baha'i community, visit here.