Source: www.hra-news.org
Translation by Iran Press Watch
03 December 2018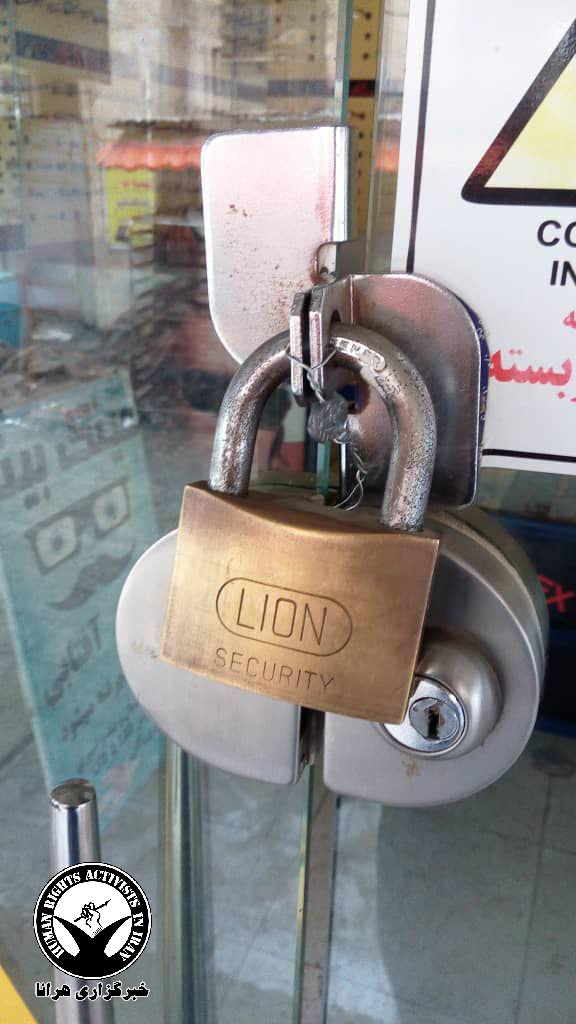 HRANA News Agency – In continuation of the forced closure of Baha'i-owned businesses, another six Baha'i businesses in Omidiyeh, Khuzestan province, who had shut their stores in honor of their religious holiday, were ordered to be closed and sealed by judiciary authorities. According to the law, citizens may close their businesses for up to 15 days a year for no particular reason; however, this law is not applied to Baha'is; any time Baha'is close their stores on a holidays because of their religious beliefs, the Office of Property and law enforcement officers seal their businesses.
According to HRANA, the news wing of Human Rights Activists in Iran, the businesses of at least six Baha'is living in Omidiyeh, in Khuzestan province, have been closed and sealed at the behest of judiciary authorities.
According to HRANA, the names of these six Baha'is are Kamal Afshari (washer and dryer repair store), Shokrollah Azizi (Izogam roof sealant), Alireza Afshar (engine adjustment), Mostafa Ebadi (sales of cooling appliances), Arsalan Farzaneh (medium density fiberboard), and Jahan Behbahani (refrigerator and cooler repairs).
With the addition of these citizens' businesses, the number of Baha'i businesses that have been shut in Khuzestan Province has reached 19 in recent weeks.
On November 15, 2018, the businesses of at least six other Baha'is living in Khorramshahr –  Behrouz Habibi, Hossein Ali Habibi, Behnam Habibi, Bahador Ahmadi (all four own optical glass businesses), Kambiz Azadi (sewing machine store) and Kourosh Jaberi (engine adjustment) were closed by the judiciary authorities.
Also, on November 12, five other Baha'is living in Ahvaz – Vargha Derakhshan, Sohrab Derakhshan, Behrouz Zohdi, Jahanbakhsh Afsharzadeh (all four own an interior decorating business), and Faizullah Ghanvatyan (television repair shop) –  were closed for 15 days by order of the judiciary authorities.
Earlier, HRANA had reported about the forced closure by the judiciary authorities of the businesses of two Baha'is in Abadan – Aram Azadi and Arman Azadi – related to closing their shops during their recent religious holidays starting November 5.
On November 19 of the current year, this news agency released a detailed report on the Baha'i community and the arrests of citizens who believe in this Faith. According to the report, Baha'is in various cities of the country have faced a new wave of violations of their human rights since the beginning of the year. The prevention of at least 58 Baha'i students from continuing their education during the process of the national college examination in the current year, the expulsion of at least 11 Baha'i students at different levels of various universities, the prohibition of economic activity and the expulsion of at least 6 Baha'is from their own businesses or private companies, the summons and arrest of 72 Baha'is by intelligence and security forces, the sentencing of 24 Baha'is to 46 years of imprisonment and 9 years of exile, government provision of extensive cultural and media products with antagonistic content against Baha'is, the continuation of the forced closure of many Baha'i businesses, the destruction of graves and prevention of the burial of Baha'i citizens in Baha'i cemeteries in different cities, have only been part of the increase in pressure on the fellow citizens of this community, since the beginning of the current year, up to the 19th of November.
Based on their religious beliefs, Baha'is close their businesses on their religious holidays. However, the police and Intelligence and Security agencies close and seal their businesses in response. This contravenes the explicit legal and civil right of individuals to practice their religious beliefs and manage their own businesses as they see fit.
Closure and sealing of Baha'i businesses are carried out even though Article B, paragraph 28, of the trade union law states that the owners of businesses are allowed to close their shops without prior notice to the trade union for up to 15 days a year.
The closing of Baha'i businesses in Iran continues although Shahindokht Molavardi, special assistant to the president on civil rights issues, in a statement to the media on December 3rd said: "Regarding the forced closure of Baha'i businesses and the blocking of their activities, inquiries from the President's legal assistant have taken place, and an attempt is being made to move this debate forward through legislation until we find a solution to this issue."