Source: www.radiozamaneh.com
Translation by Iran Press Watch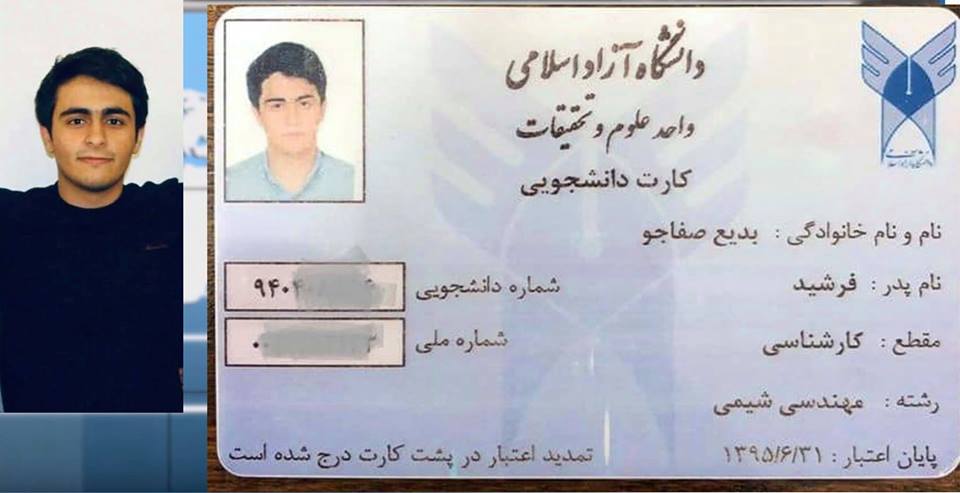 c, a Baha'i residing in Karaj, and a seventh-semester student of chemical engineering at the Research and Sciences School of the Islamic Azad University, was expelled from the university and prevented from continuing his education because he is a Baha'i. In 2016, he had been barred from studying at a state university, despite achieving a 1,900th nationwide ranking in the fields of mathematics and physics. As reported by HRANA, despite the fact that Baha'i students have been denied access to universities, sometimes some of them successfully enter university, but often fail to finish their studies because they are expelled, or their degree is seized.
A source close to the Safajou family told HRANA news agency that Badi Safajou was one of the few Baha'i students who had been able to enter the university in 2016: "On Wednesday, January 9th, as he was taking his final exam, he was taken out of the exam room and told he was being expelled from the university." According to this source, in the course of the conversations that Safajou had with the head of the department, he realized that the reason for his expulsion was that he is a Baha'i. His overall GPA was 19.70 out of 20.00 and he was due to graduate next semester."
In addition, last Saturday, at the Shahriar Campus of the Islamic Azad University, a Baha'i student named Sama Nazifi was also expelled and prevented from continuing her education while taking her final exam.
According to the Supreme Council of the Iranian Cultural Revolution, Baha'is, in addition to being denied employment in governmental positions, are also supposed to be deprived of a university education; every year there are many reports of Baha'is who have been prevented from continuing their education at Iranian universities. This year, at least 58 Baha'i students were banned from entering universities after passing the Nationwide University Entrance Examination, and at least 11 Baha'i students were expelled from various universities at different stages of their education.