Source: www.hra-news.org
Translation by Iran Press Watch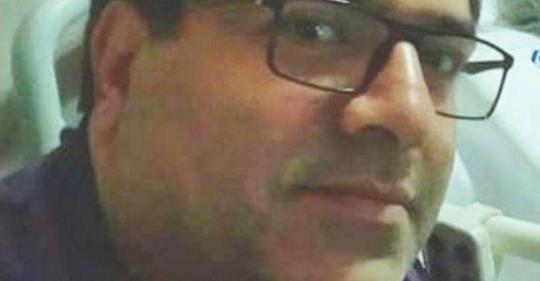 HRANA News Agency – Branch 28 of the Mazandaran Provincial Appeals Court sentenced Soheil Haghdoost, a Baha'i from Qaemshahr, to four months' of prison. On April 18, 2018, the second Branch of the Revolutionary Court of the City of Sari sentenced this Baha'i to one year of prison, on a charge of propaganda against the regime. This charge was apparently because Mr. Haghdoost provided information about the forced closure of his business in 2016, and is continuing to follow up on this matter.
According to HRANA News Agency, the news arm of Human Rights Activists in Iran, on January 5, 2019, Baha'i Soheil Haghdoost, a resident of Qaemshahr, was sentenced to 4 months in prison by Branch 28 of the Appeals Court of Mazandaran Province.
In the proceedings issued by the appeals court, the charge against this Baha'i citizen was propaganda against the regime.
This Baha'i resident was previously sentenced to one year in prison for this crime by Branch 2 of the Revolutionary Court of the City of Sari on April 18, 2018.
A source close to Mr. Haghdoost told the HRANA reporter: "After the closure of his place of business and those of a number of other Baha'is in Mazandaran Province, Soheil Haghdoost has been subjected to judicial pressure in various ways, including two arrests and the search and inspection of his house and confiscation of equipment and belongings."
Soheil Haghdoost was arrested on July 25 2017 for disseminating information related to the forced closure of his place of business and that of other Baha'is in Mazandaran Province, and pursuing legal remedies on this matter; he was released on bail of 200 million Tomans ($60,000) after four days.
Soheil Haghdoost's optical store was closed and sealed on November 2, 2016, along with shops owned by a number of other Baha'is living in the Province of Mazandaran.
Following the forced closure of their businesses, Mr. Haghdoost, along with other Baha'is, took legal steps to follow up with the prosecution to break the seal and open their businesses; however, so far, after 27 months, no actions have been taken in this regard.
Baha'is in Iran are systematically deprived of freedom of religion. This systematic deprivation is in direct contradiction to Article 18 of the Universal Declaration of Human Rights, and Article 18 of the International Covenant on Civil and Political Rights (ICCPR), to both of which Iran is a signatory: "All persons have the right to religious freedom, the right to change their religion or belief, and the freedom to express their belief individually or collectively, in public or private."
According to unofficial sources there are more than 300,000 Baha'is living in Iran, but the Iranian constitution recognizes only the religions of Islam, Christianity, Judaism and Zoroastrianism, and does not recognize the Baha'i religion. Therefore, over the past years, Baha'is' rights have been systematically violated in Iran.
The ban on economic activity of Baha'is in Iran continues, even though under Article 77 of the Charter on Citizens' Rights related to the Right to Employment and Decent Work, it guarantees "the right of citizens who, freely and without discrimination and in accordance with the law, choose and apply to the profession they are willing to pursue. No one can deny this right to citizens for reasons of ethnicity, religion, gender, or disagreement in political or social orientations."
Based on their religious beliefs, Baha'is close their businesses on their religious holidays. However, police forces and Intelligence and Security agencies close and seal their businesses in response. This is in spite of the explicit legal and civil rights of individuals to practice their religious beliefs and manage their own businesses as they see fit.