Source: www.hra-news.org
Translation by Iran Press Watch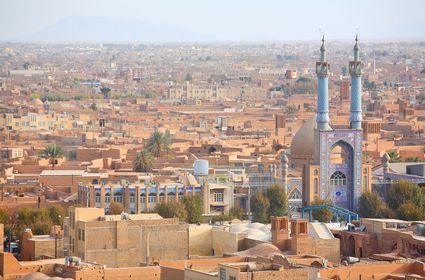 HRANA News Agency – Farzad Rouhani Manshadi, a Baha'i citizen living in Yazd, was detained by security forces today and transferred to an unknown location. The agents simultaneously searched his house and seized some personal belongings.
According to the HRANA, the Human Rights Activists News Agency in Iran, today, Monday, February 28, 2019, Baha'i citizen Farzad Rouhani Manshadi was arrested by security forces and was transferred to an unknown location.
A source close to Mr. Rouhani's family told HRANA's reporter: "Mr. Rouhani was apprehended while taking his children to school. After the arrest, security forces searched his house without a warrant and confiscated a number of his personal belongings."
Farzad Rouhani Manshadi was tried in July of last year by the third branch of the Yazd Appeal Court along with 6 other Baha'i citizens, and was sentenced to 3 years of suspended imprisonment.
This Baha'i citizen was arrested in 2016 by security forces in Yazd, and was released on bail until the end of the trial.
Baha'i citizens in Iran are denied freedom of religion, a systematic exclusion, in contravention of article 18 of the Universal Declaration of Human Rights and Article 18 of the International Covenant on Civil and Political Rights, to which Iran is a signatory, which state that everyone has a right to freedom of religion and to the conversion of religion based on personal belief, as well as the freedom to express it individually or collectively, in public or in secret.
According to unofficial sources in Iran, there are more than three hundred thousand Baha'is; however, the Iranian constitution recognizes only Islam, Christianity, Judaism and Zoroastrianism, and does not recognize the Baha'I Faith. For this reason, Baha'i rights in Iran have been systematically violated over a number of years.