Source: www.iranwire.com
Kian Sabeti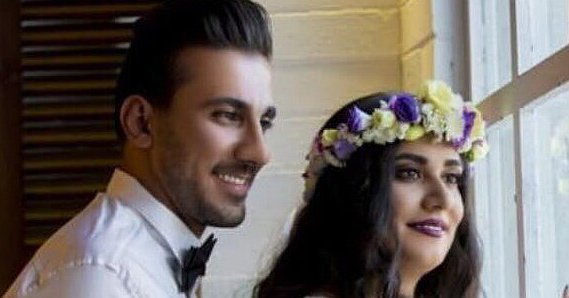 Iranian activists have urged the media and campaigners to pay more attention to human rights violations against Baha'is in provincial areas of Iran, claiming that they give unequal weight to violations taking place in Tehran and other big cities.
Newlyweds Fouzhan, 20 and Milad, 31, from the province of Isfahan, were not allowed to see each other for five months. They were arrested on September 23, 2018, a month after they were married. They were finally reunited in mid-March, 2019.
"In prison they did not have any IDs because security agents had confiscated these documents when they searched their home during their arrest," an informed source told IranWire. "And prison officials would not accept their Baha'i marriage contract as valid, so they did not allow them to meet. Last week, at last, their IDs were returned to them and they were allowed to meet."
On Sunday September 23, at about 6:30 in the morning, Intelligence Ministry agents simultaneously raided the homes of six Baha'i citizens in Baharestan, Isfahan province. After presenting warrants, the agents confiscated personal items, computers and mobile phones and arrested five people: Afshin Bolbolan, Farhang Sahba, Anoush Rayeneh, Sepideh Rouhani and Bahareh Zaini.
The sixth house they raided was the family home of Fouzhan Rashidi, but her father told the agents that his daughter had married about a month earlier and no longer lived at the family home. Nevertheless, the agents searched the house, took her parents to her new home and, after searching it, they arrested Fouzhan and her husband Milad Davardan. A few hours later, another Baha'i by the name of Saham Armin was arrested. All eight arrested Baha'is were taken to the Intelligence Ministry's detention center in Isfahan.
The detainees were interrogated for 17 days under pressure and in solitary confinement. Then the authorities transferred the women to Dastgerd prison and the men to Dowlatabad prison, both in Isfahan. On November 11, they and another Baha'i by the name of Ali Sani were tried at Branch 1 of Isfahan's Revolutionary Court, presided over by Judge Ali Diani, on charges of "membership to illegal Baha'i organizations with the intent to act against domestic security" and "propaganda against the regime by proselytizing Baha'ism." The lower court's verdict was issued on November 30, sentencing five of the defendants, including Milad Davardan, to six years in prison and the other four, including Fouzhan, to four years. On December 4, the appeals court, presided over by Judge Asadi, upheld the verdict with no change.
Speedy Injustice
"Unfortunately," said IranWire's source, "the news agencies and human rights media pay more attention to violations of the rights of Baha'is in Tehran and other big cities, and less to the arrests of Baha'is and the closing down of their businesses in smaller towns. This has led to increasing pressure on the Baha'is in small towns. The verdicts against these Baha'is is just one instance. With an unprecedented speed for the Iranian judiciary, within three months nine Baha'i citizens of Baharestan were arrested, were tried, were sentenced. The appeals court upheld the verdict exactly as it stood and they started serving their prison terms immediately. For five months, a Baha'i husband and wife, who had been married for no more than a month, were arrested and were prevented from meeting each other because they could not prove that they were married — despite the fact that the security agents themselves had confiscated their IDs and documents. Surely human rights organizations and the news agencies would have paid attention if this injustice had happened in Tehran or in one of the other big cities."
During her time in solitary confinement, Fouzhan Rashidi's blood pressure fell dangerously low, but her interrogators ignored this and continued their questioning. She is now suffering from damage to her health as a result. Before her arrest, Fouzhan was a psychology student at Payam-e Noor University, but she was expelled after her arrest.
Milad Davardan was an accountant and he, too, was expelled from his job after his detention was prolonged. He has been sentenced to six years and his wife to four years in prison. In less than six months the judiciary has succeeded in turning the lives of these newlyweds upside down — simply because they are Baha'is.