Source: www.iranwire.com
Kian Sabeti
Translation by Iran Press Watch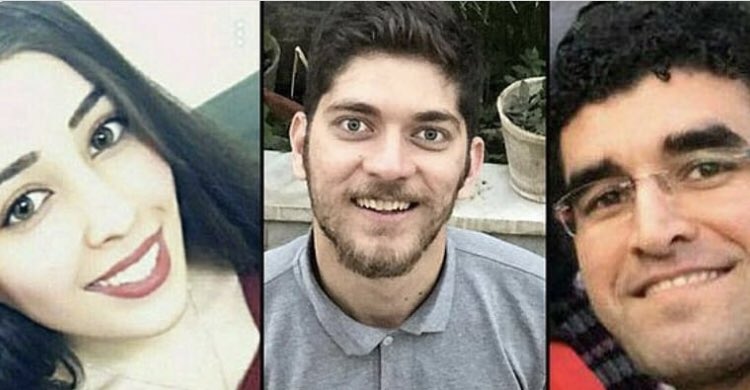 More than one month after the arrest of three young Baha'is – Ardeshir Fanaeian (30 years old), Behnam Eskandarian (25 years old) and Yalda Firoozian (20 years old) – in Semnan, there is still no news of their whereabouts or physical condition.  They have been denied the right to an attorney.  Their families has only been notified that they have been accused of propaganda against the regime and disturbing national security.
A person close to those arrested recounts the circumstances of the arrests to Iran Wire:  "On the morning of Tuesday, April 30, 2019 at around 8:00 A.M., agents of the Intelligence Department in Semnan simultaneously went to the homes of the three Baha'is, and entered their homes to conduct a search.  At each home there were 4-6 agents, whose faces were covered by masks.  Their approach at each location was different, but their interactions were generally neither cordial or legal.  Warrants were reluctantly produced, but only upon the insistence of the homeowners.  After an hour of search and confiscation of some personal and religious items, Ardeshir, Yalda and Behnam were arrested and taken to an unknown location, and to date not much is known about them."
A person close to Ardeshir Fanaeian tells Iran Wire that in the month since the arrest of their son, the Fanaeian family has received no news of him, and during this period Ardeshir has not even had a brief telephone call with his family.
According to this informed source, Ardeshir's mother lost her life in an accident two or three months ago, and his father has also been hospitalized for kidney problems.  Therefore, Ardeshir's sister, who lives in Gonbad-i-Kavous, and her small child have been coming to Semnan to pursue her brother's case. So far, neither judicial authorities nor the Intelligence Bureau have provided any clear answers about his situation.
Ardeshir Fanaeian was previously arrested by the Intelligence Ministry in January 2013. After a temporary detention of 50 days, was released on bail.  Some time later, the Revolutionary Court of Semnan, sentenced Ardeshir to nine months in prison on a charge of propaganda against the regime.  The sentence was enforced in December 2013.  Immediately after the completion of his sentence, Ardeshir was deployed by the Intelligence Bureau in Semnan to serve his compulsory military service.
Another individual close to Behnam Eskandarian tells Iran Wire of the condition of this Baha'i prisoner:  "Six days after his arrest, in a brief telephone conversation, Behnam notified his family that he had been beaten, and asked them to bring him 2,000,000 Tumans (approx. $475) to the prison.  After his family returned to the prison, they found out Behnam had been moved from solitary confinement to the prison quarantine, where he shared a cell with a drug addict, who was extorting him; since Behnam did not have any money, he had beaten him severely.  The prison wardens, even though they could hear the commotion and saw the beating on their surveillance cameras, did not intervene.  It later became evident that Behnam had asked for the money to keep himself safe from the other prisoner's harassment.
After the beating was confirmed by the legal authorities, the Eskandarian family asked for a medical examiner to treat Behnam.  They were told that Behnam is a competent adult, and only he can request to be examined and treated by the medical examiner.  Since his arrest, other than the one brief telephone conversation, Behnam Eskandarian has had no other telephone contact or visit with his family, and has been denied access to an attorney.
According to someone close to Yalda Firoozian, the third Baha'i arrested in Semnan, ten days ago, she was transferred from the Intelligence Bureau's detention center to the Semnan City Prison.  There, she is imprisoned in solitary confinement.  This is probably the same room in which some years ago, Baha'i women in Semnan were imprisoned.  In Semnan Prison, as in many other cities in Iran, Baha'i prisoners, due to the decree ruling them religiously "unclean", are kept in separate rooms and isolated from the other prisoners.  Even though in the general ward prisoners are free to use the public telephone, during the first five days after her arrest Yalda was not allowed to make a telephone call.  After five days, however, she was able to contact her family.  Since Yalda's transfer to the general prison, the Firoozian family have asked to be allowed visit their daughter, as do families of the other prisoners in the general ward.  So far, they have not been granted permission to visit; they were told by one of the prison authorities that Yalda is not allowed visits.
In 2012, Yalda's sisters, Golrokh and Shidrokh Firoozian, were detained by the Semnan Intelligence Department for 40 days. Each served a six month sentence in Semnan prison in 2013-2014 on the charge of propaganda against the regime.  Hojabr Firoozian, their father, was also imprisoned for 40 days in January 2014 on a charge of libel, based on a complaint by an agent of the Intelligence Bureau in Semnan.  When visiting his daughters in prison, Mr. Firoozian had noticed that one of them had been beaten by her interrogator.  He reported the matter to the judicial and legal authorities in Semnan. Since no action was taken on his complaint, he wrote to the President and recounted the beating of his daughter.  He was then summoned to the Revolutionary Court in Semnan, tried on a charge of libel against an agent of the Ministry of Intelligence, and sentenced to a fine of 1,200,000 Tumans ($285).  Hojabr Firoozian refused to pay the fine, considering it unjust, and was transferred to Semnan prison to serve 40 days in prison in lieu of the monetary fine.
According to an informed source in Semnan, recently several other Baha'is have been threatened with arrest and judicial prosecution by the Intelligence Ministry.