Source: persian.iranhumanrights.org
Translation by Iran Press Watch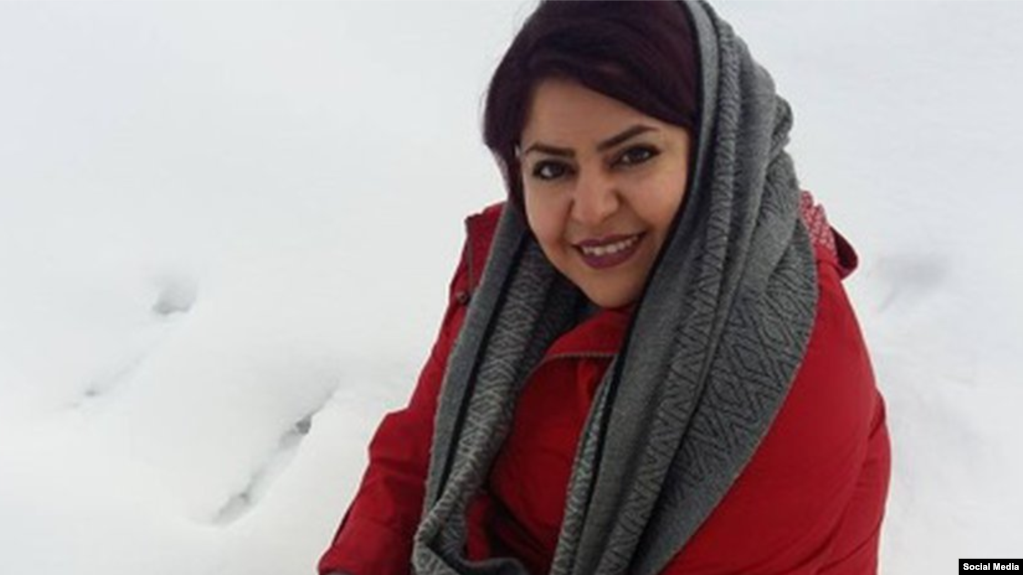 An informed source has told the Campaign that Negin Tadrisi, a Baha'i resident of Isfahan, who was arrested in 2017 during the bicentenary celebration of the birth of the founder of the Baha'i Faith, has been sentenced to five years in prison by the Revolutionary Court of Isfahan for "assembly and collusion against national security".  Her sentence was communicated to her attorney on June 19th.  Mrs. Negin Tadrisi is currently released on bail and is expecting the birth of her first child.
According to the source, Negin Tadrisi, along with a group of other Baha'is, had gathered at the home of one of the Baha'is for the observance of the birth of Baha'u'llah; when agents of the Information Department arrived, the meeting was adjourned and several guests were arrested.  After their arrest, Mrs. Tadrisi and several others were transferred to prison. She was released on bail in December of that year.
The source said:  "According to her indictment, things such as paying for Persian language lessons for an Afghan person, providing psychological counseling, and her personal writings in her diary are among the charges documented against her."
According to this source, they hope the charges may be dropped in the appellate court, and she will be acquitted. Mrs. Tadrisi is pregnant.
At a 2019 meeting of the U.N. Human Rights Council, Javad Larijani, the head of the Human Rights division of Iran's Judiciary, was questioned and criticized for the situation of Baha'is and other religious minorities in the country, and said that Baha'is can live and pursue education like other citizens. Also, on April 24, 2017, at a meeting of the Council on Foreign Relations in New York, Mohammad Javad Zarif, Iran's foreign minister said being a Baha'i in Iran is not a crime. Mr. Zarif also said:  "In Iran, no one goes to prison for being a Baha'i or not believing in God."
From the podium at the meeting of the Council on Foreign Relation in New York, Mr. Zarif said:  "We do not recognize the Baha'i religion, but this is a belief. One can be an agnostic. Someone can be an atheist. We do not put them in prison for being atheist."
In an earlier conversation with the Human Rights Campaign, Saeid Rezaie, a member of the former leadership body of the Baha'i community, who was in prison for ten years without a furlough, said:  "These statements by Mr. Zarif and Mr. Larijani are not acceptable to an objective and fair observer. Widespread attacks on the Baha'i community by the domestic media without allowing them the opportunity to defend themselves, the publication of anti-Baha'i books and presenting them in book exhibitions is a campaign of hate-mongering in this society, and is in no way consistent with the principles of the Iranian Constitution and civil rights. The main purpose of publishing such books is to spread hatred and to alienate people from Baha'i citizens. However, nowadays, with the existence of social media and the Internet, the Iranian people have a great awareness and understanding. I have personally witnessed this in the days since my release from prison. People from all walks of life express their regret, and even feel ashamed by all the injustice that has befallen the Baha'i community. This is in itself a sign of maturity and heightened awareness in people, which I believe is the result of the efforts of people like you, for which I thank you."
Members of the Baha'i Faith in Iran form the largest non-Muslim religious minority in Iran.  In recent years, mistreatment of Baha'is has intensified. This includes destruction of their cemeteries, arbitrary arrests, raids of their homes, confiscation of property, dismissal from work, and deprivation of basic civil rights.  Iranian Baha'i youth continue to be banned from university education as a group, and any institution of higher education where Baha'i students are attending is forced to expel them.  Baha'i professionals are banned from employment in government jobs, and because of their beliefs they face discrimination in the public sector.  Even those who defend them are attacked.