Source: www.hra-news.org
Translation by Iran Press Watch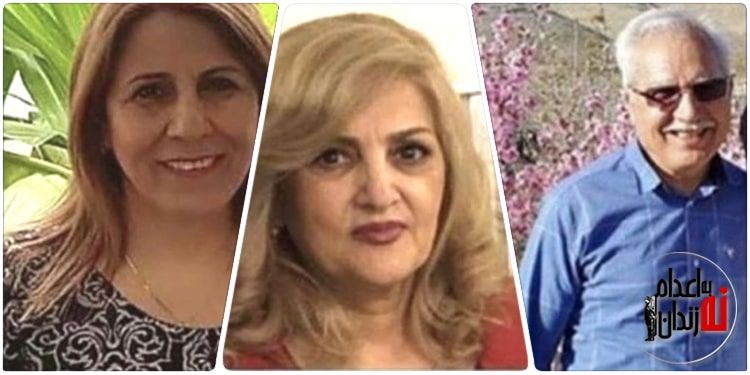 HRANA – Munirih Bavil Soflaie, Minoo Zamanipoor and Gholamhossien Mazloumi were arrested today in the early morning by security forces, and then transferred to Evin Prison.
Based on reporting by HRANA, the news agency of Human Rights Activists of Iran, on 10th August 2019 three Baha'i citizens were arrested and transferred to Evin prison.
The identity of the three Baha'is has been confirmed by HRA as Munirih Bavil Soflaie, Minoo Zamanipoor and Gholamhossien Mazloumi.
A close relative of these Baha'is told an HRA reporter: "At 8:00 am, three agents of the Office of Information with arrest warrants searched the residence of Munirih Bavil Soflaie and took her away along with her personal effects, including a laptop, mobile phone, Baha'i poster and books. The officers mentioned that until further notice no one should follow up on her arrest case."
The same relative continued: "During the arrest, agents mentioned that her arrest is in connection with a previous case. That case was the exhumation of the body of a Baha'i citizen which happened in the village of Gilavand in Damavand some time ago. At that time, the body of a Baha'i was exhumed by a few unknown people and was left in the wilderness near the village."
It became clear that she was being arrested and interrogated in relation to this incident.
Last week, on Saturday the 3rd of August, Ruhollah Zibaie and Abolfazl Ansari, two Baha'is residing in Karaj, were also arrested. Their houses were also searched by security agents and their personal items taken away.
On Sunday the 4th of August the home of Touraj Amini, a Baha'i writer and scholar, was searched and his personal effects were taken away by security officers.
On Friday, the house of Mr. Jamaluddin Khanjani, one of the previous leaders of the Baha'i community, was searched for five hours and his personal belongings were seized, including some cash.
Baha'is in Iran have been deprived of their freedom of religious belief. This deprivation has been systematic, although according to Article 18 of the Universal Human Rights Declaration and Article 18 of the International Treaty on Political and Civic Rights, every individual has the right to any religious belief, and to change their beliefs. In addition, every human being must be free to express those beliefs, whether in private or in public.
Based on unofficial sources, there are more than three hundred thousand Baha'is residing in Iran, whereas the Constitution of Iran recognizes only the religions of Islam, Judaism, Christianity and Zoroastrianism. Baha'is have no religious freedom. This is the reason why the rights of Baha'is have been systematically violated.