Source: www.radiofarda.com
By Mahtab Vahidirad
Translation by Iran Press Watch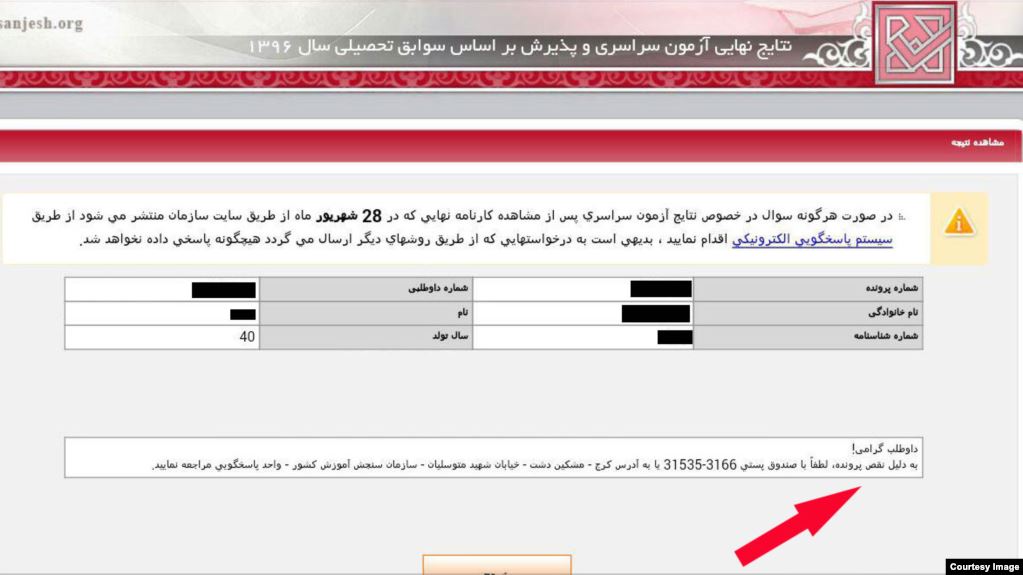 News from Iran indicates that over 70 young Baha'i men and women were barred from university education following the announcement of the results of this year's Nationwide University Entrance Examination.
Some sources say the number may be closer to over 100. Some of these Baha'i citizens who contacted the Assessment Agency were told they were refused admission to university because of their belief in the Baha'i faith.
Officials in the Islamic Republic of Iran have not commented on this issue.
All these people came across this message when they logged in to the Assessment Agency's website with their User IDs:
"Dear applicant, please contact the response unit of the Assessment Agency due to your incomplete application."
A message that Fouad says he has received for the second consecutive year:
"I haven't contacted them yet this year, however, I had a prolonged back and forth with them last year. I spoke to someone at the Assessment Agency who said you were disqualified by the Intelligence Ministry. When I asked about the reason, they said you were disqualified by the Intelligence Ministry due to your beliefs, and we can't allow you to enter the university. When I asked them for a written note to this effect, they asked me for my address and phone number and said we will send your request to the Intelligence Ministry and will let you know if they answer. But then they never contacted me."
These people say their belief in the Baha'i faith is not a secret and is usually mentioned in the religion column of their high school forms.
Another Baha'i citizen who had taken the entrance examination for the first time was interviewed on Radio Farda under the alias "Omid", and said the following about his experience:
"Yesterday, I went to the Assessment Agency to follow up, they sent me to a special consultant who was in the agency specifically for this purpose. They did not give me a written note but verbally said we cannot allow you to enter the university because of your Baha'i Faith."
Preventing Baha'is from attending university has long been a precedent, and even passing the Entrance Examination and its follow-on obstacles are not guarantees of continuing education, as tens of students have been banned from continuing their education even after attending and passing several semesters.
"Maryam" is an alias used by of one of the Baha'is studying civil engineering at Shahid Beheshti University:
"They didn't give me any written notices, they just shut down my user account after I studied for two semesters. They issued an expel order in absentia. I found out via a phone call, but they did not mention the reason.  When I contacted the central admissions board at the Assessment Agency, they said: you are aware that you are a Baha'i and Baha'is in Iran do not have the right to university education. I was deprived of an education because I have a different religion. They told me that the only way to get back to university is to become Muslim and recant being a Baha'i."
Farzad Safaie, Ahvaz Azad University student; Vafa Hoveidaie Tehran Amir Kabir University student, and Vesal Laghaiefar, Tafresh Amir Kabir University student are three other Baha'i students who have been deprived of university education in recent months.
Simin Fahandezh, a Geneva-based spokeswoman for the Baha'i International Community, says:
"Since the beginning of the Revolution, Baha'is have been denied access to higher education and university. In 1991, a secret document was brought to light by a UN Special Representative. In this document, it was stated that Baha'is should be treated in such a way that their progress and development shall be blocked and be deprived of education, and when it became apparent that an individual is Baha'i, whether at the time of entering university or already enrolled in the university, they must be expelled from the university. Unfortunately, this trend is still going on, and young talented youth who can serve their country are deprived of their education solely because of their religious beliefs."
The UN Special Rapporteur on human rights in Iran, Asma Jahangir, also criticized the "widespread violation of Baha'i rights in Iran and their ill-treatment and persecution."
Denying Baha'is the right to university education, according to Sama Jahangir, is an example of violating their citizenship rights.