Source: www.hra-news.org
Translation by Iran Press Watch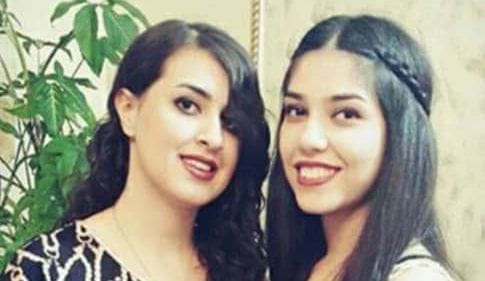 HRANA– The Appeals court hearing for Kiana Razvani and Kimia Mostafavi, two Baha'i citizens residing in Kerman, was held Saturday morning, Nov. 9. The two Baha'i citizens were previously sentenced to six years in prison by the Kerman Revolutionary Court. If the verdict is upheld and Article 134 of the Islamic Penal Code is applied, the maximum sentence of five years of prison applies.
According to HRANA, the news agency of Human Rights Activists in Iran, the appeals court hearing for two Baha'i citizens of Kerman, Kiana Razvani and Kimia Mostafavi, was held today, Nov. 9, 2019.
The trial was held this morning at the Seventh Branch of the Kerman Province Court of Appeals, attended by the two Baha'i citizens, with Mohammad Hadi Erfanian Kaseb as the defendants' defense lawyer.
Kiana Rezvani and Kimia Mostafavi in September of this year at the previous phase were sentenced by the Revolutionary Court of Kerman to six years of prison eacht.
According to a ruling issued by the Revolutionary Court, Kiana Rezvani and Kimia Mostafavi each received a five-year prison sentence for "membership in the Baha'i Organization" and a one-year sentence for "propaganda against the regime and for the benefit of opposition groups". If Article 132 of the Islamic Penal Code is applied, severe punishment of up to five years imprisonment on the charge of "membership in the Baha'i establishment" will apply to each of these citizens.
The two Baha'is were previously arrested by security forces on January 19 of this year. They were released on bail on January 24, 2019, and were released on bail until the end of the proceedings.
It should be noted that earlier in 2016, after he attended the national university entrance exam and the results were announced, Kiana Rezvani received a message of "incomplete dossier" in the National Organization of Educational Testing website, and was denied education because he is a Baha'i.
Baha'is in Iran are systematically denied freedom of religious beliefs, although under Article 18 of the Universal Declaration of Human Rights and Article 18 of the International Covenant on Civil and Political Rights, everyone has the right to freedom of religion and religious conversion with the conviction and the freedom to express it individually or collectively, and in public or in private.
According to unofficial sources in Iran, there are more than three hundred thousand Baha'is in the country, but the Iranian constitution recognizes only the religions of Islam, Christianity, Judaism, and Zoroastrianism, and does not recognize the Baha'I Faith; therefore, over the past years Baha'is' rights have been violated.