Source: ir.voanews.com
Translation by Iran Press Watch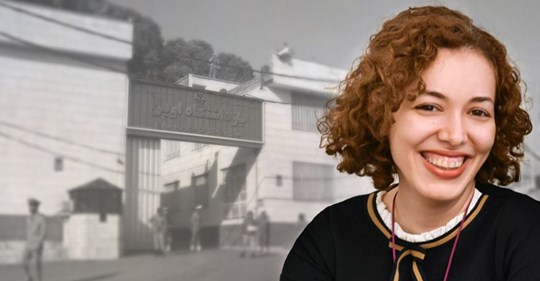 Negin Ghedamian, an imprisoned Baha'i citizen in Iran who was arrested in mid-December 2017 and is serving a five-year sentence in Evin Prison, is still jailed despite a recent directive by the judiciary to temporarily release her or grant her a furlough.
In an interview with Voice of America on Wednesday, May 27, an informed source said that this Baha'i citizen was sentenced to five years in prison by Judge Mogheiseh, head of Branch 28 of the Revolutionary Court, and has been in Evin Prison since mid-December of 2017. However, despite the recent directive of the judiciary, her release is still being opposed, and the authorities are preventing her release. Last December, the United States sanctioned Judge Mogheiseh for widespread human rights abuses.
According to this informed source, Negin Ghedamian's family has been trying hard to secure her release through a judicial directive, issued by the head of the judiciary, Ebrahim Raisi, in mid-March of last year, which resulted from the outbreak of novel coronavirus and its spread in Iranian prisons. But without any convincing reason, the authorities have prevented her from being released, and the only thing that is said to the family is that "the prosecutor has not yet approved the request for release."
These confrontations took place at a time when officials say that the judge assigned to this case repeatedly confirmed that the above directive did include Ms. Ghedamian's case and that she should have been released by now. However, the authorities disobeyed the order of the head of the judiciary, and Negin Ghedamian continues to be in detention illegally.
According to this informed source, the family of this prisoner of conscience has requested a meeting with Judge Alqasi-Mehr, the Tehran Public and Revolutionary Prosecutor, but to date the family has not been allowed to visit the prosecutor's office. In their final follow-up, they told the family, "We sent it to the prosecutor and he has not declared his final decision."
In mid-March a spokesman for the judiciary, Gholam-Hossein Ismaili, announced that about 10,000 prisoners sentenced to less than five years in prison could be pardoned by the Supreme Leader. However, the release of many prisoners of conscience, such as Negin Ghedamian, a Baha'i citizen, has so far been denied.
This is not the first time that judicial officials have failed to investigate the case of this Baha'i citizen. According to this individual, even earlier, as the virus spread, the family was seeking leave for Ms. Ghedamian, but, despite the favorable statements of the assistant judge in charge of security crimes at Evin Prison regarding her furlough, their follow-up efforts have been unsuccessful. Whenever they requested her leave from the prosecutor's office, their request letters were not even registered there, and the first-deputy prosecutor was not willing to take delivery of their letters of request.
This informed individual told Voice of America: "Due to the observed inefficient operation of the prison system that Negin Ghedamian's family is facing, they are currently not only worried for Negin, but also for all prisoners in the Iranian prison system". According to this informed individual, due to the extremely limited adequate facilities in Iran's prisons, the family of this prisoner is worried about the spread of the coronavirus in the prison.
Negin Ghedamian, a Baha'i citizen now detained in Evin Prison, was arrested on December 17, 2017, and later tried in absentia by Branch 28 of the Revolutionary Court, presided over by Judge Mogheiseh, on charges of illegal activities, membership in the Baha'i organization, acting against national security, and working in an illegal educational institution. She was sentenced to 5 years in prison. Despite the appeal of this prisoner of conscience, Branch 36 of the Revolutionary Court, presided over by Judge Zargar, upheld the sentence.
"Not only we have called on Syria, but also the Islamic Republic of Iran to release not only American citizens, but also all those who have been unjustly imprisoned," Secretary of State Mike Pompeo told a news conference. "This is a humanitarian act, and considering the fact that these people have been imprisoned illegally, humanitarian principles dictate that they be released from prison."
The refusal by government officials to release this prisoner of conscience comes as the spread of the coronavirus in Iran has not fully controlled, and there have been reports of the spread of the virus and related human rights abuses in Iranian prisons. Officials of the Islamic Republic officially announced 7564 deaths as of Wednesday, May 27, 2020, and a total of 141,591 active cases.
Earlier, a World Health Organization (WHO) official said that the number of people infected with the coronavirus virus in Iran was only one-fifth of the actual number released by Iranian officials. The official statistics of active cases and deaths of COVID-19 in Iran, China, and Russia cannot be verified by independent experts and cannot be considered valid or final.
In addition, the US Commission on International Religious Freedom recently reiterated its concern over the situation of religious freedom in Iran in its annual report, published on Tuesday, April 28th. Its section on Iran states: "The Islamic Republic is increasingly targeting Muslim minorities, especially Sunnis and dervishes, as well as followers of other religions and denominations, including Baha'is and Christians."