Source: irannewswire.org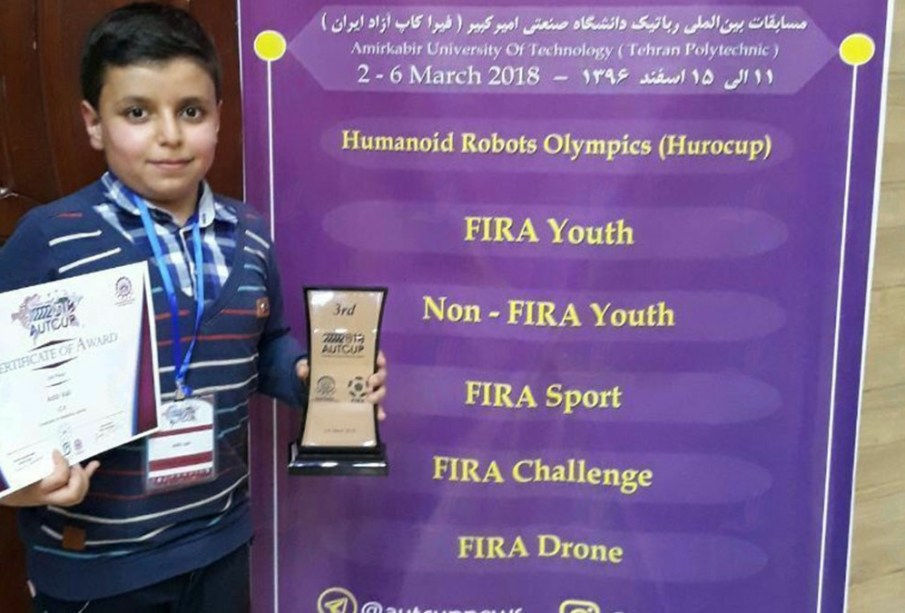 A 15-year-old elite Baha'i student in Karaj near Tehran, was banned from continuing his education due to his religious beliefs.
According to the Human Rights News Agency, Adib Vali was not allowed to register for the tenth grade. Despite having received several medals for his achievements he was told in a call from the principal at Salam School yesterday that he could not continue his studies at the school.
Adib had studied grade 7 – 9 at Salam School and was the top of his class.
An informed source said that the elite Baha'i student was banned from education after he wrote he was Baha'i in a school form.
"Last week his files were transferred from the first year to the second year of high school. He was given a form to fill out with his personal information. There was a question in the form that asked about his religion," the source said.
"In the Baha'i religion, honesty and truth are taught and encouraged, therefore Vali wrote his true religion. The office staff said they would take the issue to their superiors in Tehran."
He was then told that he could not continue his studies.
Adib Vali has received several first-place medals in international robotics and Artificial Intelligence contests, as well as being the highest scoring student in his grade.
According to the report, Adib's father, Payam Vali, has also been discriminated against by the regime. His business has been shut down on court orders for 12 years now. His appeals against the shut down to the Supreme Court and other judicial organizations have not been successful.
Adib's uncle, Afshin Vali, was killed at the age of 12 by extremists in Hossein Abad village in Alborz province in 1990 because the regime had announced that killing Baha'is was permissible. Adib's father, who was 10 at the time, found the body of his 12-year-old brother thrown inside a well.
Even though Baha'i citizens are systematically banned from Universities, they are sometimes banned from lower educational institutions as well.
Iranian Baha'is are deprived of freedom of religion, which is stated in Article 18 of the Core International Human Rights Treaties.
"Everyone has the right to freedom of thought, conscience, and religion; this right includes freedom to change his religion or belief, and freedom, either alone or in community with others and in public or private, to manifest his religion or belief in teaching, practice, worship, and observance."
Unofficial sources say that there are more than 300,000 people following the Bahá'í Faith in Iran. However, the Constitution of the Islamic Republic of Iran only recognizes Islam, Christianity, Judaism, and Zoroastrianism and does not recognize Baha'ism.
Since the 1979 Islamic Revolution in Iran, Iranian Baha'is have been systematically persecuted as a matter of government policy. During the first decade of this persecution, more than 200 of Iran's Baha'is were killed or executed, hundreds more were tortured or imprisoned, and tens of thousands lost jobs, access to education, and other rights – all solely because of their religious belief.
The persecution of Iran's Baha'is is still ongoing with dozens of Baha'is languishing in Iranian prisons throughout Iran.