Source: www.hra-news.org
Translation by Iran Press Watch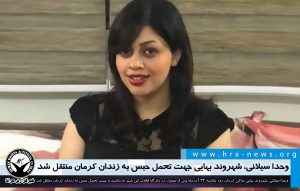 HRANA News Agency – Vahda Silani, a Baha'i citizen living in Kerman, was arrested on Sunday, December 13, 2020, after appearing in the Revolutionary Court of this city. She was transferred to Kerman Prison to serve her sentence. Ms. Silani had previously been sentenced by the Kerman Revolutionary Court to seven months in prison.
Ms. Silani was previously summoned to the Kerman Revolutionary Court for some explanations, and was then arrested on Sunday after appearing in court; she was transferred to Kerman Prison to serve her sentence.
Previously Vahda Silani was arrested by Ministry of Intelligence agents on December 29, 2019 and transferred to Kerman Prison. During the arrest, officers searched Ms. Silani's home and confiscated some of her personal belongings.
She was temporarily released on January 15, 2020, on 100 million toman [approx. $23,750] bail until the end of the trial.
Ms. Silani was later tried by the Kerman Revolutionary Court and sentenced to seven months in prison on charges of propaganda against the regime by means of Baha'i propaganda.
Baha'is in Iran are prevented from practicing their religion. This systematic deprivation of liberty occurs even though Article 18 of the Universal Declaration of Human Rights and Article 18 of the International Covenant on Civil and Political Rights entitle every individual to freedom of religion and belief, as well as to freedom to express it individually or collectively, in public or in private.
According to unofficial sources, there are more than 300,000 Baha'is in Iran, but Iran's constitution only recognizes Islam, Christianity, Judaism, and Zoroastrianism; it does not recognize the Baha'i Faith. For this reason, the rights of Baha'is in Iran have been systematically violated for many years.