Source: www.bic.org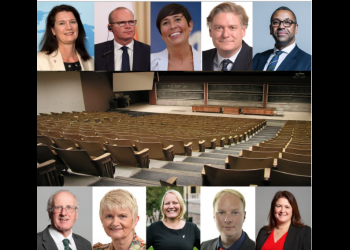 BRUSSELS—
18 December 2020

—
In recent weeks, a number of European government ministers and parliamentarians have spoken out against Iran's systematic refusal to allow Baha'is access to higher education.
Among those who have shared their concerns was The Rt. Hon. James Cleverly MP, UK Minister of State at the Foreign, Commonwealth and Development Office. On 15 December 2020, he responded to a question by Rachel Hopkins MP, sharing the UK government's deep concern regarding the denial of educational access to Iran's Baha'is. Jim Shannon MP also spoke in the UK Parliament about this issue, highlighting the government's responsibility to support the Baha'is in Iran and their right to education.
Earlier in the month, Norwegian Minister for Foreign Affairs, Ine Eriksen Søreide, echoed the concern of Member of Parliament, Mona Fagerås, regarding the barring of Baha'is from higher education. In her response, the Norweigan Foreign Minister listed the steps Norway has taken to address the general situation of the Baha'is in Iran.
Similarly, in Ireland, Minister for Foreign Affairs, Simon Coveney expressed his concern.  Minister Coveney stated that, "…the inability of members of the Baha'i Faith to access higher education is deeply concerning," adding, "…it is unacceptable to discriminate against individuals on the basis of their religion." Minister Coveney was responding to Member of Parliament, Marian Harkin TD, who had asked that the Irish government call on the Iranian authorities to end discrimination against Baha'is in education.
In Sweden, Minister for Foreign Affairs, Ann Linde, met with representatives of the Baha'i community in October. This meeting took place on the basis of Member of Parliament, Anders Österberg requesting that the Minister "consider raising, with the EU and directly with Iran, the worrying escalation in the persecution and the denial of access to higher education for Baha'is".
Members of the European Parliament are also voicing concern about the systemic and government-led discrimination against Iran's Baha'is. Last month, MEP Antonio Lopez-Isturiz White asked High Representative of the EU, Josep Borrell to "call upon the Iranian authorities to start showing good will by letting young Baha'is have access to university and complete their degree just as their compatriots."
The 1991 secret memorandum of the Iranian Supreme Revolutionary Cultural Council, among other actions, states that Baha'is, "must be expelled from universities, either in the admission process or during the course of their studies, once it becomes known that they are Baha'is". Referring to this memorandum, a 2006 letter issued by the Ministry of Science, Research and Technology outlines the formal process to be undertaken regarding Baha'i students. In this letter, the Ministry instructs 81 Iranian universities to expel any student found to be a Baha'i at the time of enrolment, or during his or her studies, adding that universities should take measures to prevent further enrolment by Baha'is.
Baha'is have been systematically persecuted in Iran since the 1979 Islamic Revolution. Over 200 Iranian Baha'is have been executed or murdered, thousands have been arrested, detained and interrogated, and tens of thousands more have been deprived of jobs, pensions, and educational opportunities. The Baha'i community's holy places, cemeteries, and properties have been confiscated, vandalized, or destroyed, and many Baha'is have had their homes and other property seized or damaged. Recent home raids across Iran and confiscation of properties belonging to the Baha'is in the village of Ivel are the latest episodes in the ongoing waves of persecution faced by Iran's Baha'is.
Background
The Baha'is are Iran's largest non-Muslim religious minority and have been systematically persecuted by the government since the 1979 Islamic Revolution.
More than 200 Baha'is were executed in the years after the Revolution.
A 1991 policy document signed by Iran's Supreme Leader, Ayatollah Ali Khamenei, called for the progress and development of Iran's Baha'i community to be "blocked" and for Baha'is to be denied education and livelihoods. Thousands of articles of propaganda against the Baha'is are published in Iran's state media each year.
Image credits: Official portrait of Rachel Hopkins MP by David Woolfall, Official portrait of Jim Shannon MP by Richard Townshend, Official portrait of James Cleverly by Chris McAndrew, Marie Eriksen Søreide by Kjetil Ree, Image of Mona Fagerås by SV Sosialistisk Venstreparti, Image of Anders Österberg by Riksdagsförvaltningen, Image of Ann Linde by Ministerie van Buitenlandse Zaken, Image of Marian Harkin by EP Photo Service, Image of Simon Coveney by МИД России, Image of Antonio Lopez-Isturiz White by EP Photo Service. Classroom image by cogdogblog and Accretion Disc.