Source: iranwire.com
Kian Sabeti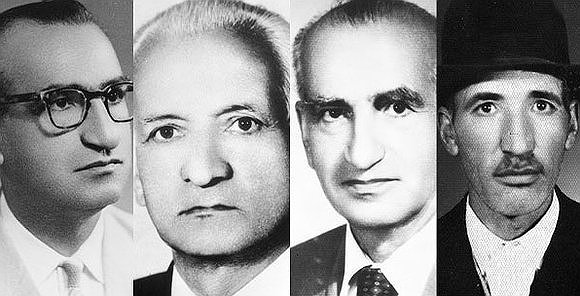 Behnam Mahjoubi, a prisoner of conscience, was transferred from Evin Prison to Loghman Hospital in Tehran, on February 13, 2021. He was in a coma. Three days later doctors gave up hope for his survival. On the February 21, the General Directorate of Prisons officially announced his death.
Mahjoubi, a Gonabadi dervish, had been sentenced to two years in prison for events related to the bloody incident of Golestan-7. His sentence was carried out in May 2020 despite a medical certificate stating that he could not tolerate imprisonment. Lack of access to medical facilities, the refusal of prison officials to deliver medications to him on time, and a sojourn at the Aminabad Psychiatric Hospital caused Mahjoubi many physical and mental problems. He suffered from numbness to his hands and feet, seizures, slurred and stuttering speech and finally a loss of speech.
His fellow inmates and family repeatedly warned officials about his physical and mental condition. Mahjoubi had gone on a hunger strike to protest against his situation. But his protests were not taken seriously until he fell into a coma and was taken to hospital. By then it was too late: Mahjoubi died just 33 years of age.
Behnam Mahjoubi was not the only prisoner of conscience in the Islamic Republic who died in prison due to authorities ignoring clear warning signs. Over the past four decades many others have died in prison due to lack of medical care during imprisonments or temporary detentions. In each case, the relevant authorities, instead addressing and resolving the reasons for these deaths, have tried to hide the truth and shirk responsibility by pressuring families of the prisoners or by fabricating stories about the prisoners.
The following is a list of Baha'is, members of Iran's largest non-Muslim religious minority, who have died in Iranian prisons as a result of illness or a lack of medical care. The Baha'is have been persecuted by Iran's government since the 1979 Islamic Revolution.
Hossein Nayeri Esfahani
Hossein Nayeri Esfahani was born in 1912 to a religious Muslim family in Isfahan. He became a Baha'i after his father had first joined the faith. The Revolutionary Guards agents arrested Nayeri Esfahani at his home on December 4, 1982; he was held for three months and was pressured to convert back to Islam. Finally, after three months, he was transferred to Isfahan Prison's political ward. Nayeri Esfahani was suffering from old age and diabetes, but prison authorities refused to give him the necessary medication. He died of a heart attack on August 31, 1983, while waiting for a third interrogation session with the Revolutionary Prosecutor's Office.
Ahmad Sabet Sarvestani
Ahmad Sabet Sarvestani was born in 1912 in Sarvestan Fars province to a Baha'i family. He was arrested on December 4, 1982, after being summoned to the Shiraz Revolutionary Court. Sabet Sarvestani was 71 years old; his body was weak, and his breathing shallow, so that when in prison had to visit his family from a wheelchair. He was suffering from severe shortness of breath. The prison authorities refused to give him medicine or send him to the hospital until, in his final days, he was taken to the hospital where he died on August 31, 1983.
Abdol Majid Motahar
Abdol Majid Motahar was born in 1919 in Shahreza, Isfahan province. He was arrested at 3am on December 4, 1983, when five armed guards stormed his home and took him and one of his sons. Motahar was detained and barred from receiving any visitors for four months. He was severely ill with leukemia but authorities refused to give him medication. Motahar's condition worsened and he was taken to a clinic where his doctor recommended that he should be hospitalized; but again, prison officials refused, and he was returned to prison. Abdol Majid Motahar's body was found a few days later in the prison bathroom. The death certificate gave complications arising from leukemia as the cause of death.
Rahmatollah Hakiman
Rahmatullah Hakiman, born in 1932 in Kerman, was arrested at his home on December 30, 1983, and imprisoned along with eight other members of the Baha'i Spiritual Assembly for the city of Kerman. He was denied visitors after his arrest. On January 7, as Hakiman's family searched for information regarding his wellbeing and whereabouts, they found his death certificate at a prosecutor's office. The certificate had been issued two days before on January 5. Rahmatollah Hakiman's body was not returned to his family.
Nosratollah Ziaei
Nosratollah Ziaei, born in 1924 in Kerman, was arrested at his home on January 1, 1984, along with his wife and son, by the Revolutionary Guards. Ziaei was severely tortured in prison and sustained a broken skull. He was hospitalized at one point, for a week, and after a second hospitalization he died, on March 19, 1984. Ziaei's body was not returned to his family.
Assadollah Kamel Moghaddam
Asadullah Kamel Moghaddam was born in 1921 in Babol, Mazandaran province. He was arrested on October 27, 1983, at his home. He was held in Ghasr Prison and Shahrbani Prison for three months. He then spent a month in solitary confinement at the prosecutor's office. In March 1984 Kghaddam was transferred to Evin Prison, and on May 2, 1984, his family was informed that he had died of a heart attack. Moghaddam had a history of heart disease and had already suffered a mild stroke before prison. His body was not returned to his family.
Aminollah Ghorbanpour
Aminollah Ghorbanpour was born in 1925 in the city of Babakandi in Azerbaijan province. The Revolutionary Guards stormed Ghorbanpour's house in the middle of the night on May 20, 1984, and arrested him. On August 24, after being held for three months in solitary confinement at Gohardasht Prison, Ghorbanpour was transferred to Evin Prison without his family being notified. A few days later, his family went to try to visit him at Gohardasht, where they were told about the transfer to Evin. The family went to Evin Prison, where no one knew about Ghorbanpour, until finally it was discovered that he died of an illness during his detention. Ghorbanpour's family went to Behesht Zahra Cemetery in Tehran where they found his name on a list of executed prisoners. No information has been found on the date of Ghoranpour's death or where he was buried.
Alireza Niakan
Alireza Niakan was born in 1917 in the village of Zonouz in Azerbaijan. His family had long been part of the farming community in the village. Niakan had received many death threats, his farm was set on fire, his fruit trees were cut down and his animals were killed, but he never left the village and continued to farm and raise livestock as his father had before him.
On September 11, 1981, Revolutionary Guards agents raided Niakan's home and arrested him. He was kept in Marand Prison for a few days and then transferred to Tabriz Prison. He had converted from Islam to the Baha'i faith as a young man – causing the prison guards to torture him in an attempt to force him to recant his faith and to return to Islam. The torture was so severe that he lost the use of his right hand and had difficult speaking. Niakan was transferred from prison to the hospital twice until he died in the hospital on November 11, 1984.
Noureddin Taefi
Noureddin Taefi was born in 1924 in Sangesar, Semnan province. He was arrested at midnight on October 31, 1983, at his home in the city of Gorgan. Taefi had a heart condition for which he took medication and followed a special diet. Prison authorities denied him his medication and refused to cater to his dietary needs. Taefi was severely tortured and exposed to the winter weather for several hours. The prison doctor, who examined him, warned officials that Taefi would die if not released. But the authorities disregarded the warning and continued to deny Taefi his medication. He eventually suffered a heart attack and was taken to hospital; after 20 days, he died, on October 12, 1985, in the 5th of Azar Hospital in Gorgan.
Mashallah Enayati
Mashallah Enayati was born in 1934 in Ardestan, Isfahan province. He lived in Tehran and was arrested while on a trip to his hometown. He was transferred to Isfahan Prison and severely beaten, causing him to sustain swelling and scars to his face, hands and back. He was said to have been injected with an anaesthetic. Enayati was in this condition for a week and was taken to hospital where he died on July 4, 1997.
Zabihollah Moharrami
Zabihollah Moharrami was born in 1946 in Yazd. He was arrested in 1995 in the same town. A court charged Moharrami with "apostasy and departure from Islam." He was sentenced to death – which was later reduced to life imprisonment and finally to 15 years in prison with hard labor. Moharrami had spent 10 years in prison when, at 1130pm on December 14, 2005, he mysteriously died in prison. Prison officials attributed Zabihollah Moharrami's death to a heart attack. He had no previous history of heart disease or other illness and had never complained of any health issues during his family visits.