Source: irannewswire.org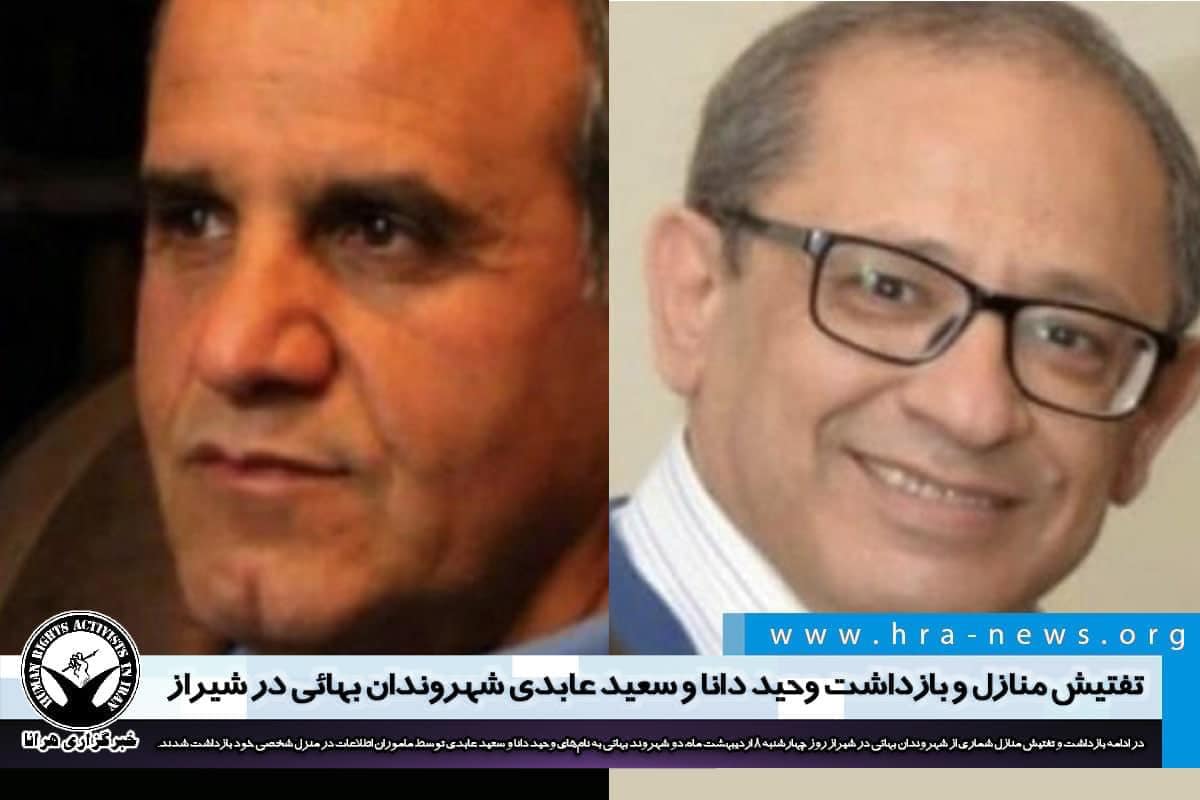 Two Iranian Bahais were detained in their homes in Shiraz southwestern Iran yesterday. According to the Human Rights News Agency, they were identified as Vahid Dana and Saeed Abedi.
Intelligence agents searched their homes and confiscated some of their personal belongings including their cellphones, computers, holy books and Bahai photos.
The two Bahai men are being kept in the Shiraz Intelligence Office Detention Center. Vahid and Saeed were previously detained in August 2018, tried in absentia, and sentenced to one year of prison and one year of exile. It was later changed to 6 months of prison, after which they received amnesty in February 2019.
The Iranian regime has increased its suppression against Bahais. The arrest of the two Iranian Bahais brings the total number of detained Bahais to 25 in April.
Three weeks ago, on April 6, seven other Iranian Bahais were detained in Shiraz. They were identified as Saeed Etehad, Ghasem Masoumi, Siamak Henrour, Soroush Abadi, Sedigheh Aghdasi, Alieh Forutan, and Behrouz Farzandi Ardakani. They are still being kept in solitary confinement in Shiraz's detention centers.
On April 26, the homes of 13 Iranian Bahais were raided and searched, and at least ten people following the banned faith were detained in Baharestan, a city in the central province of Isfahan.
On April 20, a Bahai woman was detained by intelligence agents in Babol northern Iran. She was identified as 52-year-old Manijeh Azimian.
On April 3, seven Iranian Bahai women in the northeastern city of Mashhad were summoned to serve their prison terms for following Bahaism.
Unofficial sources say that there are more than 300,000 people following the Bahai Faith in Iran. However, the Constitution of the Islamic Republic of Iran only recognizes Islam, Christianity, Judaism, and Zoroastrianism and does not recognize Bahaism.
Since the 1979 Islamic Revolution in Iran, Iranian Bahais have been systematically persecuted as a matter of government policy. In mid-April, Iranian authorities started banning members of the persecuted Baha'i minority from burying their loved ones in empty plots at a cemetery near Tehran that they have used for decades, instead insisting they bury them between existing graves within the cemetery or at the nearby Khavaran mass grave site for victims of the 1988 prison massacres, according to Amnesty International.
Over the past four decades, the Iranian authorities have repeatedly desecrated and demolished Baha'i cemeteries across the country. On multiple occasions, the authorities have also subjected the bodies of members of the Baha'i community to desecration and degrading treatment including by preventing them from being buried or unlawfully exhuming them and transferring them to abandoned areas.
During the first decade of the persecution of Bahais by the Islamic Republic, more than 200 of Iran's Bahais were killed or executed. Hundreds more were tortured or imprisoned, and tens of thousands lost jobs, access to education, and other rights – all solely because of their religious belief.
The persecution of Iran's Bahais is still ongoing with dozens of Bahais languishing in prisons throughout Iran.