Source: news.bahai.ca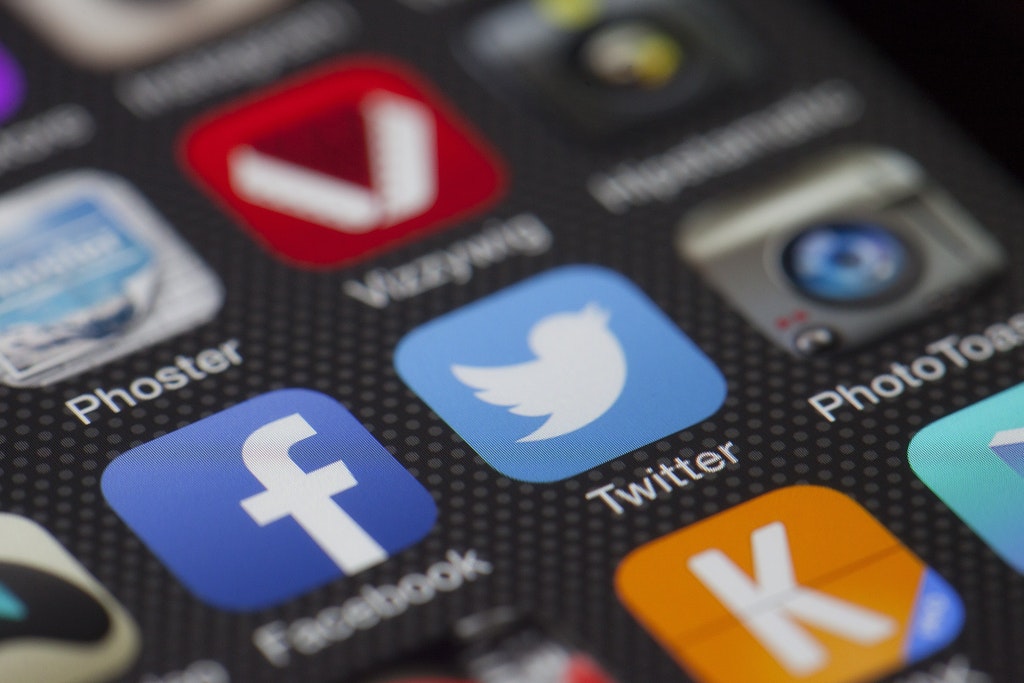 For two hours on July 15th, one of the trending issues on Twitter in Canada was a campaign to stop anti-Bahá'í hate propaganda in Iran. During that time, more than 36,000 social media messages were broadcast – reaching hundreds of thousands of people around the world. The hashtag #StopHatePropaganda was also trending on Twitter in Australia, India, and the United Kingdom.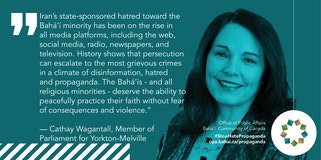 This was all part of a campaign aimed at countering the Iranian government's decades-long promotion of anti-Bahá'í hate propaganda. The Baha'i International Community has documented the proliferation of state-sponsored hate propaganda for many years, and it has recently noted that this "machinery of hate" has "reached new levels… in both sophistication and scale."
A website created by the Office of Public Affairs of the Bahá'í Community of Canada drew on data collected by the BIC to note since 2017, more than 33,000 pieces of anti-Bahá'í content have been published or broadcast. During the first four months of 2021, there was an increase of 44% compared to the previous year.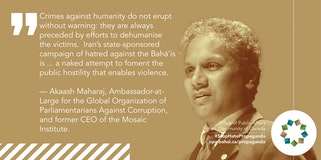 "The unfolding strategy to demonize the Baha'i community is reflected in a growing and coordinated network of hundreds of websites, Instagram accounts, Telegram channels and Clubhouse rooms," says the BIC.
"History is replete with the victims of grievous crimes incited by hate speech," said Diane Ala'i, Representative of the Bahá'í International Community to the United Nations in Geneva. "We are concerned that the increasing spread of disinformation targeting the Baha'is may signal a severe increase in the persecution meted out against them."
Dr. Mark Freiman, a hate propaganda expert and former Deputy Attorney General of Ontario, added his voice to the campaign: "Hate propaganda demonizes and dehumanizes its targets," he said. "When tolerated or even authorized by government, it turns its victims into targets for discrimination, abuse and ultimately violence."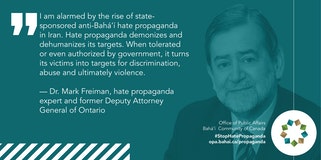 The Raoul Wallenberg Centre for Human Rights joined with Parliamentarians for Global Action to issue a statement of concern about the rise in anti-Bahá'í propaganda: "We urge all communities and countries of conscience to call for an end to the illegal acts of hate and harm being perpetrated against the Bahá'ís by Iran," it said. They urged the Iranian government to "end its persecution and prosecution of Bahá'í practitioners, and its campaign of demonization and dehumanization being run by state-controlled media."
Other Canadian Parliamentarians, MP Ali Ehsassi, MP Kerry Diotte, MP Cathay Wagantall and MP Hon. Judy Sgro, also joined the campaign, along with human rights defenders David Anderson , Hon. Irwin Cotler, Akaash Maharaj, Kyle Matthews, and Kaveh Shahrooz.
CIJA, the advocacy agent for the Jewish Federations of Canada, said: "As Jews, we understand the deadly consequences of a relentless repetition of falsehoods and myths against an entire community.… This must stop. Canada must play a role in holding Iran to account for the countless human rights violations it commits against the Bahá'ís with impunity."