Source: www.sbs.com.au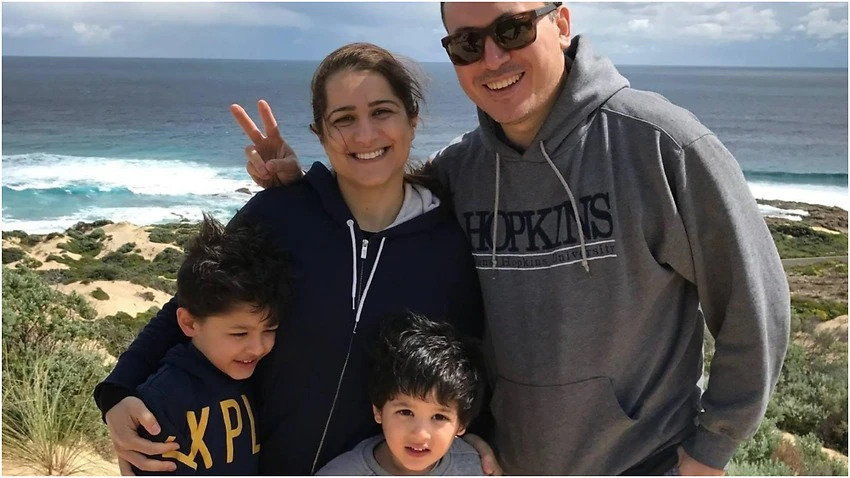 Fearing for their lives, Pantea Motearefi and her family fled Iran in 1993. But 26 years later, Baha'is in Iran are still subjected to fierce religious persecution.
Pantea Motearefi and her family were fast asleep when their house in northern Iran went up in flames.
Awoken by the blaze, the then 14-year-old and her family jolted out of bed and fled the property, hiding in a neighbour's home until the firefighters arrived.
Firefighters and neighbours who witnessed the 1993 fire told the family they suspected it was an arson attack.
"A neighbour saw a man throw something [into the home] and how they started the fire," Ms Motearefi told SBS News.
But no action or investigation was undertaken by the Iranian authorities, which the family suspects was due to them being adherents of the Baha'i faith.
It wasn't the first time Ms Motearefi's family had been targeted. In 1984, her father's cousin, Jamshid Pour-Ostadkar, was executed by firing squad alongside five other Baha'is.
Mr Pour-Ostadkar was one of around 200 other Baha'is who were killed in targeted executions following the Iranian revolution, leaving his wife a single mother of an infant son.
Fearing for the family's safety, Ms Motearefi's father sent his wife and children to Tehran. From there, the family made the difficult journey across the border into Pakistan – where he later joined them.
At the time, the Iranian government prohibited Baha'is from obtaining passports.
"The whole experience of escaping Iran was absolutely frightening. That took us three or four days," Ms Motearefi said.
"That was the most difficult thing I've ever done in my life."
Life for Bahai's in Iran
Bahai's – the largest non-Muslim minority religion in Iran – have a long history of persecution and discrimination.
Numerous United Nations Special Rapporteurs reports into human rights in Iran have reported Baha'is facing arbitrary arrests, beatings, executions, land confiscations, the denial of employment, restricted access to higher education, and authorities revoking business licenses.
"It's state-sponsored persecution and it's impacted the lives of generations from young infants to the frail and elderly," said Venus Khalessi of the Australian Baha'i community.
"Even the dead are not spared, graves are desecrated, historical and cultural sites have been destroyed.
"And it's safe to say that no Baha'i in Iran has been unaffected by this persecution."
Land confiscations affecting Baha'is in Iran
The Australian government granted Ms Motearefi's family humanitarian visas in 1995. But 26 years on, Baha'is in Iran continue to face discrimination, with a slew of recent property seizures by the authorities.
The Iranian government has recently confiscated land belonging to Baha'is in the village of Ivel. Land in the village of Roshan Kouh has been seized by the government, while the Iranian government has warned property owners in the city of Semnan of imminent seizures.
In the case of Semnan, authorities claim the lands belong to Baha'i institutions – a contravention of article 49 of the Iranian constitution.
Baha'i institutions were banned in 1979 by the Islamic Republic, and formally dissolved in 1983.
"We can see numerous instances where the law is being misused to deprive Baha'is of the rightful ownership of their property," Ms Khalessi said.
"This is unfounded religious prejudice because Baha'is are peaceful, law-abiding citizens. They pose no threat to the government.
"They're not aligned with any political ideology or opposition movement. They do not engage in subversive activity or violence."
In the village of Roshankooh, the #Iran-ian authorities are once again illegally seizing the lands of #Bahai-s and are depriving whole families of their livelihoods. "If what you are doing is not illegal, why don't you want us to film it?" says one of the women. #itstheirland pic.twitter.com/S6mUbpXdbq

— Diane Alai (@DianeAlai) November 8, 2021
Ms Motearefi's uncle, a farmer who has won many awards for agriculture, has had 50 hectares of farming land seized in the city of Semnan.
Most recently, his son (Ms Motearefi's first cousin) – along with five other Baha'is – has been served with a court order for the seizure of his properties in Semnan.
In 2012, the wife of Ms Motearefi's cousin, Elham Ruzbehi, was sentenced to three years over charges of "collusion and assembly against national security" and "propaganda against the regime" after the family's house was raided by authorities.
Ms Motearefi said there was "no proof" for the charges and that Ms Ruzbehi was imprisoned with her seven-month-old baby.
The international response
A committee of the United Nations last week passed a resolution calling on Iran to eliminate religious discrimination against Baha'is.
Australia was one of the 79 countries that voted in favour of this resolution, with 30 countries voting against and 71 abstentions.
Federal Liberal MP Ian Goodenough on Monday put forward a motion condemning the systemic persecution of Baha'is in Iran.
"We call upon the Iranian government to allow Baha'is to freely practise their faith, to not be subjected to arrests and imprisonment for their beliefs, to earn a livelihood, to access higher education and to not be subjected to hatred and discrimination as a result of misinformation about their beliefs," Mr Goodenough said.
The motion was seconded by Labor MPs Peter Khalil and Dr Anne Aly, with support from MPs Jason Falinski (Liberal), Sharon Claydon (Labor), and Helen Haines (Independent).
Leaked minutes of a high-level government commission meeting last October revealed a systematic effort to monitor and suppress Baha'is in Iran.
The official Iranian directive, revealed by The League for the Defence of Human Rights in Iran, instructed local authorities in the city of Sari, in the northern province of Mazandaran, to "conduct strict controls" on Baha'is in the city by "monitoring their operations", and introduce measures to "identify Baha'i students" in order to "bring them into Islam".
In a statement to SBS News, the embassy of the Islamic Republic of Iran in Canberra said while Baha'ism was "rejected" as an official religion, "people of Iran, regardless of their ethnicity, enjoy equal rights".
The statement denied reports of arrests of Baha'is, their business licences being revoked and the denial of education based on faith.
"It is surprising that, out of all matters, you merely posed interest to the claims of Baha'is in the face of all the injustices done against the people of Iran, including unlawful and unilateral sanctions, especially in the time of the fatal pandemic that has murdered many Iranians, including Baha'is," the statement said.
"It is noteworthy mentioning that the claims of Individuals have been responded duly before."
Ms Khalessi said she was grateful to the Australian government for its ongoing support to the Baha'i community.
"I'd call on the government to continue to signal to Iran that the world is watching their actions and that they uphold the human rights of Baha'is," Ms Khalessi said.
"So that Baha'i belief and practice is not criminalised, they can access university… earn a livelihood in the private sector… that their shops aren't closed or business licenses revoked, that they're not subjected to attacks."
On the occasion of students in Iran receiving university entrance exams results, Amnesty International stands in solidarity with the countless students from the Baha'i faith who are denied access to higher education in Iran each year. 1/3 pic.twitter.com/T70sIvUjU1

— Amnesty Iran (@AmnestyIran) September 30, 2021
Ms Motearefi is now an endodontist and university lecturer in South Australia, an opportunity she would likely be denied as a Baha'i in Iran.
"Something I've always loved about the Baha'i faith is that it's all about peace, generosity, service to the community and society," she said.
"We would love the whole world to be united…we believe in the equality of the human race and the oneness of God. And that gives us peace."
SBS has contacted the Department of Foreign Affairs for comment.