Source: iranwire.com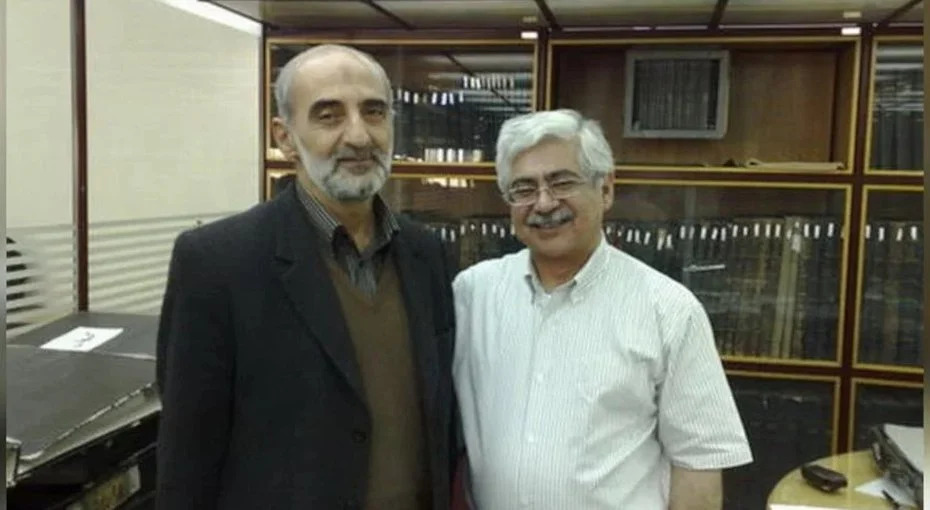 Abdollah Shahbazi was formerly one of Iran's most prominent hate-mongers against the Baha'is and the Jewish people. Now, unconfirmed reports say he has emigrated to the US, stopping off with his daughter in New York before settling somewhere else in the country.
Rights groups now say they believe Shahbazi actually left the Islamic Republic years ago. The so-called historian, once in the pocket of some of the most powerful actors in the Iranian regime, fell out of favour after accusing some of his most powerful backers of being "secret Jews" and Baha'is. Who is Abdollah Shahbazi, what went wrong, and what legacy – if any – has he left behind in Iran?
Who is Abdollah Shahbazi?
In his own account, Abdollah Shahbazi was born into an agrarian family in Shiraz on August 24, 1955. "My father was the chief of a tribe in the southern Shiraz mountains, and was both wealthy and powerful," he writes. He goes on to say that when he was seven, his father launched "an armed uprising in the Kuhmareh Sorkhi region against the Pahlavi government [in support of Ayatollah Khomeini]" and was executed in 1964, as were some of his other relatives.
"My father Habibollah Shahbazi, was a cultured and popular man," Shahbazi recalls. "His calligraphy was beautiful and he was a pioneer of modern agriculture in Fars province. My mother was from the Kashkuli tribe, and her grandfather, Haj Mohammad Karim Khan Kashkuli was the representative of the Qashqai tribe in the second parliament [1909-1911, after Iran's Constitutional Revolution]. In 1922, in the course of the bloody suppression of Fars tribes, the government of Reza Shah martyred my two uncles (Sarmast Khan and Abdollah Khan Sorkhi) along two of their cousins…I was named Abdollah after my martyred uncle."
Shahbazi's Entry Into Politics
From childhood, Shahbazi naturally bore a deep grudge against the Pahlavi monarchy. He gravitated toward religious and political circles that supported Ayatollah Ruhollah Khomeini, and studied under the clergyman Mohiyeddin Haeri-Shirazi, who after the Islamic Revolution became a member of the Assembly of Experts and Shiraz's Friday imam.
For some time Shahbazi was also a member of the Hojjatieh Society: an antisemitic, anti-Baha'i organization founded in 1953 by the Shia clergyman Sheikh Mahmoud Halabi. This group, too, grew in influence after 1979. Inspired by the society's founders, and later on with the aid of Islamic Republic institutions, Shahbazi took it upon himself to spread its ideology.
He was first arrested in the summer of 1970 at the age of just 14 for distributing a manifesto in support of Ayatollah Khomeini during mourning ceremonies for Grand Ayatollah Mohsen Hakim in Shiraz. After two more arrests in 1971 and 1972, he was finally sentenced in 1973 to a year and a half in prison for membership of an "anti-monarchy group".
In prison, his belief system briefly took an unexpected turn. Under the influence of jailed political figures Mohammad Ali Amoui, Abbas Hajari and Taqi Keymanesh, he became a member of the communist Tudeh Party, going on after his release to take charge of its main publication, internal newsletter and central training branch.
But this change of heart did not last long. In 1983 Shahbazi was arrested again in the first wave of crackdowns on the Tudeh Party by the Islamic Republic. He was among the first to "repent" at the behest of interrogators, and was released a mere two years later.
A Budding Partnership With Intelligence Agents
The Iranian Intelligence Ministry was founded in August 1983 and took charge of issues related to the Tudeh Party. Shahbazi had been released from prison by order of Ruhollah Hosseinian, a prosecutor who represented the Revolutionary Court at the ministry. Indebted to this fledgling body, his quickly began working with them.
By now, Shahbazi had turned his back to Islam, "converted" to Marxism, reverted to Islam and finally become a stooge for the intelligence agencies. Over time they came to trust him more and more, while he went on to produce hundreds of books and essays against Jews and Baha'is.
In 1988, around three years after his release, Shahbazi founded the Political Studies and Research Institute: a notorious organization known for lending an academic veneer to hate speech, and affiliated with the Intelligence Ministry.
Shahbazi ran the Institute for a decade. During this time he also received the memoirs of General Hossein Fardoust, the head of Mohammad Reza Shah's National Intelligence and Security Agency (Savak). Shahbazi incorporated the memoirs into a two-volume book, The Rise and Fall of the Pahlavi Dynasty, that was published in 1991 and became a best-seller.
In the early 1990s, again with the help of Islamic Republic's intelligence agencies, Shahbazi also published the memoirs of Noureddin Kianuri and Iraj Eskandari, two secretary-generals of the Tudeh Party. By now, the institute he founded had taken on a life of its own, becoming a major  publisher of antisemitic and anti-Baha'i books and essays.
In 1995, by the order of Ayatollah Khamenei, Shahbazi took over the Mostazafan Foundation's documentation center and rebranded it under the name "the Institute for Iranian Contemporary Historical Studies".
How Did Shahbazi Fall Out of Favor?
Abdollah Shahbazi holds a checkered, more recent political record too. He backed the reformist president Mohammad Khatami, then Mahmoud Ahmadinejad, then Mir Hossein Mousavi, Ahmadinejad's opponent in the disputed 2009 presidential election.
In that time, he worked with a vast array of different "academic" and cultural bodies in Iran. A cursory review of his publications suggests he has invented many of the stories therein: tales vilifying Jews and Baha'is, probably penned in a bid to curry favor with the intelligence and security agencies – and those above them. The office of Ayatollah Khamenei has published six of his articles on the Supreme Leader's official website.
One of his most controversial works is Jewish and Parsi Plutocrats: British Imperialism and Iran, published in five volumes from 1998 to 2004. In 2006 he received Iran's Book of the Year Award for his efforts.
In early 2008, Shahbazi also published a book entitled Land and Accumulation of Wealth: The Genesis of the New Oligarchy in Today's Iran. This, however, saw his fortunes change.
Protests against his works by people in his home province of Farz, and a complaint filed by his former mentor, Shiraz Friday Imam Mohiyeddin Haeri-Shirazi, eventually saw him sentenced to five months in prison. The sentence was then hiked up by the Court of Appeal to 17 months. In the end, he was not released from prison in September 2012.
Once a pupil of Haeri-Shirazi and indebted to Revolutionary Court prosecutor Ruhollah Hosseinian, Shahbazi now found himself up against them. He accordingly accused Haeri-Shirazi of financial corruption, and Hosseinian of being a Baha'i and "infiltration agent" who had been involved in the chain murders of dissidents and intellectuals in the late 1980s and 1990s.
Shahbazi gradually lost his standing within the ruling establishment. His relationship with the clergy soured especially after he supported Mir Hossein Mousavi in the aftermath of the 2009 presidential election.
In an article in 2020, the conservative website Raja News wrote that the case of Abdollah Shahbazi "is worth looking at, not because he claimed that Ruhollah Hosseinian is a Baha'i or that Ayatollah Haeri-Shirazi had relations with Baha'i and Freemason families in Fars, but because he must be evaluated from the viewpoint of heightened conflict within political factions."
A Legacy of Conspiracy Theories
According to Raja News, the most regularly-raised subjects in Shahbazi's two decades of writing have been "crypto-Judaism" and "crypto-Baha'ism": the latter the very charge he had leveled against his two powerful former backers.
"If we examine Shahbazi's political positions since the mid-1990s, what do we see except making up bogus historical conflicts and quarrels, and using them to attack various individuals?" wrote Raja News, which had formerly promoted Shahbazi's work. "For instance, the Jewish origin of the family of somebody's mother, or the rumor that the village of somebody else's father was Jewish, or the traditional British connections of another person's family, and so on."
The site then lamented that even "revolutionary forces" were following Shahbazi's methods in slandering prominent political, cultural and religious figures within the regime. For example, it wrote, Hossein Shariatmadari, the hardline Supreme Leader-appointed managing editor of the newspaper Kayhan, had been the target of complaints because he came comes from Damavand, a city near Tehran it described as "one of the birthplaces of hidden Jews", while both Ahmadinejad and Hassan Rouhani had been called "hidden Baha'is".
"This is the essence of everything Mr. Shahbazi has said about contemporary history, and if we peel off the skin of his statements, we find nothing underneath," the article concluded.
In 2020, Shahbazi published another book entitled Intelligence Services: Secret Sects and Iran, this time as an eBook on his Telegram channel. In it, he repeated his past innuendos against a number of conservative figures. He claimed this book was part of the last, unpublished volume of Jewish Plutocrats.
The same establishment-aligned media wasted no time in monstering it. "With his defective genealogy and linkage of people to a given region or village, Shahbazi arrives at strange conclusions that go beyond his introductory assertions," wrote Raja News. It declared the book  was hurting the "very important" hunt for "real hidden Jews" and "real hidden Baha'is".
Shahbazi's Anti-Baha'i Pronouncements
For a full three decades before his departure from Iran, Abdollah Shahbazi, guided and supported by the intelligence and security services, was an important instrument in spreading antisemitism and anti-Baha'ism, while claiming to be a "scientific" historian.
"The Baha'i sect is not a religion in the traditional meaning of the word," he has written. "It is a very well-organized, centralized and secretive sect that has a record of almost a century and a half of undercover activities, including the infiltration of government institutions and political organizations, and the creation of powerful and influential secret lobbies. No other Iranian political organization can be compared to the Baha'i sect."
He accused Baha'is of "sabotage, terrorist activities and espionage" at various historical junctures, claiming that the community had been recruiting people for Mossad, Israel's intelligence service. He further claimed: "The heads of the Baha'i sect in the United States, Canada and Israel are so tightly aligned to American-Canadian-Israeli neocons and Netanyahu's gang in Israel that they must be regarded as the main branch of the Iranian neoconservative network."
In another publication, he claimed: "From the very first days of the Baha'i sect's activities, a series of murders began. Some of these murders are still shrouded in mystery, while the role of the Baha'is in others have been proven beyond doubt."
According to Shahbazi, Baha'is in Iran committed five kinds of murders: "political", and those against "Muslims", "Babis" (believers in Babism, predecessor to Baha'ism), "Baha'is who knew the secrets", and "personal" killings. He accused not only Baha'i leaders and "suspicious elements" within his own, anti-Baha'i movement of instigating bloody anti-Baha'i riots and massacres for propaganda and political purposes. In other words, he claimed, the Baha'i leadership was harming its own for political gain: "From my point of view, Baha'ism is not a religion but a cult: a 153-year-old, highly organized sect."
In a later post on Telegram, Shahbazi wrote: "I believe that there is a secret Baha'i organization in Iran besides Baha'ism's public organization". He boasted that he had identified and disclosed "secret and subversive activities by this sect, from infiltration and assassinations to extensive mafia-like financial operations" during the Qajar and Pahlavi dynasties.
"Contrary to wide-ranging propaganda," he claimed in an interview in 2016, "Iranian Baha'is enjoy their citizenship rights, live their lives and do their business, and nobody bothers them. The cases cited as violations of Baha'is' civil rights have nothing to do with an individual's civil rights but are the result of efforts by a segment of Baha'is to establish their sect as an official, lawful institution. In other words, they have been ordered by the House of Justice, the Baha'i center in Haifa, to force the Islamic Republic to publicly accept the sect's presence and activities."
Many government forms in the Islamic Republic include a field in which service users are asked to specify their religion. If a given person writes "Baha'i" they typically face problems such as being barred from government posts or entering higher education.
In his interview, Shahbazi had an unusual take: that their having been honest was the offence. "When a Baha'i person insists on defining himself as a Baha'i in forms, we are confronted with a political phenomenon, the organized effort to impose an illegal organization which, naturally, leads to confrontation. This isn't a violation of that person's civil rights but the outcome of a political act. The Baha'i person knows the consequences and does this voluntarily.
"I repeat: Baha'ism is a cult and the term 'cult' applies to an organized and centralized sect with religious or pseudo-religious claims. We are dealing here with an organization that does not obey Iranian law and believes that its own laws supersede those of any state. But its members in Iran still want to be Iranian citizens as well. This phenomenon might be called a 'state within state'; it leads to a conflict because of 'dual citizenship'."
Shahbazi's Antisemitic Screed
Shahbazi has also expressed similar, hostile views about Jewish people. He has published tens of books and articles focused solely on the Jewish community, while his "research institute" leads the way in the spurious hunt for "crypto-Jews" in Iranian society. "I have tried for years to understand this phenomenon," Shahbazi writes. "I discovered that hidden Jews have been active and entrenched themselves in many parts of Iran, but the only place where they are identified by the official name of  Dönmeh sect [a group of alleged crypto-Jews in the Ottoman Empire] is Damavand."
According to Shahbazi, "the phenomenon of hidden Jews (the Anusim) and their role in the genesis and spread of Babism and Baha'ism is an important factor in the development of contemporary Iran. Jews besides the Anusim have also played a significant role in spreading and promoting Babism and Baha'ism, both quantitatively and qualitatively."
He also claims: "in Iran, crypto-Judaism is bound to a related and similar phenomenon by the name of crypto-Baha'ism." Websites that were formally under his supervision are stuffed with material that tries to "prove" this theory, with some of their more outlandish ideas also shared by websites tied to the security services.
"In most places in the world and especially in Iran, the majority of Baha'is lean towards the Jews and the state of Israel," says an article published on the Political Studies and Research Institute's website. "Although most followers of the Baha'i ideology were Jews, we must take note that the conversion of the Jews to Baha'ism, like their conversion to Islam, was not real.
"Instead, by converting to Judaism, the Jews wanted to further realize their colonialist aims and engage in espionage. For their part, the Baha'is tried to exploit the old antagonism between Muslims and Jews to make the Jews the main supporters of their newly founded religion. This way, both groups sought to realize their long-term imperialist goals."
Despite his prolific career, Shahbazi himself has implicitly confessed that he has not been too effective in "enlightening" his generation about Baha'is and Jews as he sees them. "Our generation, due to insufficient historical and political knowledge but also as a result of the teachings of the Hojjatieh Society, only knew Baha'ism as a deviant sect, and has paid for this ignorance. I hope the new generation will get to know Baha'ism for what it is: a highly secret political and financial lobbying group that uses its sectarian teachings and organization to realize its goals."
Shahbazi wrote this at a time when he had already fallen out of regime's favor. He knows well that he has been marginalized by the ideological behemoths of the Islamic Republic. Today, he continues his rants in cyberspace, cast down from the status of a great "historian" to being just another voice on an obscure Telegram channel.