Source: iranwire.com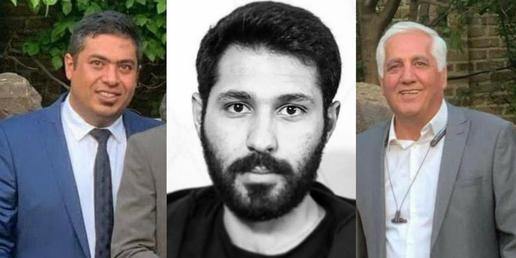 IranWire understands that three Baha'i citizens near the city of Yazd, – Nematollah Shadpour and his son Nima Shadpour, and another individual, Shafiq Eslami – were arrested after being summoned to appear before judiciary officials. The Shadpour family are farmers and cattle breeders outside Yazd.
A source told IranWire that security agents then searched the homes and places of business of these citizens and confiscated several of their belongings.
Islamic Revolutionary Guards Corps also issued warrants for the confiscation of the Shadpour family farm's livestock.
Representatives of the Baha'i International Community (BIC) have said that the Baha'is in Iran are facing increasing persecution at the hands of the Iranian authorities. Eleven Baha'is in the cities of Yazd, Shiraz and Bojnord, including a mother and her two sons, have been arrested over the past week, and 44 Baha'is were arrested, arraigned or jailed in June.
"The Baha'is in Iran hardly make it through a single week without suffering new arrests, summonses to prison and other forms of persecution by the Iranian government," said Bani Dugal, Principal Representative of the Baha'i International Community to the United Nations, in a recent statement. "We are sounding the alarm: the Baha'is in Iran are suffering the worst coordinated attack we have seen in many years."
The International Religious Freedom or Belief Alliance – a network of 35 like-minded countries created to promote Article 18 of the Universal Declaration of Human Rights, which states that all peoples have freedom to believe or not believe, to change faith, to meet alone for prayer or together for worship – issued a statement in April expressing "grave concern [on] the increased pattern of repression and discrimination against members of the Baha'i community" in some countries around the world.
Targeting the livelihoods of Baha'is has also long been a part of the Iranian government's systematic persecution of the Baha'is.
The BIC also previously issued a statement on the wider pattern of economic persecution of Baha'is across Iran.
"Iran's leadership is enriching itself while impoverishing and displacing the Baha'is," said Diane Ala'i, a BIC Representative to the United Nations in Geneva, in a statement issued in February of this year. "The risk is that more properties will continue to be seized, in a piecemeal fashion, in an attempt to evade the notice of the international community."
No other information on the charges or whereabouts of the Shadpours or Shafiq Eslami is available at this time.