Source: www.bic.org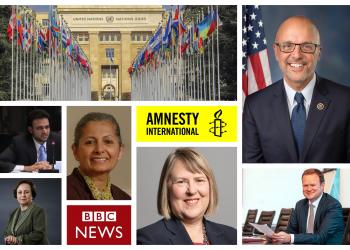 NEW YORK – 23 August 2022 – Government officials, international and national media outlets and dozens of prominent civil society actors and individuals have rushed to the defense of the Baha'is of Iran, this month, with an outpouring of statements, news coverage and social media posts provoked by an escalating crackdown and official hate propaganda against the community, demanding an end to the injustice. The crackdown began on 31 July with a wave of arrests and the violent destruction of homes in the village of Roshankouh in northern Iran.
Hundreds of millions of people are estimated to have been reached by online and traditional media news coverage of these events and supportive statements concerning the persecutions.
The Baha'i International Community's (BIC) own Twitter account saw a ninefold increase in its reach and ability to communicate the persecutions to the public. One video alone, showing several of the dispossessed Baha'is by the rubble of their homes in Roshankouh, was seen 3.4 million times on one broadcaster's Instagram account and was widely shared on numerous other sites.
A group of United Nations experts, led by the Special Rapporteurs on the human rights situation in Iran, freedom of religion or belief, and on minority issues, Javaid Rahman, Nazila Ghanea and Fernand de Varennes, said on 22 August that the Iranian authorities must end the persecution and harassment of religious minorities and the use of religion to deny fundamental human rights.
"We are deeply concerned at the increasing arbitrary arrests, and on occasions, enforced disappearances of members of the Baha'i faith and the destruction or confiscation of their properties, in what bears all the signs of a policy of systematic persecution," the experts said, noting that this crackdown was part of a broader policy against religious minorities in the country.
The situation in Iran was also covered by major news outlets around the world.
The New York Times said the persecutions amounted to a "sweeping crackdown". The Associated Press published a piece that was widely syndicated, including in the Washington Post, which said that, despite the allegations issued against the Baha'is by Iran's Ministry of Intelligence, "Iran offered no evidence to support the allegations of the Baha'i doing anything illegal."
Agence-France Presse called the situation a "new peak" and reported that Baha'is "say the tenets of the faith encourage a non-confrontational approach known as 'constructive resilience' and insist the Baha'is of Iran want to work for the good of the country and not against its leadership." The Associated Press and Reuters also published major news pieces on the situation.
Coverage appeared in the BBC during several broadcasts (broadcast 1, broadcast 2), in the UK's Times and Telegraph, in two articles in Germany's Deutsche Welle (article 1, article 2), the Jerusalem Post, the New Arab, twice in the Times of Israel (article 1, article 2) and in the Indian Express. The French newspapers Le Figaro and Le Monde also covered the situation. The article in Le Monde reported the latest persecutions in the context of Iran's geopolitical positioning—as did several other outlets in their reporting.
A report in the Toronto Star linked the latest developments to the ongoing denial of higher education to Baha'is in Iran and the recent disappearance of a remote-learning Iranian Baha'i student.
The extraordinary levels of spontaneous support and coverage came after a much-derided statement was issued by Iran's Ministry of Intelligence, on 31 July, accusing Baha'is of "colonialism" and of "infiltrating kindergartens," in an appalling act of hate speech, and by the ensuing imprisonments, arrests and raids on homes and businesses.
Iranian authorities have, since that date, targeted Baha'is in 200 separate incidents with arrests and detention, home invasions and searches, the destruction of houses and confiscation of property, the denial of higher education, electronic ankle-tagging, exorbitant bails, beatings and the denial of medication to prisoners.
A later revelation by the BIC even found that, on the same day, Iranian security agents had staged and filmed a fabricated scene in a kindergarten in an attempt to incriminate and frame the Baha'i community of these allegations.
On 2 August, up to 200 agents sealed off the village of Roshankouh, in Mazandaran, where a large number of Baha'is live, and used heavy equipment to demolish six homes. The agents also confiscated around 20 hectares of Baha'i-owned property.
Bani Dugal, Principal Representative of the BIC to the United Nations, said the international and Iranian support showed that the Iranian government had failed in its efforts to eliminate and isolate the Baha'is.
"For three weeks the international community has watched aghast as the Iranian government has intensified its persecution of the Baha'is, stooped to new lows in its hate propaganda campaign against the community, and denied more young Baha'is the right to attend university, on top of the thousands who have been barred from higher education in the past," said Ms. Dugal, referring also to the fact that the latest intake to Iranian universities again excluded Baha'is. "All this must stop and it must stop now."
In the United States, more than 30 civil society organizations and human rights leaders wrote a letter to President Joe Biden in which they asked the President to "give voice to our deep concern over escalating levels of persecution faced by the Baha'is of Iran" and said that there was "an emergent pattern that strongly suggests a deliberate, systematic effort to substantially increase the persecution" on the Baha'i community in Iran.
Rashad Hussain, the United States (US) Ambassador-at-Large for Religious Freedom, said that "Iran must honor its international obligations to respect the freedom of religion or belief of all Iranians and immediately end its escalating campaign of raids, arrests, and unjust imprisonment" of Baha'is.
The State Department's division on Democracy, Human Rights and Labor also called on Iran to "respect the rights of all to Freedom of Religion or Belief" in a tweet that was retweeted by Under Secretary of State Uzra Zeya.
The US Commission on International Religious Freedom (USCIRF) also "condemned the Iranian government's increased crackdown on religious minorities in the country," in a statement, which specified the persecution of "scores of Baha'is."
"Iran's government cannot create stability and security by targeting vulnerable religious minorities and peaceful dissenters, yet it continues these appalling violations of religious freedom," said USCIRF Commissioner Sharon Kleinbaum.
Luxembourg's Minister of Foreign Affiars, Jean Asselborn, long a supporter of the rights of the Baha'is in Iran, also expressed his government's concern and called on Iran "to uphold its obligations to respect human rights and eliminate all discrimination."
The UK's Lord Ahmed of Wimbledon, the Foreign, Commonwealth and Development Office minister responsible for Human Rights and Freedom of Religion and Belief, said the UK was "deeply concerned" by the arrests, destructions of homes and confiscation of property, and by the targeting of the former members of the Yaran. "The persecution of religious minorities cannot be tolerated in 2022 … We are working closely with our international partners to hold Iran to account and continue to raise human rights concerns regularly with the Iranian Government," he said.
Global Affairs Canada's Office of Human Rights, Freedoms and Inclusion tweeted its concern over the "systematic campaign to suppress and persecute Baha'is," adding that "Iran must uphold international and domestic obligations to respect human rights and to eliminate all discrimination, including on the basis of religion or belief."
Fiona Bruce MP, the UK's Envoy on Freedom of Religion or Belief and Chair of the International Religious Freedom or Belief Alliance said on Twitter that Article 18 of the Universal Declaration of Human Rights was "clear" and that the right to practice and manifest beliefs "should be protected for everyone, everywhere."
Germany's Envoy for Freedom of Religion or Belief, Frank Schwabe, said on Twitter that Baha'is had been arrested on "absurd charges … those imprisoned must be released."
Many parliamentarians and government representatives added their voice of protest against the persecution.
The US Congressman Ted Deutch urged the House of Representatives to pass a bill he had introduced which "condemns Iran's persecution of Baha'is and urges the President and Secretary of State to impose sanctions on Iranians directly responsible for serious human rights abuses, including abuses committed against Baha'is."
Three UK parliamentarians, Ruth Jones MP, Virendra Sharma MP, and Lord David Alton, also expressed their support, as did the German member of parliament Lamya Kaddor, a noted Islamic scholar, who said the persecution of the Baha'is was "highly problematic" and had been happening for decades.
A Brazilian member of parliament, Frei Anastácio, expressed his "solidarity with the Baha'is … over the attacks they are suffering" and asked the Brazilian government to become involved while insisting that Iran's government "respect human rights treaties."
Amnesty International also issued an urgent action in which it said that Iranian Baha'is were "suffering escalated attacks on their human rights" and asked national Amnesty chapters to write to the head of Iran's judiciary and two public prosecutors.
And Kenneth Roth, Executive Director of Human Rights Watch, was among the first at the international level to post news on Twitter in English as the crisis broke.
The Task Force on Middle East Minorities of the Anti-Defamation League, a US-based and international civil society body that addresses antisemitism, extremism, hate and bigotry, said in its statement that the Iranian government had demonstrated an "ongoing brutality" against Iranian Baha'is who have "long been slandered and persecuted by the Iranian regime."
"These attacks are the latest in a series of drastic and escalating measures targeting vulnerable populations from the very top of the Iran's [sic] government marks a higher level of repression than what we've witnessed in the past few years," the statement said.
Mahvash Sabet, Fariba Kamalabadi and Afif Naemi, three former members of the disbanded Yaran, or "friends" of Iran, which until 2008 was an informal leadership group of the Iranian Baha'i community, were among those arrested. All three had already spent a decade in prison before their 2018 release.
PEN International, the literary freedom of expression group, and its Austrian, English, French and Norwegian chapters, expressed their concern regarding Mahvash Sabet's arrest. Mrs. Sabet, who wrote poetry during her previous decade in prison, was recognized in 2017 as an International Writer of Courage by English PEN.
Canada's Raoul Wallenberg Centre for Human Rights also issued a statement which said recent events were "a looking glass into the Iranian regime's long-standing pattern of hate and persecution against the Baha'is in Iran" which had "continued unabated" in a "culture of impunity, wherein no one has ever been arrested or prosecuted for such crimes" since Iran's 1979 Islamic Revolution.
Iranian civil society led this support with an unprecedented call for solidarity, inside and outside the country, from social and political figures, human rights defenders and women's rights activists, artists, writers, poets, cartoonists, and comedians, religious scholars and even a few clerics, journalists, current and former prisoners of conscience, followers of other religions, academics, lawyers, religious intellectuals, and social and political commentators, and hundreds of thousands of other Iranians.
More than a hundred prominent Iranians both inside and outside Iran issued a joint statement expressing concern about the increasing persecution and declaring that "when it comes to civil and human rights of Baha'is, we consider ourselves Baha'is, too."
Multiple panels on Clubhouse hosted Baha'i spokespersons and other experts who discussed, for audiences of tens of thousands, why the situation of the Baha'is concerned all Iranians.
And in a dramatic act of solidarity, human rights activists, friends and supporters of Baha'is inside Iran organized a Twitter storm with a hashtag that trended for more than 24 hours on Persian-language Twitter.
Shirin Ebadi, the Nobel Peace Prize laureate and human rights lawyer, and Mehrangiz Kar, an acclaimed Iranian human rights activist and lawyer, posted formal statements of support on Instagram. The historian Abbas Milani said on Twitter that from the beginning of the Baha'i Faith, what he called "the malignant hatred against the Baha'is, and their slaughter," has been rooted in religious prejudice.
Arash Sadeghi, a human rights activist in Iran, demanded that hate propaganda against the Baha'is stop.
Seyyed Mohammad Ali Ayyazi, an Iranian Shia cleric, asked "What religious framework justifies demolishing the houses of Baha'is? … We are now witnessing oppression against citizens who are already deprived of their basic rights."
Iranian-American writer and commentator, Roya Hakakian, said that "Someday others will look back at Iran and see that the most tragic was also the most uplifting story—that of Baha'is. No other minority's been so systematically attacked for 43 years. Yet, no other advocates for forgiveness and tolerance more than they do."
A journalist and human rights activist, Javad Abbasi Tavalali, said "In the Baha'i Faith there is no jihad or killing. There is separation of church and state. Men and women are equal in most matters. Women are free to choose what they wear. Baha'is do not have clerics, mullahs or muftis. The Iranian regime is afraid of Baha'i beliefs. Let's be the voice of our Baha'i fellow citizens."
The writer Behrouz Boochani, an Iranian in New Zealand, said "The word 'discrimination' cannot adequately describe the situation of the Baha'i minority in Iran. What they are going through is not discrimination, but a systematic effort to marginalise, banish and ultimately eliminate. Discrimination applies to creating unequal opportunities, but when it comes to Baha'is the goal is to eradicate."
Maryam Mirza, an Iranian journalist in Germany, said "All of us, and our parents and the parents of our parents have had a part to play in the current situation of Iranian Baha'is. Let's raise our voice so that we may make up for the shame of our historical collective anti-Baha'ism."
The Iranian philosopher Soroush Dabbagh said "As a Muslim and as a member of a religious intellectual family, I sympathize with dear Baha'i fellow citizens and strongly condemn the destruction of properties of residents of Roshankouh, Mazandaran, which happened because of the beliefs of the owners in the Baha'i Faith. Whether we are Muslims, Christians, Jews, Baha'is or atheists, protecting our civil rights is a prerequisite for coexistence and it cannot be neglected at any cost."
And Aban Tahmasbi, an historian, said it was his "honor" to be a voice for Iranian Baha'is.
Baha'i International Community spokespersons were interviewed at least 37 times by various Persian-language independent broadcasters. BIC representatives even received threats and other forms of hate speech as a result of their efforts—in a clear sign of their success in sharing the facts and the truth regarding the persecution with Iranian audiences.
Dozens of news outlets and civil society groups across the Middle East and Central Asia, including Egypt, Azerbaijan, Bahrain, the United Arab Emirates, Lebanon, Yemen and Kurdistan, published an unprecedented level of supportive and sympathetic coverage.
"The response from the global community has been both heartwarming and absolutely clear: the Iranian government's unrelenting persecution of the Baha'is only undermines and damages its own reputation and credibility in the eyes of the world," said Ms. Dugal. "Iran should know that public voices will continue to be raised until the persecution comes to an end and the Baha'is can live as full citizens in their own homeland."