Source: www.hra-news.org
Translation by Iran Press Watch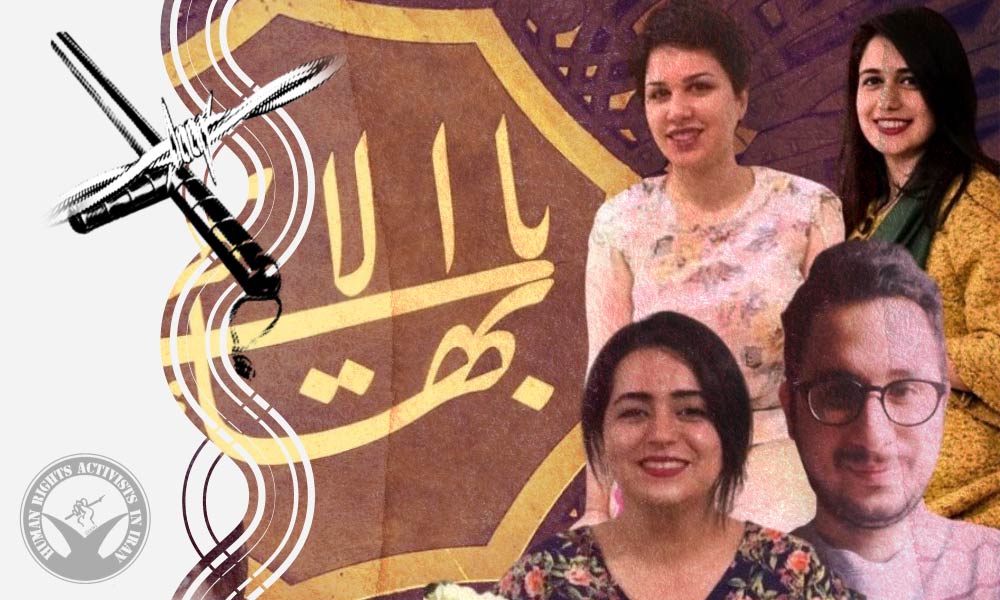 According to HRANA news agency, the news arm of the Human Rights Activists in Iran, the detention order of Negar Darabi, Samieh Gholinejad and Bita Haghighi in Qaemshahr Prison and Basir Samimi in Sari Intelligence Detention Center has been extended for another month.
HRANA News Agency – The detention order for four Baha'i citizens (Negar Darabi, Samieh Gholinejad, Bita Haghighi and Basir Samimi) has been extended for another month. Three of these detainees, Samia Gholinejad and Bita Haghighi, have been infected with Covid-19 while in Qaemshahr prison and deprived of appropriate medical treatment. Mrs. Haghighi was banned from receiving a visit from her family.
On Wednesday of last week, 14 Baha'i citizens were arrested in Qaemshahr. Some of those arrested were subjected to assault and battery by the security forces so horrific one suffered serious injury to their jaw. Two of those arrested were released hours later. Eight others were released on bail over the past few days.
While stating that the case of 12 Baha'i citizens arrested in Qaemshahr is being processed in Branch 4 of the city's Prosecutor's Office, an informed source told HRANA: "For four of them, due to what is known as the "non-cooperation of any of the citizens Arrested by Sari Intelligence Interrogators", a one-month detention order was issued. Several of the detainees in the Sari Intelligence Detention Center (Kechoui Detention Center) were repeatedly punched and kicked in the face and body and tortured during the interrogation.
This informed source added: "One of them, who also has asthma, had been deliberately kept in solitary confinement for hours, without proper ventilation and air, despite the fact that he had repeatedly told the jailers about his illness. Also, he was seriously injured due to the beating and injuries inflicted on his jaw, after his release, he saw a forensic doctor for follow-up. Another one of these citizens was kept in the toilet of the Sari Intelligence Detention Center in the form of a cross. Also, yesterday, despite the fact that the release letter of Anis Sanai was delivered to the Sari Intelligence Detention Center at 12 noon, he was interrogated and threatened, before being released at 8 pm.
This source also reported that Bita Haghighi and Samia Gholinejad were infected with Corona in Qaemshahr prison and said: "These two were returned to the prison without medicine after being transferred to the prison hospital. Bita Haghighi has also been banned from having visitors since Sunday.
On Wednesday, August 31, 2022, fourteen Baha'i citizens living in the cities of Sari, Babolsar and Qaemshahr were arrested by the security forces in Qaemshahr and the homes of 3 of these citizens were searched by the security forces.
Sam Samimi and Nazanin Goli were released on bail hours after they were arrested and Sanaz Hekmat Shoar, Mani Gholinejad, Mojir Samimi, Afnane Nematian, Anis Sanai, Mahsa Fathi and Golbon Fallah were released on bail over the past two days. Hengemeh Alipour was released today, Tuesday 6th of September, with the posting of bail.
Earlier, an informed source about the situation of these citizens, while stating that a number of detained were previously denied from continuing their education for various reasons, told HRANA: "Golbon Fallah was infected with Corona during her arrest. Mrs. Fallah passed out a few hours after her arrest due to her deteriorating condition, the security forces called her family and told them to come and get her. After the family arrived, despite the deterioration of her condition, they were told that because she had been uncooperative, they will not release her."
At the same time as the arrest of these citizens, Mazandaran General Directorate of Intelligence published a notice confirming the arrest of these citizens, calling them the "central core of the spy organization" and claiming that two of these citizens were "trained in the Zionist organizations of Beit al-Adl located in the occupied territories."
In a report earlier, HRANA had discussed the continued detention and uncertainty of the fate of these Baha'i citizens. As of publication of this report, there is no information about the nature of charges against them.
One day after the arrest of these Baha'i citizens, the international Baha'i community announced the increase of repression and pressure on the Baha'is of Iran by publishing a statement.
Baha'i citizens in Iran are deprived of liberties of practicing their religious beliefs. This systematic deprivation of liberty occurs while Article 18 of the Universal Declaration of Human Rights and Article 18 of the International Covenant on Civil and Political Rights entitle any individual to freedom of religion and belief and also freedom to express it individually or collectively and in public or in private.
According to unofficial sources, there are more than 300,000 Baha'is in Iran, but Iran's constitution only recognizes Islam, Christianity, Judaism, and Zoroastrianism and does not recognize the Baha'i faith. For this reason, the rights of Baha'is in Iran have been systematically violated over past years.