Source: iranwire.com
Kian Sabeti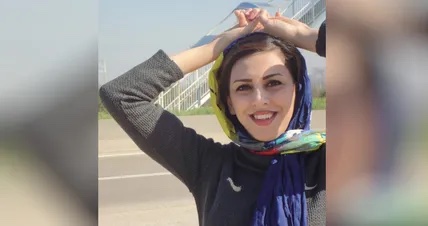 Children's rights activist and Baha'i citizen Samin Ehsani, 37, is returning to Tehran's notorious Evin Prison after five days of leave during the Nowruz new year holiday period. Ehsani has been in prison since June of last year.
Ehsani will return with her a picture of Nila, her five years old daughter and, according to her husband Keyzad, "a lot of sadness, longing, infinite hope, and trust."
Ehsani works as a translator and is also a member of the Children's Book Council. She grew up in northern Gorgan and faced discrimination for her religious beliefs during her primary and secondary school years.
Despite being an excellent student, she was banned from continuing her education at Iranian universities due to her religious affiliation. Ehsani, like many Baha'is, attended the "underground" Baha'i Institute for Higher Education, where she received a degree in computer science, a bachelor's degree in chemistry, and a master's degree in public health.
Ehsani is known for her love for children, and after completing her studies, she started working as a children's facilitator. She has also been involved in a number of projects for young people – on literacy as well as singing.
Her passion for promoting literacy led her to participate in the Read With Me program to promote reading for all children, especially underprivileged children and others living in crisis. The program has been running since 2009 in Tehran suburbs and later across several Iranian provinces.
Before her imprisonment, Ehsani translated and published two books titled I Am Enough and What We Will Make for children and teenagers.
Her Mother and Child Instagram page promoted books and reading, philosophy for children, reading workshops, and the Read with Me project.
The Instagram page includes details on events related to children's books, local libraries for children and teenagers in different provinces of the country, special children's books, and winners of children's book awards.
The page also displays examples of children's handiwork. Ehsani and videos of her reading aloud for children is a favorite.
But, because of being a Baha'i, Ehsani was banned from leaving Iran in 2010 after a visit to the passport office. The authorities referred her to the court at Evin Prison, to solve the problem, but when she attended the court she was arrested and detained.
Ehsani was kept in the solitary cell of Ward 2 of Evin Prison for 11 days and then transferred to the general cells of Ward 2.
After 29 days of temporary detention, Ehsani was released on bail.
Ehsani's court session was held on June 9, 2012, at Branch 28 of the Tehran Revolutionary Court, she was sentenced to five years in prison on charges "of propaganda against the regime, actions against national security, and membership in the Baha'i community". The sentence was later confirmed on appeal.
The accusations brought against her in court included holding literacy classes for several Afghan children who were deprived of the right to study in Iran due to reasons such as not having a birth certificate.
Ten years after the initial verdict, Samin was contacted by the Department of Sentence Enforcement, on June 15, 2022 and asked to present herself for the enforcement of her sentence.