Source: iranwire.com
Kian Sabeti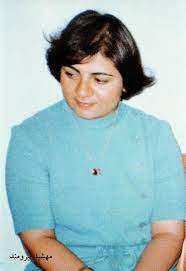 In June 1983, 10 Baha'i women and girls aged 17 to 56 were hanged in Shiraz because they had refused to renounce their faith. This event, reminiscent of medieval inquisitions, was met with consternation and outrage by human rights groups and ordinary people around the world.
Mahshid Niroomand Sarvestani was one these Baha'i women. She was arrested when she was 27 and executed after six and a half months of imprisonment and abuse.
Who Was Mahshid Niroomand?
Mahshid Niroomand Sarvestani was born to a Baha'i family in Shiraz, the capital of Fars province, on December 10, 1955. She was the third child of Hefzollah Niroomand and Malekeh Vafaei. The Niroomands lived a simple life and Hefzollah was a radiator technician.
Mahshid was quiet and shy but intelligent and talented. When she was five, she attended school as an unregistered audit student and passed the final exams with a grade point average of 20 – the highest possible in Iran's education system. However, since she was younger than six, she could not go to the second grade and had to repeat first grade.
Mahshid graduated from primary and high school with top grades. She spent the last three years of her secondary education at an elite high school that accepted students only if they passed an entrance exam. Besides English, she was also familiar with French, German and Arabic.
Confiscation of Her Bachelor's Degree
After receiving her high school diploma, Mahshid participated in the national university entrance exams and was accepted to study physics at Pahlavi University in Shiraz. She graduated after the 1979 Islamic Revolution and the university refused to issued Mahshid's degree under the pretext that she owed tuition. None of Mashed's peers encountered this problem because, before the Revolution, owing tuition did not disqualify anyone from graduation.
Mahshid paid the demanded sum but the university still refused to give Mahshid her degree. She repeatedly went to the Ministry of Higher Education and the National Organization of Educational Testing but never received a clear answer as to why she was not being awarded her degree. Some officials only told her verbally that the university could not issue a degree to Baha'is.
In January 1983, a delegation of representatives of three branches of government was sent to Shiraz by the Headquarters of Imam Khomeini's 8-Article Command to investigate various grievances by Iranian citizens. Mahshid was in prison at this point – but her mother Malekeh Vafaei filed a complaint with this delegation, asking them to investigate her arrest, and the university's refusal to give Mahshid her degree.
A month later, on February 14, 1983, the headquarters replied to the complaint and stated explicitly that both actions had been legal and conformed to Sharia law.
Arrest and Interrogations
After her graduation, Mahshid privately taught physics and chemistry to make a living. She could not get a steady job because of the fact that she had no degree certificate.
Around midnight on November 29, 1982, agents of the Islamic Revolutionary Guards Corps (IRGC) raided dozens of homes of Baha'i residents of Shiraz, arrested 41 Baha'is and took them to a detention center in the city. One of the detainees was Mahshid Niroomand.
Immediately after entering the Nirooman home, the agents told the family that they had come to arrest Mahshid. She introduced herself and joyfully started to gather her clothing. The agents, who were perplexed by Mahshid's joyful behavior, cut the phone line, left the house, returned a few minutes later and asked Mahshid and her two sisters which of them had studied physics. Mahshid answered that it was her. After this exchange, they arrested Mahshid and put her in a car.
Mahshid was a modest and quiet person and did not want her parents to worry about her. In meetings with her family in prison, she never told them about her interrogations and how she was treated. Whatever we know about her time in prison comes from the memories of her cellmates.
Interrogations of the Baha'is by the Revolutionary Guards was focused on two goals: forcing the detainees to reject the Baha'i faith and to conversion to Islam, and to give the names of other Baha'is. Mahshid might have been shy but when her faith was involved she was brave, candid and knowledgeable. During the interrogations, she not only refused to denounce her faith, she also refused to name other Baha'is.
"A few days after we were arrested, the first phase of Mahshid's interrogations began," writes Olya Rouhizadegan, her cellmate in the detention center, in her memoirs. "A male agent shouted from behind the door: 'Mahshid Niroomand, Mahin Akhlaghi, Olya Rouhizadegan!' The female guard inside the prison immediately blindfolded us tightly with black pieces of cloth and handed us over to the male agent. He gave me a rolled newspaper and held on to the other end of the roll and said 'You Baha'is are infidels and unclean and your hands must not touch mine.' He told Mahshid to grab the back of my chador and told Ms. Akhlaghi to grab the back of Mahshid's chador."
In her memoirs, Olya writes that the agents dragged them down a stairway and, when they reached the bottom of the stairway, they heard horrifying noises that unnerved them. They took the detainees one by one to separate rooms. For a long time, the three detainees had to stand blindfolded and listen to the nerve-racking noise. Then the interrogations started. The interrogators insulted and ridiculed each detainee and threatened them that "You have a chance to repent; otherwise we will torture you so much that you will renounce your faith." After a few hours of this, the three detainees were returned to their cells while the interrogator shouted "We will eventually send you all to hell!"
Olya writes that the interrogations of Mahshid were long and sometimes lasted 12 to 14 hours. One time, Mahshid told her cellmates that they had taken her to a room and had her sit on a wooden bed that had chains attached to it on four sides.
"After a lot of insults and humiliations, they removed the blindfold and I saw two interrogators with masks on their faces and another man with a wire cable, whom they called Abdollah, standing around me," Mahshid told her cellmates. "One interrogator, with ugly and violent language, and the other one, very softly, told me that they did not want to torture me because I am a young woman, so I should repent and name other Baha'is. They kept repeating this, and Abdollah continuously twirled the cable in his hand and threatened me with torture and execution. Eventually the interrogators said 'Since the prisoner is not talking, we had better tie her hands and her feet to the bed and start flogging her.'
"I told them that I am a Baha'i, not a member of a political group, and knew no secrets for them to drag out of me. And I asked which side to lie on – my front or my back. Did they want to flog my back first or my feet My calm made the Guards laugh and they did not flog me."
After 26 days without news from Mahshid, finally her parents were allowed to meet her for 10 minutes from behind a glass window.
After 45 days at the detention center, Mahshid and a number of other Baha'i prisoners were transferred to Adelabad Prison in Shiraz, signaling that interrogations were over and a trial was about to begin.
Adelabad Prison
All the officials at Adelabad Prison, from prosecutor and Sharia judge to the examining magistrates and guards, were focused on forcing the Baha'is to renounce their faith and convert to Islam. The prosecutor, the Sharia judge and the examining magistrate threatened them with execution and the guards, hoping to be rewarded in the next world, talked to them to convince them to convert. Time was event set aside for Baha'i prisoner to study Islamic books at the prison's library.
Rejecting Bail
In early 1983, bail was set for a number of Baha'i prisoners. A few posted bail and were released until the trial but most, including Mahshid, refused to post bail because they believed they had not committed a crime that justified posting bail. What is more, the bail for the first Baha'i prisoner was set at 50,000 tomans (close $1,500 in 1982) but then the bail was increased several times for others, apparently to dissuade Baha'i prisoners from posting bail.
Death Penalty for 22 Baha'i Prisoners in Shiraz
On February 12, 1983, in a short story, the local newspaper Khabar-e Jonoub reported that 22 Baha'is had been sentenced to death, but did not name them. Then, on February 22, the paper published an exclusive interview with Hojatoleslam Ghazaei, a Sharia judge in Shiraz, in which he was quoted as saying "I warn Baha'is to embrace Islam."
In this interview, Ghazaei confirmed that some Baha'is had been sentenced to death. Following this news, families of Baha'i prisoners went to the office of Hojatoleslam Zia Mir-Emadi, the prosecutor, to find more information. "This sentence is not limited to these 22," he told them. "All the Baha'is who are in prison will receive the same choice; Islam or execution. If you want to help your own families, I will permit you to meet them and guide them towards changing their beliefs."
These Baha'is were sentenced to death while they had been denied the right to a lawyer and had not been tried in a public court. The sentences were issued by Hojatoleslam Ghazaei after each defendant met him for only a few minutes. In these meetings, Ghazaei told them that they had only two choices: either they repent and convert to Islam or the death sentence would be carried out.
The Execution of Mahshid Niroomand and Nine Other Baha'i Women
On June 16, 1983, six Baha'i men were executed in Adelabad Prison. Two days later, in meetings with their families, the imprisoned Baha'i women learned about the execution of the six Baha'i men. The families of Mahshid and nine other Baha'i women had no idea that this was the last meeting.
"Mahshid came to the meeting with a smile on her face, as she always did," says Mahshid's sister Mitra. "She said that, the previous week, the prosecutor had come to the prison and had told the Baha'is that each one of them would be given four 'Guidance' sessions and that anyone who converted to Islam would be released. Otherwise they would be executed. Mahshid said that 'I was taken to the guidance session and I said that, according to my religious beliefs, I believe in all prophets and Imams. But I believe in the Baha'i faith and I believe that it is the next step in the evolutionary process of religions. I will not abandon my faith.' She confirmed this answer in writing, signing four times, at the end of the session with the prosecutor."
"In that meeting, Mahshid had a high and strong morale as she spoke with us. More than anything else, she encouraged my parents to be patient and resilient in the face of these adversities and conditions. Mahshid's clenched hand, which was moving and animated until the last moment of our meeting, expressed her resilience and her courage. These are the last images of her that we remember."
After this meeting, while Mahshid and nine other Baha'is were being returned to their cells, they were separated from other prisoners by Majid Torabipour, the prison director, and were taken to Polo Field in Shiraz to be executed. After the execution, their bodies were not turned over to the families and were buried in a plot of land in the confiscated Baha'i cemetery in Shiraz. No last will and testament remains from these 10 Baha'i women, who were executed suddenly and without the authorities notifying their families.