Source: www.bic.org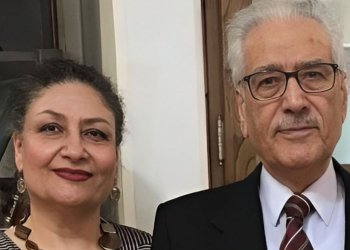 Persian translation here
Mr. Jamaloddin Khanjani, a 90-year-old Baha'i in failing health who already served 10 years in prison for his Baha'i beliefs, was arrested along with his daughter Maria on 13 August in Iran
GENEVA—16 August 2023—
Mr. Jamaloddin Khanjani, a 90-year-old Baha'i in failing health who already served 10 years in prison for his Baha'i beliefs was arrested on 13 August in Iran, in a new wave of repression targeting the Baha'is in the country that has seen over 180 incidents of persecution against the community in recent weeks.
Baha'is are Iran's largest non-Muslim religious minority and have been systematically persecuted since the 1979 Islamic Revolution.
Mr. Khanjani was detained with his daughter Maria Khanjani. He had already spent a decade in prison—from 2008 to 2018—because of his membership of an informal leadership group for the Baha'is in Iran, known as the "Yaran". The group was formed with full knowledge of the government as a result of the government's banning of formal Baha'i institutions in Iran. The group tended to the pastoral needs of the Iranian Baha'i community. The Yaran was disbanded in 2008 and all its seven members were detained and sentenced initially to 20 and later to 10 years in prison. All completed their 10 year sentences and were released in 2018.
Mr. Khanjani's arrest comes days after two other Baha'i women and former Yaran members, Mahvash Sabet and Fariba Kamalabadi, who were arrested on 31 July 2022, received confirmation of their 10-year prison terms which were upheld this week on appeal. Mrs. Sabet is 70 years old and suffers from significant health issues and has been transferred to the hospital from prison numerous times in the past year. A fourth member of the Yaran, Afif Naimi, also suffering health issues and who was also arrested a year ago, has recently received a seven-year jail term.
"The cruelty meted out to the Baha'is in Iran has no limits. Arresting a 90-year-old and others with health issues who already spent 10 years in prison for their faith shows the government's desperate attempt to continue its fruitless efforts to destroy the Baha'i community in Iran," says Simin Fahandej, the Baha'i International Community's (BIC) Representative to the United Nations in Geneva. "No human being, bound by even the slightest principles of fairness, would regard it as anything other than a gross and outrageous miscarriage of justice to imprison, without a shred of evidence, proof or charge, a 90-year-old man who has already suffered profound persecution for his faith."
Nine other Baha'is were also arrested on 13 August. They are the owners and employees of a number of pharmacy businesses, which were sealed and shut down by the authorities, who have accused them of disrupting pharmaceutical supplies. In the face of growing solidarity between the Baha'is and the general population the government is trying to drive a wedge by calling these legitimate Baha'i-owned trading businesses "hoarders".
These new arrests have taken the number of Baha'is arrested or imprisoned in recent weeks to almost 60 incidents. During the same period, over 26 Baha'is also received sentences for jail terms that could begin at any time. Further, 18 Baha'is have faced interrogations. Fifty-nine Baha'i-owned businesses were reported to have been sealed by the authorities and the homes of nine others were raided and searched.
In addition, Baha'is in Tehran continue to be prevented from burying their loved ones in the Baha'i cemetery near Khavaran, being forcibly buried by intelligence agents in the location of the Khavaran mass grave, the burial site of hundreds of political prisoners executed in the 1980s. One individual, a mother of a five year old, who raised concerns with authorities about her grandmother being buried in the Khavaran cemetery was arrested and has been sentenced to five years in prison.
The brutal crackdown is reminiscent of August last year, where over 300 incidents of persecution against the Baha'is occurred in one month alone.
"The Iranian government has seen the unprecedented worldwide support for the Baha'i community after the Our Story Is One campaign and the Baha'i community's efforts to call for unity among all groups and it is now manifesting its desperation to eradicate the community—by targeting and increasing its persecution on the elderly and the sick." Ms. Fahandej continues. "If Iran can learn one thing from its past cruelty of over 40 years, it is that its continued persecution of the Baha'is has proved to be counterproductive, raising awareness of the situation of the Baha'is globally, creating stronger solidarity between the Baha'i community and the wider population in Iran and proving to the international community the innocence of the Baha'is in the face of relentless oppression."
Wave upon wave of persecution
The persecution against Baha'is in recent weeks has been spread across Iran, in the cities of Tehran, Isfahan, Shiraz, Karaj, Kerman, Qaemshahr, Rasht and others. All of the Baha'is arrested, sentenced, imprisoned or otherwise persecuted in the past several weeks were targeted for innocuous reasons such as running music schools or other cultural or educational activities, assisting the Baha'i community with basic pastoral needs, or to disrupt their abilities to earn a living.
Three Baha'is have been jailed for assisting the community in Tehran with the burial of loved ones at a Baha'i-owned cemetery in the city. The BIC has previously reported that Baha'is in Tehran have been prevented from using their own cemetery after a Ministry of Intelligence agent commandeered it and blocked its use.
Several Baha'is in Gilan province were sentenced to jail, and the homes of others were invaded by security agents and their mobile phones and computers confiscated, on false charges of spreading "propaganda against the regime" through social media use. One young man, who issued a statement from within prison detailing physical and mental mistreatment in prison and deprivation of legal rights, was given a six-year jail term.
Many of those arrested have endured long detentions in security facilities, often in solitary confinement, without due process. One young mother has spent six months behind bars without charge and has been denied her own choice of lawyer.
A number of Baha'is have also been given either exorbitant bail terms during their detention or have received heavy fines, travel bans, and internal exiles.
For more information please contact