Source: www.radiozamaneh.com
Zhinoos Forootan
Translation by Iran Press Watch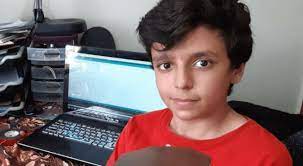 Payam Vali, a Baha'i citizen, is in prison for openly talking about violations of Baha'i rights in Iran. Outside of the prison, Adib Vali, his son, has been denied from receiving the results of his National University Entrance Exam and is not being admitted to the university due to his belief in the Baha'i faith.
Adib Vali, an 18-year-old student, has been denied entry to university because he is a Baha'i. His father is Payam Vali, a Baha'i human rights activist who is currently imprisoned on charges including "spreading lies" and "collaborating with hostile countries through interviews with Persian-language satellite channels." Payam Vali has spoken openly about violations of the rights of Baha'is, including denying Baha'i students' entry to university because of their faith.
Deprivation of Education of Adib Vali, Baha'i student
Payam Vali, a Baha'i citizen, is currently incarcerated in Qezelhesar prison in Karaj for openly out about the violations of the rights of Baha'i citizens, including the denial of education. Recently, his son has been deprived of university education due to being Baha'i.
Adib Vali, in September of this year, logged on to the website of the National Examination Organization, to see the results of his entrance exam. After entering his personal information he encountered the message "Your case is under review" and the message "you cannot pick a field of study at this time".
You cannot pick a field of study at this time.
After two weeks of follow-up in trying to resolve the issue, Adib shared on Instagram his attempt to visit the Fardis Karaj Examination Organization.
"The security officer of the Examination Organization did not allow me to enter. When I told him that my exam results have been delayed for almost two weeks, he called an internal phone number and handed me the phone. After asking about my name and National ID, the official said, 'Perhaps you don't mind me asking what is your religion?' I answered. 'At the time of registration and payment, there was no field for religion. But in any case, I am Baha'i.' He answered, 'You should not have come here. You should follow upon this issue with the Tehran Examination Organization.'"
Due to the urgency of the issue and the limited time for registration at the university, Adib contacted the Tehran Examination Organization the following day. The responsible employee in this organization told Adib to go back and follow up the matter with the same Karaj Examination Organization. After this second inquiry to the Karaj Examination Organization, he was received a letter by mail stating "your case is suspicious" and that he should write a "defense" letter for his case.
Adib Vali was informed that his admission to the university required him to obtain an "acquittal" through his "defense" letter. It was not made clear why an 18-year-old student applying to university must write a defense letter, or what he offense he had committed that required acquittal. For several weeks, Adib continued his efforts to hold the authorities accountable, but in the end he was told that he could not do anything more and that he would understand the reasons later.
To-date, Adib has not received his university entrance exam results. The registration period expired without Adib receiving his university entrance exam results, preventing him from being able to register at the university.
The Islamic Republic and the Deception of the International Community about the Right to Education of Baha'is
Following the Cultural Revolution of the early 1980s, hundreds of Baha'i professors and students were expelled from university for being Baha'is. In 1982 and following the first nationwide university entrance exam, belief in Islam or one of the religions specified in the constitution of the Islamic Republic (i.e. Christianity, Judaism, or Zoroastrianism), became one of the general conditions for registration in the nationwide university entrance examination.
This was the beginning of the exclusion of the Baha'is from education. Although about 17 years ago, with the aim of reducing the pressures from the international community, Baha'i applicants were allowed to participate in the national entrance exam, they continue to be prevented from entering to university continues. The reasons given are various and vague, such as "incomplete application", "general incompetence".
Adib Vali; A Student Eager to Learn, but Deprived of Education
This is not the first time that Adib Vali faces academic restrictions due to religious reasons. Previously, in 2019, despite obtaining a grade point average of 19.82 (out of 20) and placing first in the international robotics and artificial intelligence competitions, he was banned from continuing his education in this school with just one call from the principal of "Salam" school in Karaj.
Despite all the obstacles and deprivations, Adib managed to finish robotics programming courses with Python and C++ in 2020 with perseverance and individual effort. With the aim of challenging himself in the field of machine learning, he participated in the FIRA RoboWorld Cup self-driving car league (FIRA Azad Cup of Iran) in both the University and high school division competitions and won the first place in both divisions as a high school student. Overtaking university teams.
Adib Vali 1st Place Winner in FIRA Competition
Along with his colleagues, Adub also won the first place in the Harvard University Computer Science Cs50x competition held in Iran in the fall of 2020.
Deprivation of Education; Deprived of the Right to Participate in the Life of Society
Adib Vali is one of the many talented young people of Iran who are interested in pursuing their education. But, due to being members of the Baha'i Faith, every year they are denied entry to university and a role in advancing the development of their country.
The Islamic Republic has deprived Baha'i citizens of the fundamental right to education since the 1980 Cultural Revolution. This is despite Iran being one of the signatories of the "International Covenant on Economic, Social and Cultural Rights". Clause 13 of the mentioned covenant recognizes the "right to education of every person" and the fact that "higher education should be available to everyone based on their capacity".
Denying Baha'i citizens the pursuit of higher education is deprives them of their right to live as free people in their homeland of Iran, and bars them from actively participating in the life of the society around them.
Opening a New Case Against Payam Vali
Arresting and imprisoning citizens based on their heartfelt beliefs is a clear example violation of the "International Covenant on Civil and Political Rights", of which Iran is a member. This history of the Islamic Republics oppression and persecution of religious minorities, especially Baha'is, is as old as the Islamic Republic itself.
Payam Vali, father of Adib Vali, is just one of the Baha'i citizens whose life has been overshadowed by the tyranny of the government, from his childhood to the present day. Currently serving a six-year sentence in Qezelhesar prison in Karaj, Mr. Vali is facing a new case against him. In this case, Anvari, the investigator of Branch 1 of the Karaj Revolutionary Court, has accused him of "spreading lies in the cyberspace through the publication of criminal content". At least in part, these charges are based on Mr. Vali having spoken about injustices and talking about his situation while imprisoned.
The Arrest
Payam Vali, a resident of Karaj, was arrested at his workplace a week after the nationwide protests began on the 24th of September of 2022. Following his arrest, officers raided his private home. While searching the house, they beat him and his son Adib Vali. They also seized a number of personal items, including mobile phones and laptops, and to this day, have not returned these items to Vali's family.
Charges and Sentencing
Payam Vali was sentenced to 16 years in prison in the primary court. This sentence was later reduced to 9 years and 9 months of imprisonment in the 12th branch of the Alborz Court of Appeal. With the application of Article 134 of the Islamic Penal Code, the maximum imprisonment of six years was determined to be applicable to him.
Among the charges brought against this 43-year-old Baha'i citizen are "propaganda against the regime", "collaboration with hostile countries through interviews with Persian-language satellite channels" and "seducing and inciting people to riot through a personal page on virtual networks".
The accusation of collaboration with hostile countries refers to his openly talking about cases of violations of the rights of Baha'is of Iran. One of the things that Payam Vali had previously mentioned on his Instagram and Twitter page was the refusal to accept Baha'i applicants to participate in the entrance examination and barring qualified Baha'i students from entrance to university. Mr. Valie was sentenced to 10 years in prison for this charge.
Freedom on Condition of False Confession
In one of the audio files that Payam Valie sent from prison in January 2023, he said that Karaj's judicial deputy told him that in exchange for his release, he must sign the pledge given to him. He shared the following.
"The first part of this pledge letter is a mandatory confession because you must say that you are regretful and have accepted the accusations, and in the next part you must say that I will not repeat it again… The first part of this commitment means that you must accept having done what you have never done! It means that you have to make a false confession in exchange for your freedom."
In the court session of Payam Vali which was held on 8th of February 2022, in Branch 1 of Karaj Revolutionary Court, the judge asked him to sign the said pledge. At the bottom of the pledge letter, he wrote: "I pledge that I will not commit a crime in the future, as I have never done propaganda against the system or acted against national security."
Denied Leave to Attend Mother's Funeral
Farangis Foroughi (Vali), the mother of Payam Vali, died on April 2, 2022, while her son, Payam, was behind bars. Despite many efforts by Payam's family and the lawyer to obtain a short leave to allow Mr. Valie to attend his mother's funeral, Judge Seyed Moussa Asef-ol-Hosseini refused the request, Mr. Vali was denied opportunity to see his mother for the last time.
Farangis Foroughi had lost her other son when he was only 12 years old, in a wave of violence fomented by hatred spread by the Clergies associated with the Hossein Abad village mosque.
The killers of 12-year-old Afshin had heard from the clerics that "Baha'is are impure and their blood is permissible." He was killed by hitting his head with a stone and his body was thrown into a water well. Both of Afshin's killers died due to electrocution while stealing the electric cable from a power tower, four years apart and in a similar manner.
Afshin Vali, 12 years old was a victim of anti-Baha'i violence due to hatred spread by clergy.