Source: iranwire.com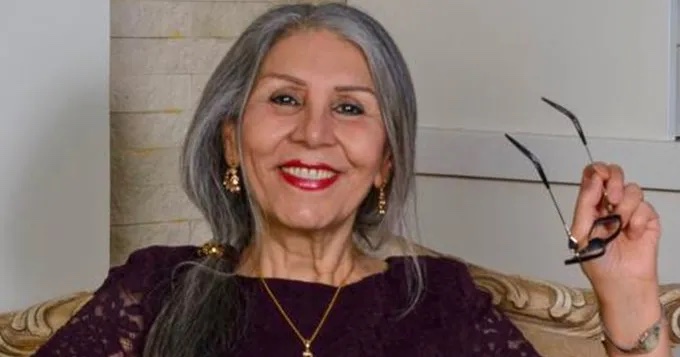 Mahvash Shahriari Sabet, a Baha'i woman serving a 10-year prison sentence at Tehran's Evin Prison, wrote a poignant letter from the confines of her cell in which she calls on Iranians to not ostracize members of the country's most persecuted religious minority.
"If the [Iranian] government has ostracized the Baha'is, please do not follow their lead. We, like everyone else, have the right to a decent life, to enjoy citizenship rights, to pursue suitable employment according to our abilities, to attend university… and to use our full potential for the development of the country," Sabet writes in the letter.
Sabet goes on to urge her fellow Iranians to hear the story of the Baha'is from Iranian Baha'is themselves. In her own account of the government's relentless persecution of the Baha'is, who are Iran's largest non-Muslim religious minority, the 71-year-old prisoner writes, "I was 26 when the [Islamic] revolution occurred. I was the principal of a school in the southern part of the capital."
"One day, an order was issued, and I was dismissed from my job. On the same day, I was barred from continuing my university studies. My husband was trying to set up a sand and gravel factory, but just a week before its opening, his factory was seized," she recalls.
"He was also ostracized. My father, my brothers, all my relatives, friends, and colleagues gradually became unemployed and homeless, and our life was thrown into turmoil," she writes.
Sabet continues to chronicle the injustices faced by the Baha'is, highlighting the internal exiles, arrests, confiscations, and executions of over 250 individuals.
"It was as if all of us, the Baha'is, were instantaneously ostracized. Suddenly, my country and my heritage were stripped away, and I became an 'other,'" she says.
Sabet, who served a previous 10 years in prison for being a Baha'i, after she served on an informal group of people who administered to basic affairs in the Baha'i community, said that even after her 2017 release she remained ostracized from society.
"No one came to welcome me on the day of my freedom. My family was expecting my release a day later. But they were not allowed to call me [at any point] so I was released from prison without any family waiting for me, without money, and even without an address to go to," she writes.
"Anxiety gripped my heart. Why was the prison doing this? They had robbed me of my happiness," she adds.
In 2017, Sabet was recognized as an International Writer of Courage by PEN International, the literary freedom of expression group, and also received a prestigious literary award in Norway. She was made an honorary member of PEN in Austria and Denmark. But in her letter, Sabet describes life after prison as a struggle to reintegrate into a society that had cast her aside.
"Wherever I went, I was a stranger. Half my existence was spent within prison walls, surrounded by fellow inmates and the suffering women held in the prisons of Mashhad, Gohardasht, Qarchak, and Evin."
Sabet then tells of her second arrest, on July 31, 2022, while visiting her sister in northern Ramsar.
On the same day last year, Ministry of Intelligence agents carried out raids in several cities across Iran, arresting a number of Baha'i citizens, among them Sabet. According to Negar Sabet, Mahvash's daughter, her mother's arrest took place while both her parents were recovering from severe covid and seeking care at a friend's house in the north of the country.
Despite suffering from covid at that time, she was detained and transferred to a solitary confinement cell, in the notorious Ward 209 for political prisoners and prisoners of conscience in Evin Prison.
"I spent 42 days in solitary confinement, a form of torture that involved physical abuse, insults, threats, and slander. My covid symptoms were severe, and I was hospitalized three times due to severe coughing, breathing problems, pain, and swollen knees," she writes.
Security agents raided Sabet's home in Tehran and confiscated personal documents, notebooks, money, gold, and even an oxygen-measuring device that her father had purchased during his illness, according to Negar Sabet.
Meanwhile, another group of agents went after Mahvash Sabet and arrested her under "uncomfortable conditions" before taking her to Evin.
Sabet has now been behind bars for over a year on charges of "organizing a group under a deviant sect with the aim of disrupting the security of the country." The Baha'i vehemently denies these accusations in her letter, stating that neither the prosecutor, the investigator, nor the judge could produce a single document to support their claims. Despite her plea of innocence she was "ostracized" and denied justice.
The Revolutionary Court of Tehran, disregarding Sabet's defense, sentenced her to 10 years in prison, mirroring the sentence of Fariba Kamalabadi, another Baha'i citizen accused of disrupting the country's security. Kamalabadi was also a member of the defunct leadership group who was jailed for 10 years between 2007 and 2017. Both women are now serving their second decade in an Iranian prison without authorities producing any proof for the charges against them.
Sabet's letter concludes with a poignant reflection on her incarceration. She recalls a conversation with her interrogator, years ago, when she told him that one day she would be free.
The interrogator replied, "Yes, but we shall determine whether it is horizontal or vertical," a reference to whether would leave the prison dead or alive.
Sabet says in her letter, "Now, I see nothing on the horizon, and I have lost faith in justice from the government. I am therefore addressing the people of Iran."
Sabet's heartfelt appeal ends with a plea for understanding and empathy: "Compatriots! My story is yours. Please do not ostracize me. Listen to our narratives in our own words."