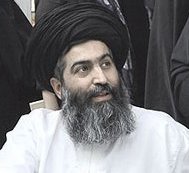 Editor's Note:  Ayatollah Siyyid Husayn Kazemeyni Boroujerdi is an Iranian cleric who advocates separation of religion and government.  He first expressed his opposition to the Islamic government of Iran in 1994, and opposed the theocratic concept of rule or "guardianship" by Islamic clerics/jurists.  Boroujerdi and many of his followers were arrested in Tehran in October 2006 following a clash between police and hundreds of his followers.  On Monday, May 25, 2009, supporters of the imprisoned Ayatollah Boroujerdi condemned the ongoing suppression and violation of the rights of the Baha'i community in Iran.  The following is a translation of a statement posted on their website:
With escalation in detentions, arrests, and threats of execution towards our Iranian Baha'i countrymen in recent times, supporters of Mr. Boroujerdi demand an investigation and greater attention by the international community to the ongoing violation of the basic rights of the Baha'is in Iran.
However, supporters of Mr. Boroujerdi believe that unfortunately, in dealings and the behind-the-scenes relations between nations, the issue of human rights is often sacrificed for temporary interests and political pragmatism.  As such, raising awareness of this important issue falls on the shoulders of opposition groups, who, faced with great tyranny, have reechoed the suffocated cries of the shattered Iranian community.
Since the beginning of Ahmadinejad's administration, the systematic suppression of civil movements, heterodox intellectuals, and members of other religions has accelerated.  Among these groups, the suppression of our Baha'i countrymen has been especially intense and malicious.  The denial of the right to education for Baha'i students, the denial of basic civil rights, the repeated violation of their rights as citizens in the guise of "legal encounters," and the issuance of excessively harsh sentences and baseless allegations such as bombings or engaging in terrorist acts in an environment of opacity devoid of proper legal recourse have all painted a bleak picture for the future of our fellow Baha'i countrymen in Iran.
In addition to believing in freedom of religious expression and the freedom of worship by other religions, the supporters of Mr. Boroujerdi express their sympathy for the Baha'i community, and urge full implementation of the provisions of the Universal Declaration of Human Rights, and full observance of those provisions in Iran.
[Source: http://bameazadi19.blogspot.com/2009/05/blog-post_25.html. Translation by Iran Press Watch.]