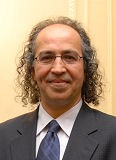 Editor's Note:  Prof. Mohammad Tavakoli-Targhi's seminal study was published in translation in The Baha'is of Iran: Socio-historical studies, 2008, New York, NY: Routledge.  An abstract of this paper appears below with the link to the full paper in Persian.
As genuinely Iranian intellectual and religious movements, Babism and Baha'ism have encountered relentless repression and their founders and adherents have been accused as the internal agents of competing foreign powers. In its formative phase, the scapegoating of Babis was actively promoted by the Qajar state at a time when it faced a serious crisis of legitimacy. To win over the Shiite seminarians and ulama, the Qajar statesmen initiated a well-orchestrated public anti-Babi campaign. By concurrently "othering" Babis and stressing some national religious traditions such as the celebration of the births of Ali and Fatimah and sponsoring official lamentation of the martyrdom of Hussein, the Qajar state actively promoted Shiism as the core of modern Iranian identity. Instead of encountering the Babis in a seminarian style of dialogue and debate, and thus fostering the formation of a national democratic public sphere, the Shi'a hierarchy opted for a violently repressive mode of encounter with Babis and Baha'is. Furthermore, Babism was utilized as an effective instrument for silencing the voices of dissent in the formative phase of modern Iranian polity. Making the physical elimination of Babis as a joint state-clergy project, the Shiite clerics served as the co-architects of a repressive and authoritarian political structure. 
The growth of Baha'ism in diaspora and in Iran, rather than its anticipated disappearance, led the Qajar state and its clerical allies to deploy a xenophobic strategy of labeling their persistent protagonists as agents of Russian, Ottoman, and British empires, successively. However, the survival of Baha'is as a distinct community engendered a national sense of collective paranoia that attributed primary agency to imperial and colonial forces rather than to self-motivated Iranian subjects. The predominance of conspiracy theories in contemporary Iranian political discourse, which first emerged as the counterinsurgent label used against the Babis and Baha'is, is grounded on an uncompromising refusal to accept the antagonists' unyielding subjectivity as well as their agency. This undemocratic projection of agency to the imperial and Farangi-Other can not be overcome without an honest exploration of the scapegoating of the Baha'is as Iran's internal Other in the 1940's and beyond.
Read the paper in Persian here