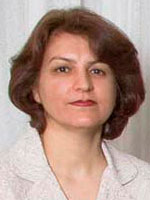 Mrs. Kamalabadi is one of the seven former Baha'i leaders who continues to languish in Tehran's notorious Evin prison on false and fabricated charges.  She was arrested in May 2008.  Several items of interest related to her condition and family efforts to inform the world of her plight became available in recent days:
IRAN: Bahai woman is among seven awaiting trial is a blog entry by Amber Smith of LA Times
Two countries are worlds apart for Bahai faithful by Kate Linthicum and Amber Smith of LA Times
DW-Kamalabadi09-Summer is a report by Dissident Watch which provides some important details.