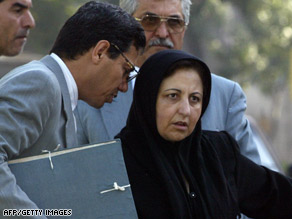 (CNN) — Iran should release seven Baha'i prisoners accused of espionage because it does not have any evidence against them, their lawyer Shirin Ebadi told CNN on Saturday.
"In the files, in the case basically, there is nothing, no reason that basically convicts them," said Ebadi, a Nobel Peace Prize laureate.
The trial will begin Tuesday despite the fact that one of their lawyers is behind bars and Ebadi is outside the country.
Other attorneys can be appointed, Hassan Haddad of the Prosecutor's Office in Tehran told the state-run Islamic Republic News Agency.
But the court must recognize the replacements, who are colleagues of Ebadi at her Tehran-based Defenders of Human Rights Center, not appoint other lawyers, Ebadi said.
The imprisoned lawyer, Abdolfattah Soltani, is a well-known advocate with the human rights center. He was arrested in the aftermath of Iran's disputed June 12 presidential election and is being held at Evin prison, the same place where his clients are detained, according to the International Campaign for Human Rights.
Read full article at:  CNN