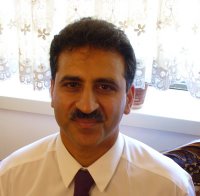 Recently, Iran Press Watch reported the arrest of Mr. Anvar Moslemi ( IPW ).  The following report and narrative is provided by Human Rights Activists News Agency, which provides more insight into the ongoing persecutions and harassments perpetrated against this Baha'i citizen.
A Baha'i resident of Sari was arrested by security agents for a second time in the current year.
In their continual mistreatments and discriminations towards our Baha'i countrymen, once again on August 4, security agents went to the home of Mr. Anvar Moslemi, where they arrested him after a thorough search of his residence, which resulted in the total disarray of his entire household, and in the confiscation of various religious books.  In the process, agents spoke abusively towards Mr. Moslemi's religious beliefs and sanctities.
Previously, on November 22, 2008, Mr. Moslemi had been arrested under similar conditions.
A short description of what has transpired is provided by his wife, Mrs. Farzaneh Shahbahrami, which we quote below:
Greetings!
I, Farzaneh Shahbahrami, hereby state that my husband, Mr. Anvar Moslemi, was arrested by Intelligence agents in Sari on November 22, 2008, on the charge of being a Baha'i.  He was released after 23 days of incarceration.  The charges that formally were brought against him were: "Propaganda against the regime and being a threat to national security."
After one or two months, they tried to close his store and shut it permanently.  On March 10, a show-trial was held in the course of which none of the charges were read or addressed, nor were the proceedings recorded.  The judge didn't ask a single question from the accused [Anvar Moslemi], and only declared, "I will issue the necessary ruling, and if you have an objection, you can raise it in your appeal."
On June 3, the court issued its ruling, which indicated that my husband was sentenced to one year of imprisonment.  The ruling was appealed.
Again, on August 4, four (4) Intelligence agents came to our home without a warrant or a court order.  They searched the entire house and confiscated our religious books and various other documents, including the title to our house and a power-of-attorney by my father, which had nothing to do with the presumptive charges against Anvar.  Outside our residence, they arrested my husband and took him into custody.
A day later, he was brought into court for the formal indictment and reading of charges.  However, the proceeding was postponed to the following day.  Even though the judge inquired several times, "What crime is he accused of?", the prosecutor only replied, "The same previous charges stand." 
Therefore, these questions are raised:  How many times should a person be arrested on the same charge?  How many times should he be prosecuted for the same thing?  How many verdicts should be issued against him?
With thanks,
Farzaneh Shahbahrami.
[Posted on Wednesday, August 19, 2009, at hra-news. Translation by Iran Press Watch.]