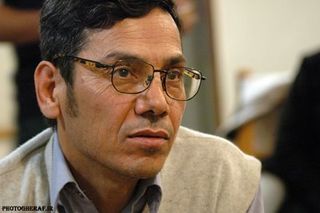 Editor's Note:  Iran Press Watch has previously reported on the detention (IPW1) and release (IPW2) of Abdolfattah Soltani, one of the lead lawyers for the imprisoned former Baha'i leaders in Tehran.  Today's Los Angeles Times article provides further details that might be of considerable interest to our readers:
By Los Angeles Times
On the 28th day of his detention inside Iran's Evin Prison, he was granted his first family visit. 
It was then that he found out that while he had been locked up, his sister had died in a car accident.
Prison authorities offered to let Abdul-Fatah Soltani attend the mourning ceremony.
There was just one condition.
The famed human-rights lawyer had to promise that he wouldn't speak out to the media about his incarceration.
He rejected the offer, missing the chance to join his family to grieve for his sister.
"I did not believe I had done anything wrong, so accepting their condition was against my belief and my principles," Soltani, now free, told The Times in an interview at his downtown office a few days ago. "Accepting their condition was a rubber stamp on my non-committed crime."
Instead he vowed to prison authorities that once he was out of prison, he would haul all of them into court, suing them for unjustly locking him up.
Soltani is among Iran's small cadre of human-rights lawyers and is the spokesman for the Center for the Defense of Human Rights, which was co-founded by the Nobel Peace Prize-winner Shirin Ebadi.
Read full article at Los Angeles Times