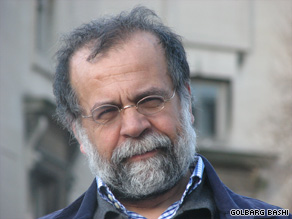 Editor's Note:  Prof Hamid Dabashi is the author of Iran: A People Interrupted.  He is Hagop Kevorkian Professor of Iranian Studies and Comparative Literature at Columbia University in New York.  The following commentary appeared on CNN on September 16, 2009.
By Hamid Dabashi
(CNN) — In their latest communique regarding the fate of seven arrested members of the Baha'i religious minority in Iran, Amnesty International has expressed grave concern they may face the death penalty if they are found guilty of the charges of "espionage for Israel," "insulting religious sanctities," and "propaganda against the system."
As the Islamic Republic of Iran experiences the most serious challenge to its legitimacy in its 30-year history, the vulnerability of religious and ethnic minorities is the most accurate barometer of the crisis that all Iranians face in these dire circumstances.
Of all the various Iranian minorities, the Baha'i community historically has been the weakest and most vulnerable. The world's attention is rightly drawn to the fate of prominent reformists charged with treason, and to the arbitrary arrest, torture, rape and murder of young Iranians. But the fate of the Iranian Baha'is should not be eclipsed under the cloud of other civil rights abuses, for they represent much more than their own small community.
Minorities have always been at the mercy of belligerent authorities, particularly when they face a crisis of legitimacy. Kurds in western Iran, Arabic-speaking communities in the south, Azaris in the north, as well as Turkmans and Baluchis in the east have been at the forefront of such discriminations, which has in turn instigated chronic separatist movements in these areas.
At the same time, Iranian Zoroastrians, Jews and Armenians have also faced varied degrees of discrimination, at official or cultural levels and registers, as they have joined their Muslim brothers and sisters in opposing domestic tyranny and foreign intervention alike.
Read the reminder of the article at CNN