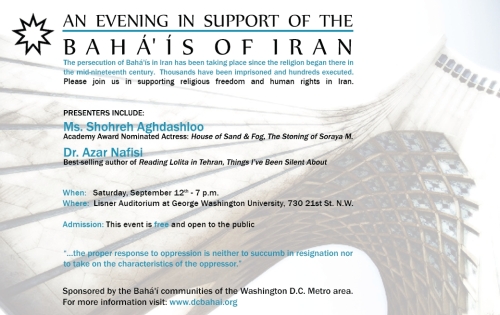 Editor's Note:  A series of gatherings is organized across the United States in support of the Baha'is of Iran and in preparation for the October 18 trial of the seven former Baha'i leaders of that country.  The latest of these events was held in Washington D.C. on September 12, 2009.  A report of that gathering is shared below:
Speaking to a crowd of over 1,400 people packed into The George Washington University's Lisner Auditorium on September 12, Dr. Azar Nafisi, best-selling author; Ms. Shohreh Aghdashloo, Oscar-nominated actress; and Dr. Dwight Bashir, Associate Director for Policy at the U.S. Commission on International Religious Freedom, joined the swelling worldwide chorus speaking out for human rights in Iran. On this particular evening, their message focused on Iran's long-suffering Baha'i religious minority.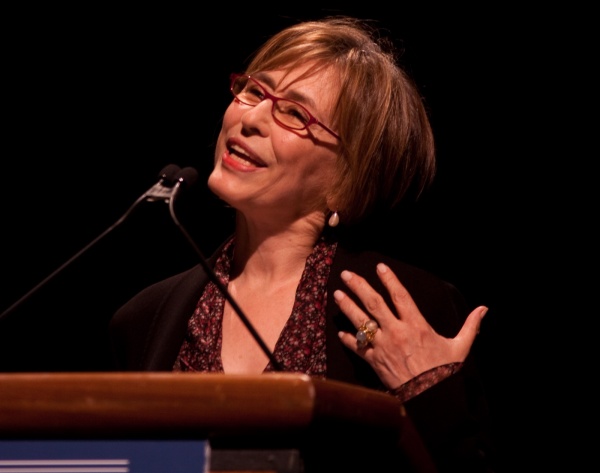 In a moving and impassioned presentation, Dr. Nafisi spoke about the common humanity of all people and the suffering of one being the suffering of all.  She reflected on the significance of the fact that her beloved country, which she grew to love, with its ancient heritage, its beautiful language and its poets, the homeland of great religions and an early pioneer of human rights and religious freedom, should be diminished in the way it has because of its mistreatment of its Baha'i citizens.  She said their struggle is an existential struggle, because in many ways they are being systematically denied the opportunity to exist.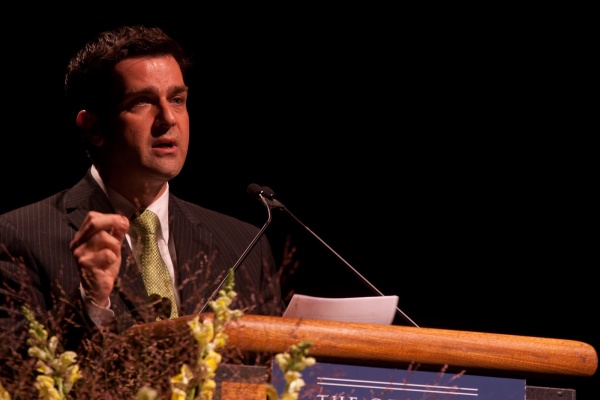 Dr. Bashir began his presentation by quoting from President Obama's speech to the Muslim world in Cairo: "People in every country should be free to choose and live their faith based upon the persuasion of the mind and the heart and the soul. This tolerance is essential for religion to thrive, but it's being challenged in many different ways … Among some Muslims, there's a disturbing tendency to measure one's own faith by the rejection of somebody else's faith …"
"The last part of President Obama's statement is exactly what we are witnessing in Iran today," Dr. Bashir said.
He then provided a snapshot of the deplorable status of human rights and religious freedom in Iran, including deteriorating conditions for Baha'is, Christians, Muslim minorities and dissidents. Bashir urged the U.S. government to raise religious freedom and related human rights in any future bilateral or multilateral discussions with Iran.
Dr. Bashir also cited a letter addressed to the Commission from Iranian-American journalist Ms. Roxana Saberi, which urges the Obama Administration to speak out in support of seven Baha'i leaders who have been imprisoned in Iran on false charges, some of which could carry the death penalty. Ms. Saberi shared a prison cell with the two female Baha'i leaders when she was detained in Evin prison earlier this year…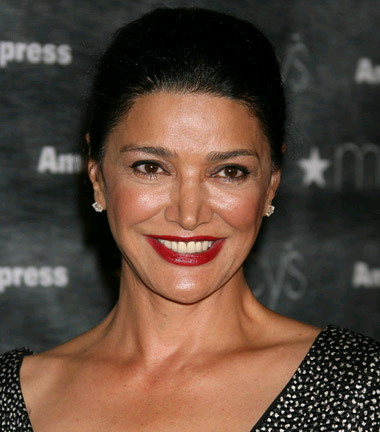 Ms. Shohreh Aghdashloo addressed the gathering via video from Los Angeles. She began by voicing her support for the Iranian Baha'is and expressing her desire to see more freedom in her beloved homeland. Ms. Aghdashloo also said that although she is not a member of the Baha'i community, she has great admiration and respect for Baha'is and for the teachings of the Baha'i Faith. She also read a monologue from her upcoming film entitled Mona's Dream — the true story of a 16-year-old Iranian girl who was executed in 1983 for teaching Baha'i children's classes.
The evening also featured dramatic performances by seven children, each of whom expounded on the life of one of the seven imprisoned Iranian Baha'i leaders. A choir also performed several songs, including a prayer that was originally taught by Baha'u'llah, the founder of the Baha'i Faith, to fellow prisoners while they were incarcerated in a dungeon in Tehran in the 1850's.
[Posted originally on http://dcbahai.org/news-and-events/74-iranevent09.]