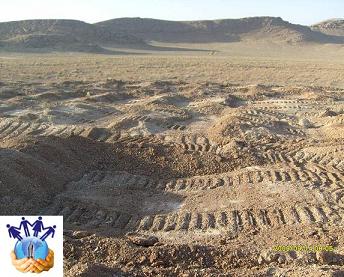 On Sunday, September 20, 2009, the Committee of Human Rights Reporters posted the following news, which appears below in translation:
From September 6 through September 10, using large trucks and bulldozers, a number of unknown individuals destroyed and excavated the Baha'i Cemetery of Najafabad and Vilashahr [near Isfahan].
The cemetery, which belongs to the Baha'is of Najafabad and Vilashahr, and which is known as Gulestan Javid ["eternal garden"], is situated about 9 miles from Najafabad.  This land was given to the Baha'is of Najafabad and Vilashahr in the winter of 1995; it has been attacked 18 times since them.  It has been reported that 119 graves are located in this cemetery – 95 are in the first section and 24 more are in the second section.
According to reports by eyewitnesses, when Baha'is visited the cemetery on Thursday, September 10, 2009, they were confronted with a destroyed cemetery and excavated land.  The entire first section and portions of section 2 of this cemetery had been excavated, and large craters and earth-mounds were created.  In some segments, the earth had been removed to the depth of over a yard, and in other segments earth had been brought in from other areas and piled up in long rows as high as 10 yards.
Moreover, parking lots located on the northern and southern parts of cemetery were also excavated up to 35 yards from the graves, and large craters and mounds were created in them.
It should be noted that tracks from bulldozers and large trucks were clearly evident throughout the cemetery and surrounding land.  In addition, the remains of previously destroyed facilities that had included water tanks were taken away from the property.
It should be noted that the previous Baha'i cemetery of this region was thoroughly destroyed and eradicated in 1984.
According to Article 18 of the Universal Declaration of Human Rights, "Everyone has the right to freedom of thought, conscience and religion; this right includes freedom to change his religion or belief, and freedom, either alone or in community with others and in public or private, to manifest his religion or belief in teaching, practice, worship and observance." 
Despite the fact that Iran is a signatory of this Universal Declaration, for the past 30 years Baha'is have been deprived of the most basic rights, such as the right to individual dignity and personal security – and even their cemeteries in many different towns have been attacked and destroyed.
Below are a series of photographs showing before and after the latest destruction of the Baha'i cemetery of Najafabad and Vilashahr.
[Posted on Sunday, September 20, 2009, at: http://chrr.us/spip.php?article5776. Translation by Iran Press Watch.]