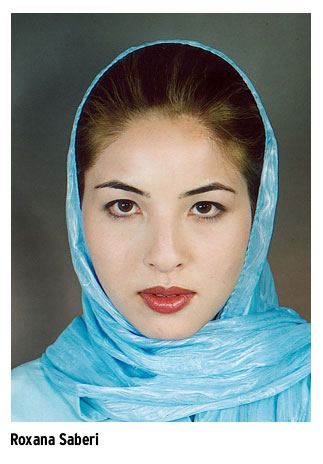 Editor's Note:  As mentioned earlier (ipw), last Saturday the popular Portuguese newspaper Publico published a three part series related to the condition of the Baha'is in Iran.  The second portion of that article appears below in translation courtesy of Marco Oliveira.
Roxana Saberi to Publico: "Faith Does Not Allow Them to Be Afraid of Death"
Roxana Saberi's boyfriend had his birthday on January 31.  His "Iranian girl, with Japanese eyes and American nationality" broke her promise to go out with him, because on that day this year, she entered Evin Prison in Tehran.  And it was there, in a cell of Section 209, reserved for prisoners of conscience, that she met Mahvash Sabet and Kamalabadi Fariba, two leaders of the Baha'i community of Iran, who had been incarcerated since March and May 2008, respectively.
"Mahvash was in isolation during the first six months, and Fariba during the first four" says Saberi in an email interview with Publico, after making clear that she would not speak of her own experience.  From her vivid description, however, it is not hard to realize that the conditions to which she was submitted prior to her release on May 11 were not very different.
"The cell in Evin is the size of two by three meters," explained Saberi.  "Near the roof there were two small closed windows, covered by metal plates with holes.  A bright light was permanently on.  The cement floor was covered with a thin brown carpet.  They slept on blankets on the floor.  There was a basin, but to use the toilet or shower, one had to press a button on the wall to call a guard to let you use the bathroom.  In their first months, [Mahvash and Fariba] were allowed almost no family visits.  They had no pen or paper.  Only Islamic books were allowed by the authorities.  Only several months later were they given access to other books and a television."
"I had the feeling that Mahvash and Fariba did not fear death," said the daughter of Iranian Reza and Japanese Akiko.  "Rather, they are willing to accept whatever they are required to maintain their faith and the well being of the Baha'i community of Iran.  I believe that having faith and principles helps them to remain strong spiritually and psychologically, despite the pressures imposed on them and violations of their basic rights."
In Section 209, "many other prisoners came and went, but Mahvash and Fariba were left behind," regrets Roxana, one of those who managed to get out when the regime realized that international condemnation harmed their interests.
A freelance reporter for various newspapers, radio and television stations since she moved to Tehran in 2003, Roxana Saberi was first accused of having bought a bottle of wine, and later, of working without credentials.  In April, there were charges of espionage and a sentence of eight years in prison.  On May 11, the sentence was reduced after appeal to two years of probation.  Four days later, they let her go to the U.S.  Between the first sentence and the release she undertook a two week long hunger strike, ending in a hospital clinic.
Roxana, 32 years old, Miss North Dakota of 1997 and almost Miss America in 1998, was in Evin Prison for ten days before she was allowed to contact her father.  It was her father who informed her boyfriend, filmmaker Bahman Ghobadi, to whom she lied, in an abruptly cut telephone call, saying she missed his birthday party because she needed to go to Zahedan.  He, whose films are sold on the black market in Iran after they were banned, went to Zahedan but could not find her.  It was then decided to write an open letter to the regime: "Shame on you, shame on us."
Original article in Portuguese:  Bahá'i (2)-Article on Publico, Portugal 9-19-09