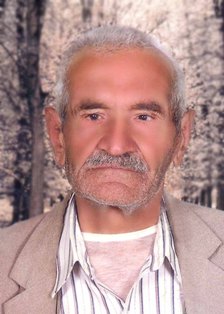 The following report was posted on the online site of the Committee of Human Rights Reporters on Friday, September 25, 2009, and appears below in translation:
After the destruction in recent days of the Baha'i cemetery of Vilashahr and Najafabad [see ipw], agents of the Ministry of Intelligence are preventing the burial of a deceased Baha'i in that same cemetery.
Azizu'llah Subhi Najafabadi, born 1924, was a resident of Najafabad.  He passed away on Tuesday, September 15, 2009, in Namazi Hospital due to old age.  Since then, the family's effort to receive the body has been unsuccessful.
The family's appealed to authorities in the local police station, the security office and the local branch of the Ministry of Intelligence, the law enforcement agency, the municipality, and the mayor's office in Najafabad.  But they have only met with the same consistent response:  "His remains will be given to you only if you do not bury him in the [recently destroyed] Baha'i cemetery of vilashahr-Najafabad, and inter him instead in the Baha'i cemetery of Isfahan."
According to Baha'i teachings, Baha'is are not permitted to bury their dead far from the place of passing.  It is for this reason that the family is exerting efforts to bury their dead in the aforesaid cemetery, near the place of his passing.
Currently, because of the destruction of the Baha'i cemetery of Vilashahr and Najafabad, the Baha'is of these towns have no place for the burial of their dead.
Reports receive from the field indicate that authorities are putting considerable pressures on Baha'i residents in this region aiming to prevent them from adhering to their religious percepts. 
Article 18 of the Universal Declaration of Human Rights states:
Everyone has the right to freedom of thought, conscience and religion; this right includes freedom to change his religion or belief, and freedom, either alone or in community with others and in public or private, to manifest his religion or belief in teaching, practice, worship and observance.
More details are available in Persian at hra-news.  For description of a similar incident in Semnan, see: ipw
[Posted on Friday, September 25, 2009, at chrr.  Translation by Iran Press Watch.]