First session of trial of two Baha'is
Rahana, Tuesday 4 Esfand 1388 [23 February 2010]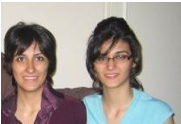 The trial hearing for Taraneh Ghanooni and Naghmeh Ghanooni was held today – it lasted ten minutes.
Rahana: In the course of this short court session, the judge asked them about their belief in the Baha'i Faith; they confessed their belief. This line of questioning is in violation of the provisions of the Constitution of the Islamic Republic of Iran which strongly ban inquisition in court regarding beliefs.
As reported by the Rahana reporter, Taraneh Ghanooni and Naghmeh Ghanooni have been transferred from isolation cells to the public section of the prison. These two young Baha'is were arrested at their home about a month ago, and accused of participation in Ashura demonstrations.
This alleged participation contrasts with the teachings of their Faith – Baha'is are banned from participation in political matters; moreover, the accusations leveled against them contrast with the demeanour of these youth.
It is expected that the Court's verdict will be announced tomorrow.
[Editor: Miss Taraneh Qanuni and Naghmeh Qanuni, 18 and 19 years old respectively, were arrested in their homes at around 8:00 PM on the night of 21st of Bahman [10 Feb 2010] and taken to unknown locations. See http://www.iranpresswatch.org/post/5557. As of this print, 9:00 PM PST, Saturday, 27 Feb. 2010, Iran Press Watch has not received any news on the expected verdict that was indicated by this article to be announced by Wednesday, 24 Feb. 2010]
Translation by Iran Press Watch