Iqan Shahidi and Sama Noorani, two Baha'i university students deprived of the right to enroll at University, arrested; and the home of Dorsa Sobhan, a Women's Rights activist, attacked.
Sent by Web Blog Writers Against Execution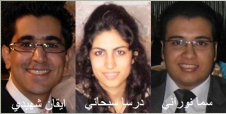 Committee on Human Rights reporters – Last night Iqan Shahidi, a Baha'i who had been denied his right to enroll at university, and this afternoon (the 12th of Esfand/3rd of March) Sama Noorani, another disenrolled student, from Sahand University in Tabriz, were arrested respectively in Kermanshah and Shiraz.
The Security Forces arrested them after searches of their homes.
Also last night, 6 security officers came to the home of Dorsa Sobhani, an activist for the One Million Signatures Campaign and a Baha'i who had been denied education in Sari. Her home was searched and her personal effects were confiscated, but they did not succeed in arresting her, as she was not present.
No information is available about the reasons for the arrest of Iqan Shahidi, age 21 and Sama Noorani, age 20. These individuals had undertaken extensive follow-up in order to regain the right to an education. They have been denied this right due to their belief in the Baha'i Faith.
In Mehr 1387 [Sept/Oct 2008], Sama Noorani was admitted to the University of Sahand in Tabriz, in the field of Medical Engineering; however, he was dismissed after one term.
In recent months, following the Ashura events [demonstrations against the government], many Baha'is have been arrested. During the past few days a number of incarcerated Baha'is have been released. However, yesterday and today, arrests of Baha'is have continued.
Translation by Iran Press Watch
Source: http://nabeedam.blogspot.com/2010/03/blog-post_8451.html
Also see: http://iranian.com/main/news/2010/03/03-4