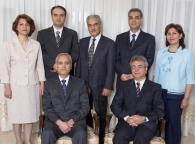 Trial of seven Iranian Baha'i leaders appears to have ended
(BWNS, 14 June 2010) NEW YORK — The trial of seven Baha'i leaders imprisoned for more than two years in Iran seems to have come to a conclusion after three days of successive court hearings.
The seven appeared in Branch 28 of the Revolutionary Court in Tehran on the morning of Saturday, 12 June and returned to Evin Prison shortly after noon.
The Court was reconvened the next day, as well as this morning.
"We can confirm that a court session was held today in Tehran," said Bani Dugal, the principal representative of the Baha'i International Community to the United Nations, "and it seems from what we have heard that the trial itself has now concluded. But we have no further information at this time."
The defendants are Fariba Kamalabadi, Jamaloddin Khanjani, Afif Naeimi, Saeid Rezaie, Mahvash Sabet, Behrouz Tavakkoli, and Vahid Tizfahm.
Before their imprisonment, they attended to the spiritual and social needs of Iran's Baha'i community, which numbers more than 300,000. They have been held in Evin prison since they were arrested in 2008 – six of them on 14 May and one of them two months earlier.
Their trial began on 12 January this year after they had been incarcerated without charge in Evin prison for 20 months. At the first hearing, the seven categorically denied charges of espionage, propaganda activities against the Islamic order, and "corruption on earth," among other allegations.
A second appearance on 7 February was concerned mainly with procedural issues. The third session on 12 April, which was purportedly a closed hearing, was adjourned after the seven – with the agreement of their attorneys – refused to be party to the proceedings because of the presence of nonjudicial personnel.
Read profiles of the seven Baha'i leaders here.
Soruce: BWNS, http://news.bahai.org/story/778